Why I Love Traveling
Traveling around and exploring new places is one of the best things you can do for yourself.
I asked my friends and family from all over the country on why they love to travel. Here are their responses:
I traveled with parents and then I traveled with friends. Over time, the group narrowed down to one person I now travel with. VT and I have travelled to many places (mostly in India) over the last 12 years. Travel has made me richer by experiences. Whether it is braving our way on a mountain or driving to the India Pakistan border, the quest to travel more keeps us going. While I may not be able to live all over the world, I believe I'll travel around the world to gain what each part of the world has to offer. Parul Kashyap Thakur
Traveling is a journey that helps me find myself. As I explore new places I discover aspects of myself I didn't know I held within. Fresh places, the local language, people and food are what I look forward to befriending on my trips. I love to lose myself to travel and find myself through it. Mayuri Nidigallu
I love travelling mostly with family and friends. Travel is the way to explore new places, experience new cuisines and cultures and to nourish our minds and souls. I need to travel once every few months to move away from the mundane and to recharge my batteries. Travel, for me, is a need and a desire. Rachna Srivastava Parmar
I love the thrill of travelling–that feeling of an explorer–discovering a new land, a new language, new cuisine, new currency and all the slight challenges that go down with it. When I travel, I am more at spur-of-the-moment and don't live for the future or the past… just in the moment. Being impulsive and saying 'yes' to virtually everything is the ingredient of the fun. I enjoy the feeling of empowerment and self confidence that solo travel gives me… that feeling of happiness, love, laughter, fun, freedom and the best is that all of this takes no space in my luggage!! Sheetal Singh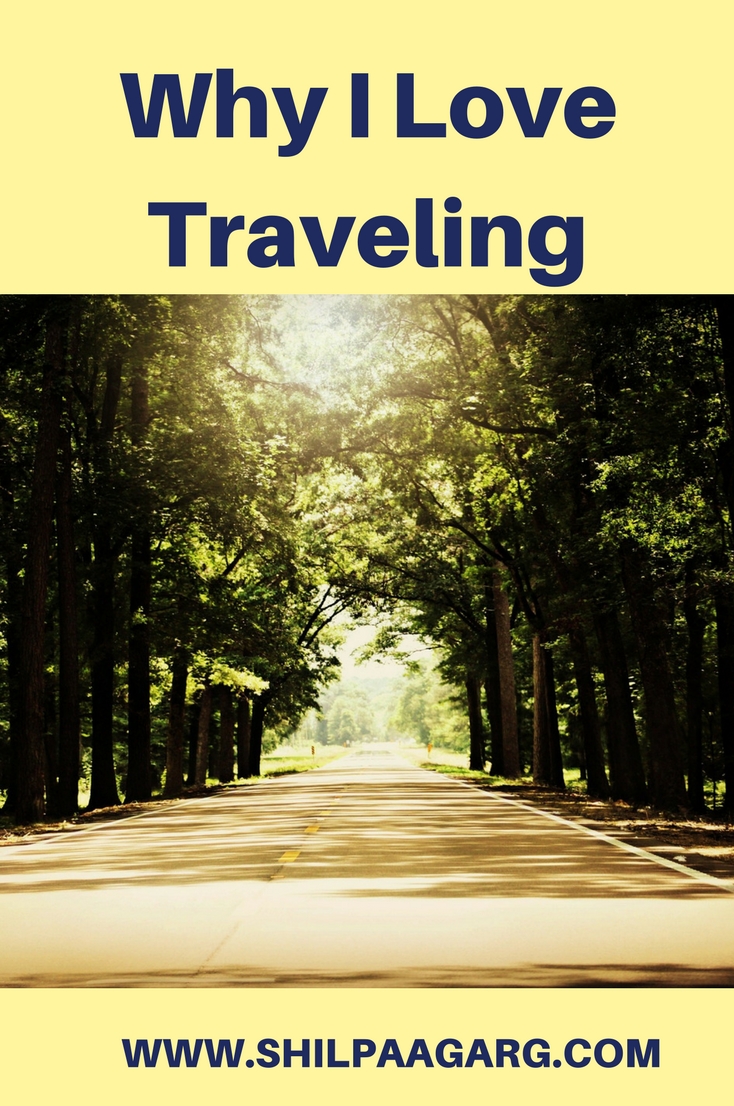 I enjoy visiting new places and collecting memories with my camera, both through solo travel and trips with friends and family. I love the perspective and education that travel brings. It is a wonderful feeling to share stories with others, show them a part of the world, which they may never otherwise see. It is fascinating to discover unique traditions and habits of a region and meet its people. One thing I am always thrilled about is the hospitality I receive, wherever I go. Although I write about various topics on my blogs, I must confess that travel stories are among the top three. Truly, travel broadens the mind, and keeps you healthy! One day I hope to compile all my travel tales into a book. Vidya Sury
I love travelling because it gives me wings to discover great places, fascinating history, and a chance to question human evolution. Even though, each destination births its own stories and lessons, the more I travel, the more I evolve as a person, on all levels. Veidehi Gite
"Life is short and the world is wide". I want to travel as far as I can and as long as I can for I love to experience the unfamiliar- be it food, places or culture. I believe, travel helps in opening your mind, and in understanding and accepting another way of life. Additionally, it is then when I get to talk for hours and discuss future plans with my busy soldier. Oh Well! Shalini R Nair
I love traveling because it gives me a sense of liberation akin to freedom from the everyday vagaries of life. The thrill of exploring the unknown mysteries of a new destination gives me a different high altogether. Even if I've already visited the place previously I try to unearth the unexplored local cuisine and untouched pockets of nature which luxurious resorts do not necessarily offer. Every journey has me returning with new experiences and learnings which enrich my life and rejuvenate me to get back to the daily grind of life with refreshed vigour. Vinodini Iyer
Having a Dad in the Infantry, didn't leave me much choice but to be an early traveler! For me, the joy traveling is making new discoveries, new connections and new memories. Corinne Rodrigues
God has created so much beauty around us that a lifetime is not enough to flavour it all!Traveling is the only way to explore some of it! Rahul Bhatia
My favourite thing to do is to go to a place I have never been to before. To know about the unknown, to experience the beauty of mother earth, to appreciate the good side of life. To travel is to set on a beautiful journey! Like Dalai Lama said – 'Once a year go somewhere you have never been before. Mandavi J
Every now and then, stepping away from our homes is a good way to recharge our mind, body and soul. Besides, this a travel plan still excites me like a Barbie doll would a four year old. I think, my love for travel is definitely staying with me for life. Exploring different cultures, is just added the benefit. Zainab Raazi
Which of these reasons why people love to travel resonates most with you? What is your travel motivator? Please share your thoughts!
My theme for this year's Blogging from A to Z April Challenge is Notes from the Road, which has my thoughts, views, experiences, tips, stories inspired by my years on the road.