5 Reasons to Travel During Off-Season
Every travel destination has a peak season and an off-season. Most people travel during the peak season, as it fits their schedules and lifestyles. People travel during  the peak seasons as the weather is perfect to explore that destination.
But what if I tell you that traveling during the off-season is the best time to travel. You would find it ludicrous. Right?
Wrong. There are a lot of reasons to travel during off-season and you must not ignore them. Read on to believe…
1. No Crowds, Almost
I have been to Shimla in peak season and in off-seasons, multiple times. There's only only one place where everyone hangs out and that's The Mall Road. Walking up and down this road which has shops and restaurants with some amazing panoramic views is idyllic. The same road turns into a crowded noisy trap during peak season. Believe me, having the whole place to yourself  and soaking in the peace and calm of the this hill station is more appealing than wading through a sea of people!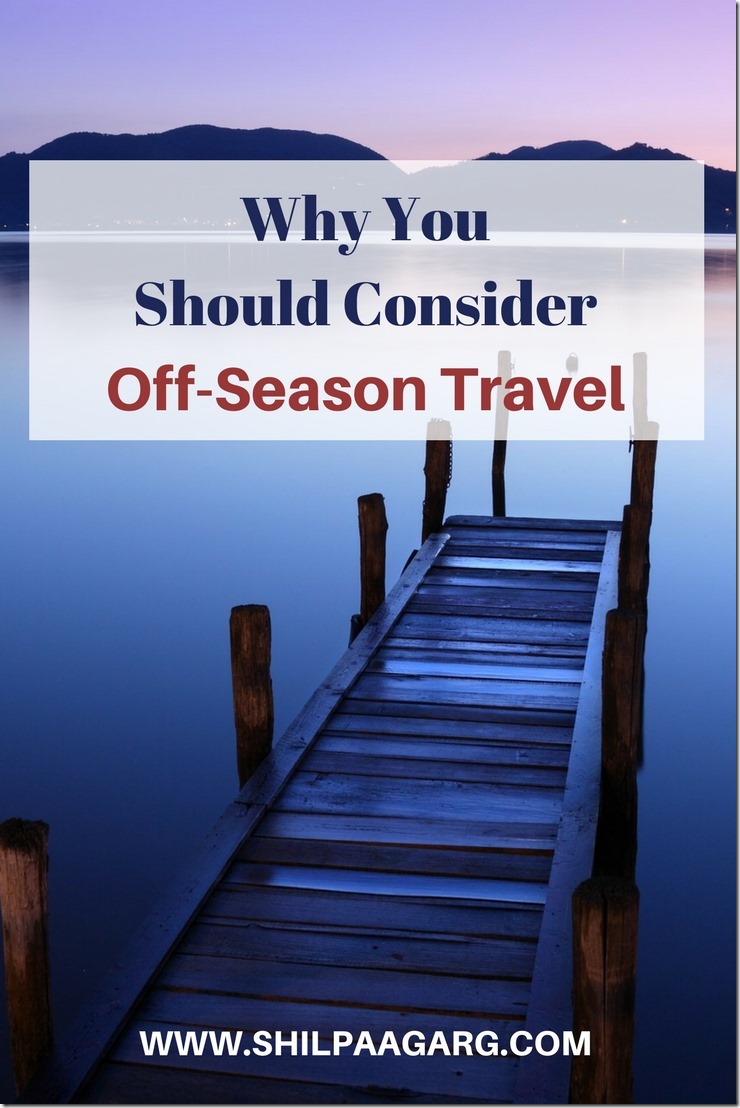 2. It's Budget-Friendly
Due to high demand, the air fares, hotels have prices that are sky high during peak seasons. Although booking flights in advance can minimize travel costs, but you may have to shell out a few extra bucks sometimes. I have paid double tariff at the same hotel only because I was there when it was the tourist season. Also have stayed at luxurious hotels at throw-away tariffs. I am sure like me you wouldn't mind enjoying the grandeur and luxury at reduced prices.
As an experiment, I checked the flights from Delhi to Goa in June and December which is off-season and peak-season at Goa, respectively. The tickets cost 2.5 times more in December even if I book today.
Every travel destination may not be ideal in off season, for example you cant travel when it's freezing cold in Leh. The point I am trying to make is that identifying the ideal places to travel and booking flights during off time could always make you spend far lesser than the usual times.
3. Find Incredible Deals
Prices don't just drop by single units (like hotel tariffs or flights), but you will also find great deals for packages combining accommodation and activities for instance surf camps or yoga retreats, group tours, rental cars, weekend getaways at hotels that include a few meals in your stay etc.
4. Better Services
With fewer travelers to deal with, the hotels, airlines, tour guides offer you better services. The off-season flights are nearly empty so you may get upgrades like window seats without charges, free meals and beverages, or if you're lucky, even an upgrade to business class.
If you are looking at authentic travel experiences by way of interacting with locals, off-season is the best time to do. During the peak season, the locals are busy working, and although they'll interact with you if you give them business, you'll never get to hear their wonderful tales around a bonfire or lazing in the afternoon sun like you would in the off-season.
5. Opportunity to Explore More Destinations
The money that you save when traveling in off-season can be utilized to explore new places that weren't in your plan otherwise. In a way, this is a way of treating yourself with more amazing destinations and fantastic experiences all the while being well within your budget.
Are you convinced? If yes, gift yourself some wonderful experiences and destinations this off-season. If not, share your thoughts in the comment box below.
Have you traveled when it's off-season? Where? When you travel, are you more focused on going when it's the nicest weather, or when it's the quietest?