Trip Ideas from A to Z for Every Traveler
You know that life is short and the world is wide. There is so much to explore and discover on this beautiful earth. The best way to do that is to sample a bit of everything.
Here are travel ideas of types of journeys that you can take from A to Z.
Adventure Travel for the curious, the thrill-seekers and boundary-pushers. It involves travel to remote or exotic locations to take part in physically challenging outdoor activities.
Babymoon is a newly coined term for a period of time both parents take to relax and spend quality time together before the baby is born.
Culture and History Trips. It is one thing to read about history and culture in a textbook or novel but it's a completely different experience to stand where history was made.
Devotional Trips. To get in touch with the spiritual and religious side and to celebrate one's faith. Pilgrimage or religious trips are common all over the world.
Eco Vacation. If you'd like to reduce your footprint a bit, get closer to nature and enjoy the many pleasures of eco retreats, then consider an eco vacation, where sustainability and ecological responsibility are an important part of each day's itinerary, and where there are countless opportunities to experience incredible natural beauty and unique bio-diversity.
Fishing Trips. For the adventure-seeking anglers, there are some stunning fishing spots on the planet.
Girlfriend Getaways. Vacation with all your favorite women to reminisce, relax and reconnect.
Honeymoon, the traditional vacation taken by newlyweds.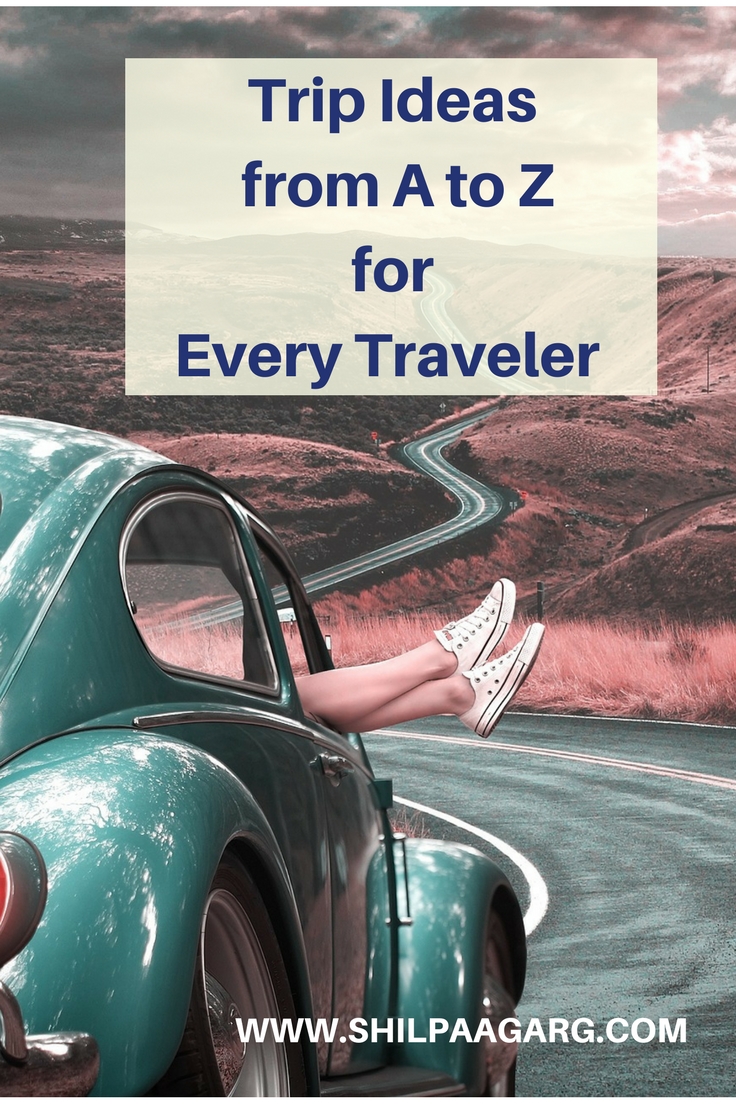 Islands Travel. If you are looking for miraculously beautiful places with vast stretches of beauty to explore on land and in water by day and elegant places to hang out at night, islands from all over the world beckon you.
Jobs. You may take up travel jobs that allow you to earn income while exploring the world.
Kid Friendly Vacation. For a perfect family vacation, there is a whole world of vacation destinations that are kid-friendly.
Luxury Travel offers the best of the best: intimate experiences, personalized services, gourmet meals, and beautiful surroundings that together promise a maximum of pleasure and a minimum of stress.
Mountain Getaways. For those looking for scenic backdrops of forested peaks and endless sky and lush meadows.
National Parks.
Once-in-a-lifetime Adventure is what separates a tourist from a traveler.
Pet Friendly Vacations. You can plan a getaway with your furry friend as there are now a lot of pet friendly destinations.
Quirky Travel. Looking for voodoo spa treatments to armadillo races and subversive donut shops?
Road Trips, to take control of the wheel and explore the world at your own pace.
Solo Travel to explore the world and yourself on your own terms and pace.
Trekking along trails winding up, down, over and around mountains with a backpack and living in the wild.
Unknown and Mysterious Travel – Pack light, set off, and see where the road takes you. You could also go to the airport with no set destination.
Volunteer Travel.  See the world and actively make a difference in communities that need support.
Wineries Trips. Explore the vineyards and wineries and taste to your heart's content without worrying about driving.
Xtreme Sports. To test the limits of what's humanly possible and for fun and thrill.
Yoga Retreats for a truly transformative experience of healing the mind and the body.
Zzzz– A trip to do nothing but just to relax and rejuvenate.
So what all have you ticked from these travel types and which of these will definitely feature in your next travel plan?
My theme for this year's Blogging from A to Z April Challenge is Notes from the Road, which has my thoughts, views, experiences, tips, stories inspired by my years on the road.