Jobs to do While Traveling the World
Who wouldn't want travel jobs that allow earning income while exploring the world? If you are traveling the world for an extended period of time and can't afford to completely quit working, you're in luck. There are many different job opportunities to make money while traveling the world.
Teach a Language: Professional English teachers are highly sought after around the world.
Teach Online: It's really not that hard to find a job as a Skype Teacher online! Teaching online will give you the flexibility to make money while you're travelling and can also be a nice income supplement to other on-the-road jobs
House Sitting: This will let you not only earn a little bit of income, but save a lot on accommodation costs!
Dog Walking: Provide exercise to the dogs while exploring the neighborhood and get paid for it. If you get a group of 5 or 6 dogs that get along well, this can earn you good money.
Working In Hostels: This method is becoming more and more popular amongst backpackers the world over. Backpacker hostels frequently hire travelers to fill positions on a short term basis in exchange for free room and board. In India, a lot of foreigners work in camping sites / resorts for a free retreat.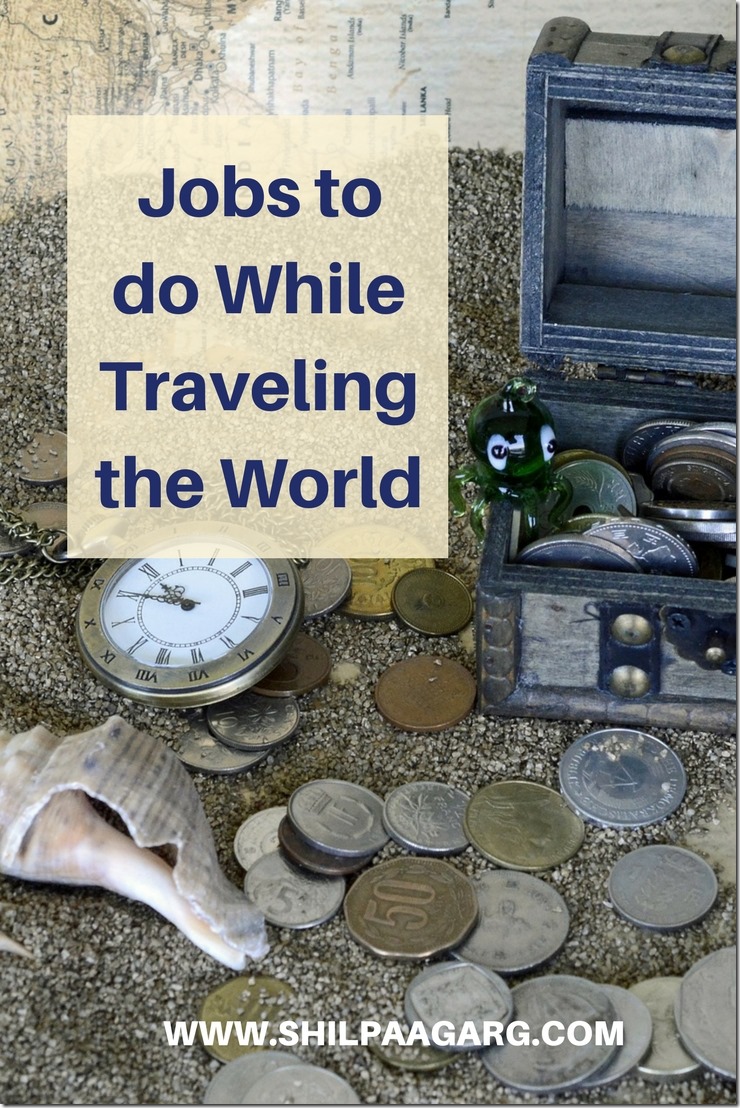 Bartending or Waiting Tables: An oldie but a goldie. There are a ton of jobs bartending around the world. It's handy to have some bartending experience but it isn't always mandatory.
Work at SPCA: If you love animals, you can help out at the local animal shelter while you're on the road. Mostly this will be volunteer work, but if you have a skill, you may get paid.
Rent & Sublet Abroad: If you're staying in one place for a long time, you can rent a villa or apartment long-term (1 year or more) and ask the owner if it's okay to sublet. In Bali, this is a common practice. Yearly rentals are cheaper than monthly and nightly, so you'll make some extra cash, you'll just have to manage check-in, check-outs etc.
Digital Nomad : Do your online business, freelance writing, translation, dictation, designing, photo editing, selling stuff, travel blogging…  anything online and all you need for this is your laptop and an internet connection. You can even offer your services on sites like Fiverr.com.
Sell Your Skills : Are you a musician or a singer or an artist or magician? Or know acrobatics, painting, fortune telling, dancing, henna art or can cook? Perform for the locals and get paid. In case you are not skilled, then sell your hard work on the local farms.
Teach Your Skills:  Are you a web designer or programmer? A home designer? A social media expert? A fitness expert or a dog trainer or scuba diving instructor? A photographer? Whatever you know, you can monetize it by teaching others. You can find jobs teaching by either posting up signs at local cafes and hostels, or online.
These jobs may not be for everyone, but you can be creative and redefine travel and be financially secure even when you are on the road.
Do you know any globe trotters who work while traveling? Will you ever travel and work your way through the world? Which one of these amazing jobs you can do while traveling?
My theme for this year's Blogging from A to Z April Challenge is Notes from the Road, which has my thoughts, views, experiences, tips, stories inspired by my years on the road.