10 Tips for Zero-Waste Travel
Travel is full of disposable products and often generates a lot of waste. During our travels we are tossing away a lot of single use plastics, coffee cups, stickers, tickets, receipts, mineral water bottles, headphones, individual use products and so on. All these will probably get buried in a landfill some place where it will last forever, contaminating the environment around it.
Is it possible to be a zero waste traveler? Yes, it is. Yes, we can reduce our impact on the environment by cutting down the consumption and reliability on single use plastics and other things that are not eco-friendly. We can reduce the amount of trash generated on trips by packing a few important and versatile things. Here's how we can minimize impact on the environment while traveling.
Mobile Tickets : Download tickets and other travel documents on your smartphone instead of printing them. I have seen people carrying 3-4 pages for a single ticket which even has all the rules and regulations and even the trail booking mails. Say no to paper receipts, if you don't need them, ask for ebills instead.
Reusable Water Bottle: Refilling your own reusable travel water bottle with a filter will save on a LOT of single use plastic bottles as well as money.
BYO Utensils : Carry a lightweight spoon/fork, or a bamboo utensil set so that you never have to use plastic disposables.
Reusable Coffee Cup or Thermos: Use reusable cup or jar to buy takeaway drinks such as coffee or juice.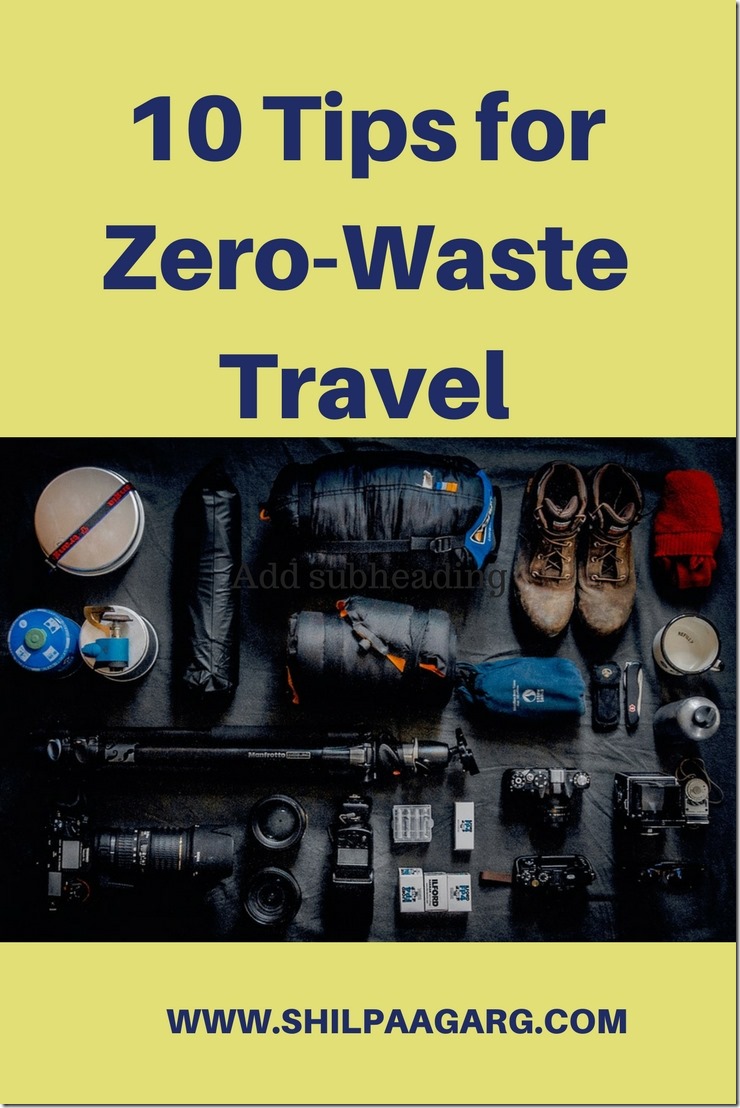 Cloth Bag : A shopping cloth bag can be used multiple times and will save you from using plastic bags. You can use your backpack or a lightweight, foldable tote bag.
Scarf and Handkerchief : A scarf can transform into so many different things, from a pillow to a stole to a mask to a warm fashion accessory. A handkerchief eliminates the need for tissues and can also be used as a napkin.
BYO Amenities : Use your phone or tablet's headphones to plug into any inflight entertainment so you don't purchase or use their plastic disposables. Always carry your own pen, if you have a Montblanc, why not flaunt it! Carry soap and shampoo bars and say no to liquid soaps and shampoos in plastic bottles.
Travel by Public Transport or Walk, Wherever Possible. The latter will do a world of good to your health too.
Travel Differently. Be a eco-adventurer. Choose destinations that focus on conserving the local environment and historical heritage and make the most of your time there by volunteering.
Recycle and Compost Everything. Use public recycling receptacles or ask a local where a recycling station is.
What are your go-to tips for zero-waste travel? Please share in the comment box below.