Puglia – Hidden Treasures of Italy
Title: Puglia – Hidden Treasures of Italy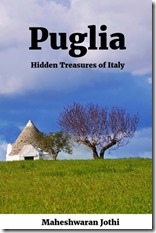 Author: Maheshwaran Jothi
Genre: Travel Guide
Number of Pages: 50
Price: Free (For Now)
Publication: Self-published
Format: Ebook PDF
Download Link
Most of the travel guides recommend all the places that can be seen in a country or region. While it is good to know about every place and chose few from the list, it also makes some worried about the lack of time to see all those place. So here is my new experiment for a travel guide with clear itinerary detailing on what to do every day and in what sequence. – Maheshwaran Jothi
Usually, travelogues tell of one individual's journey. Maheshwaran's Puglia – Hidden Treasures of Italy, is a lot more extensive than what usually travelogues are. It is not about chasing the destination and rush it out on a holiday, but it is about soaking in the place just like one of the locals and enjoy the journey.
In this book, the author has shared all about Pugalia which is in the south of Italy and is one of the often-ignored regions of this European country.  The book gives a 3 day itinerary of what all can be done in Puglia which is a treasure trove of art, history, and nature. There's information on how to reach and where to stay in Puglia. The book focuses on 10 interesting places to see in Pugalia. These are Lecce, Ostuni, Cisternino, Locorotondo, Alberobello, Brindisi, Gallipolli, Leuca, Otranto and Torre del'Orso.
Maheshwaran has provided vivid descriptions, historic and factual information that gives insights about the daily-life, culture, architecture and history of the attractions at all these places. The pictures add to the charm and appeal of all these places.
So, if you are visiting Italy, you just need to read this guide to make sure you get the most out of your trip to the incredible hidden treasures that you will find in Puglia.