Healthy Recipes Cook Book
Title: Healthy Recipes Cook Book
Author: Deepa Gandhi
Genre: Cook Books
Number of Pages: 43
Price: Free (For Now)
Publication: Self-published
Format: Ebook PDF
Download Link
You want to cook and eat healthy. Right!? But does the word Healthy seems to be synonymous with Boring in your head? If that's a yes, then it's time to turn to Healthy Recipes Cook Book by Deepa Gandhi for a dose of inspiration.
So, whether you are looking to shed a few kilos or want to increase the fruit and veggie intake of your kids or just want to get the whole family eating healthy and well, this book should cover it all. There are 18 recipes in this book which have easy-to-find ingredients with simple steps to follow. There's a healthy mix of starters, snacks, main course dishes and desserts. I liked that there's balanced advice / information about the key ingredients and tips and notes about replacing / adding few ingredients.
You can find the following recipes: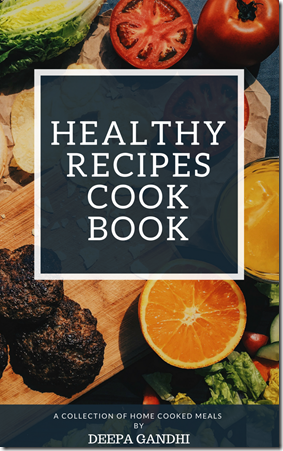 Apple coconut squares
Carrot muffins
Dhokla with a twist
Fruit pops
Gluten free spinach rice balls
Honey strawberry milk shake
Instant paneer tikka
Jaggery dates chutney
Kale cheese grilled sandwich
Lemon cranberry mocktail
Mango brown rice salad
Nutritious party crackers
Oats beetroot dosa
Pineapple pomegranate parfait
Red sauce pasta with spinach
Vegetable corn kebab
Whole wheat walnut banana bread
Sprouts salad
My favorites from these recipes which I am going to try making at home soon are…
Dhokla with a twist – It is made using idli batter. I have never tried this version and it sounds and looks so interesting.
Kale grilled sandwich – I have had this version of sandwich when traveling but have never made at home.
Lemon cranberry mocktail – All the ingredients are right there in my fridge, and I never made this healthy drink.
Oats beetroot dosa – My love for dosa is legendry and now I can try a different and colorful version with beetroots which we usually eat as salad.
Whole wheat banana bread – Because it is a favorite at home.
What I like about this book is that these are the recipes that will fit any lifestyle. Also the realistic advice and the information with a healthy twist to the various recipes will impress all in the family.
Go on and check this Healthy Recipes Cook Book and start cooking. Believe me, healthy recipes will not be boring again, ever!