Golden Rainbow
Title: Golden Rainbow – Short Stories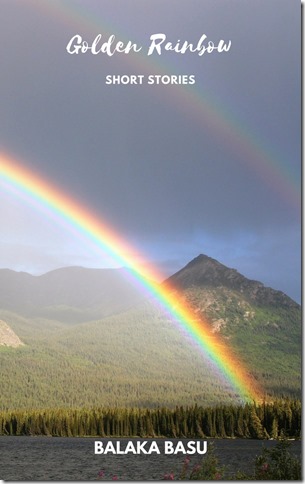 Author: Balaka Basu
Genre: Short Stories
Number of Pages: 30
Price: Free (For Now)
Publication: Self-published
Format: Ebook PDF
Download Link
Life is one adventure trip. Throughout this journey we meet many people. They all come in our lives as strangers, some stay for a short while and some for long and some of them leave an indelible imprint in our lives.
Golden Rainbow is a memoir that has been curated from the author's life. It is a collection of 26 short stories about people she met in her life's journey. These protagonists are from all walks of life, are young and old, men and women, leading happy and unhappy lives… and they all come alive through Balaka's stories which are build to some surprising and moving climaxes.
Some of the stories that have struck a chord with me are…
CHOWDHURY KAKIMA- THE SECRET SPY : This is a story of a childless woman who had voluntarily taken the charge of disciplining every child in her vicinity with too much seriousness. She knew the whereabouts and misdemeanors of kids and admonished them without any hesitation. It was not surprising that children feared and hated her. But is Chowdhury Kakima still the 'evil woman' from her younger days or is a lonely old woman who is looking for some love, compassion and companionship?
VASWANI UNCLE- THE ALLEGED PAEDOPHILE : Vaswani Uncle loved playing with the kids in the park. He indulged them with chocolates and ice-creams and the kids flocked around him for a free joyride on his scooter. And then someone planted a story that everyone should be careful with him around their kids. But was he a paedophile or just a person battling life's trials and tribulations?
URMILA PISHI- THE REJECTED BRIDE : Urmila Pishi was not conventionally beautiful. Her beauty didn't adhere to the compliance of the Bengali matrimonial market. She was plump, dark complexioned, had specs and above all too educated. Moreover, she was almost thirty years old and thus too old for the marriage market. No marks for guessing that she was rejected time and again by the boys and their families. And one day she did the unthinkable and that changed her life forever.
QUEEN- THE TRAPPED SOUL : He was a queen caged inside a king's body. Life was not easy for him but he found someone who loved him and cherished him… and finally betrayed him.
DESAI UNCLE- THE SILENT MAN : Desai Uncle was frail looking man who lived alone and usually kept to himself. Life smiled on him for a short while and then his son and daughter-in-law came back to stay with him only to send him away to an old-age home!
What I liked about Balaka's Golden Rainbow is that each an every character is so fascinating and strong that you want to know more about them and their experiences in the story. Her stories give insight into human character.  Each of her stories evoke strong emotions that keep the reader engrossed in the story and curious about the characters' futures and that they have unexpected endings is another feather in her cap.
I thoroughly enjoyed reading Golden Rainbow, I am sure you will love it too. Go on and download it, NOW!!