Why Breakfast is the Perfect Kickstarter to Your Day
We all know that breakfast is the most important meal of the day. But it wasn't the case for the three of us in our family, till a few years ago. The child wasn't hungry (and awake) enough to eat breakfast, while for the husband and I, the hustle and bustle before leaving for work did not give us enough time to have breakfast in peace. It was either a quick bite in the car or hurriedly grabbing something in the office cafeteria. A health scare, made us slow down and change our habits. The most important change that we made in our habits was taking 10 minutes to eat a nourishing breakfast. Over a period of time we realized that making breakfast a priority had a lot of benefits.
Since we barely found the time, we switched to a quick fix for most of our days – Kellogg's cereals. For the kid, it alternated between cornflakes and the Muesli; while my husband and I switched between Muesli and the All-Bran Wheat Flakes. Besides the fact that Kellogg's has been a part of my life since childhood, the fact that their products are highly nutritious and yet an extremely convenient option for people who are in a rush in the morning, makes it a perfect option for breakfast.
Let me share a few reasons why it is important to make time for breakfast:
Breakfast boosts memory and concentration. I have read that when you skip breakfast, the brain does not get adequate nutrients – especially after an overnight fast. Studies have shown that school children who regularly eat breakfast have improved memory performance, attention, ability in problem solving and better comprehension during reading and listening. Because dietary carbohydrate breaks down into glucose, it is important to get the right amount of carbohydrates at breakfast to provide energy to the body and the brain. Enjoy your breakfast with Kellogg's cornflakes along with milk/ curd and your favourite fruit / dry fruit to provide you energy to set you up for the day.
Breakfast should provide essential vitamins and minerals. Fruits, milk, yogurt, eggs, provide vitamins, minerals, anti-oxidants and fibre. Studies show that when essential nutrients are missed at breakfast, people typically don't compensate for that loss during other meals. Kellogg's ready-to-eat cereals are fortified with key essential vitamins and minerals and can help you meet the breakfast requirements of these nutrients.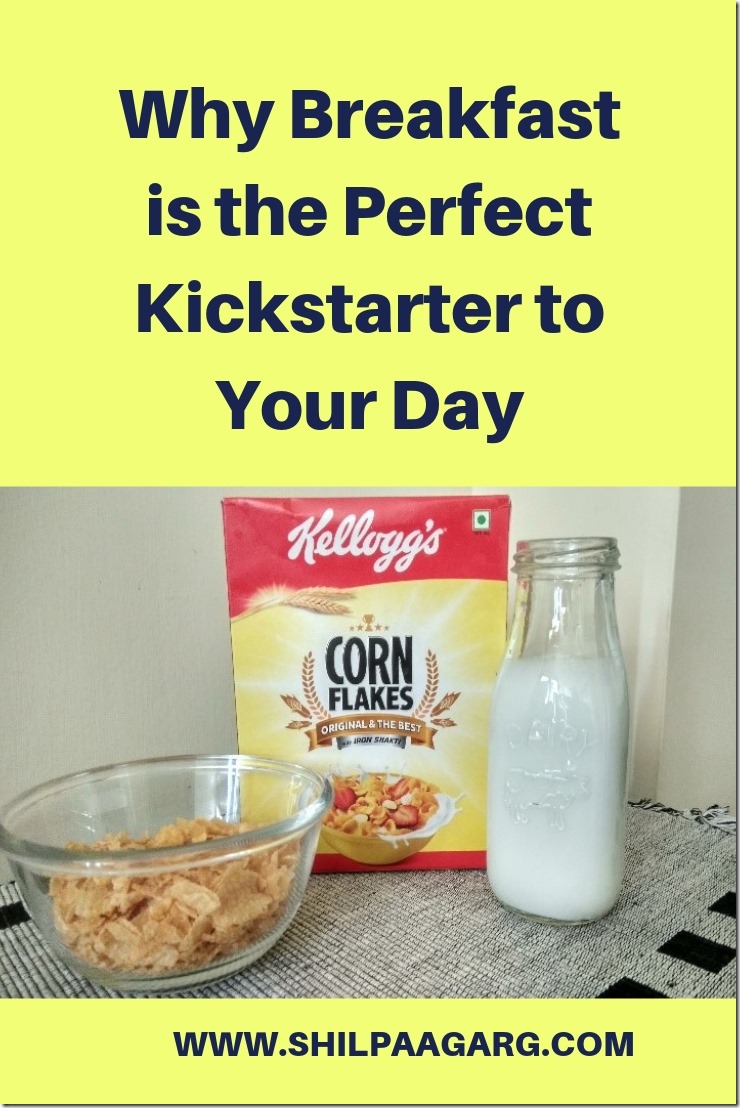 Breakfast helps manage body weight. It's a common belief that skipping breakfast helps one lose weight. Skipping breakfast as a weight control strategy can backfire. Research shows that adults and children who skip breakfast end to weight more than those who eat breakfast regularly. People who eat breakfast regularly tend to have a lower Body Mass Index (BMI) and often have healthier body weights. Several studies demonstrate that habitual breakfast eaters are less predisposed to overweight and obesity compared to those who skip breakfast.
Breakfast lays the foundation for the energetic start. Cereal-based and preferably fortified breakfast cereals can provide up to 25% of the recommended daily intake of key essential micronutrients. Kellogg's ready-to-eat cereals are fortified with key essential vitamins and minerals making it my choice for a great start to the day!!
Right breakfast gives the right start to the day. I certainly can't concentrate on work on an empty stomach. In fact, it lowers my productivity and makes me grumpy and 'hangry'. A quick nourishing breakfast definitely helps me to energize my mornings to start my busy day
Breakfast is indeed the most important meal of the day. Breakfast fuels you up and gets you ready for the day. And if you think you are always on your toes with your busy schedule, why not pick up a pack of Kellogg's cornflakes today?
This national nutrition month, let's #BreakTheHabit of skipping breakfast. Join me to spread this message, comment below and share this post with your loved ones reminding them to #Breakthehabit of skipping breakfast.