Experiments in our Kitchen
All life is an experiment. The more experiments you make the better. ― Ralph Waldo Emerson
KG, my better half truly lives by this quote. And he practices this the most in our kitchen. He can cook up a storm with unconventional ingredients and majority of his experiments have happy-yummy endings. He combines some interesting flavours and turns everyday food into something unique and delicious. Of course, there are some disasters too. But that does not deter him from experimenting in the kitchen.
Let me share some of KG's experiments in our kitchen…
1. A few days ago, he made this grilled fish with an unusual salad of guava and tomatoes to go with it. The fruitiness of the guava combined with the tartness of tomatoes and some spices complimented the grilled fish so well that we polished it all off in no time.
2. Crunchy creamy sweet and tangy, that's how we describe KG's Coleslaw sandwiches. The usual coleslaw contains cabbage, carrots with a salad dressing of vinaigrette or mayonnaise. KG put a memorable spin to it by adding green apples. And now, I can never have a coleslaw sandwich when I am travelling because it does not have this extra wonderful ingredient.
3. You must have heard of Chettinad masala powder, the famous flavourful and traditional spicy masala from Tamil Nadu made by dry roasting whole spices and grinding them to a fine powder. And of course, laal maas. Laal maas is a fiery Rajasthani meat curry. But you would not have heard of laal maas with Chettinad masala. It is a finger-licking and scrumptious explosion of flavours, believe me.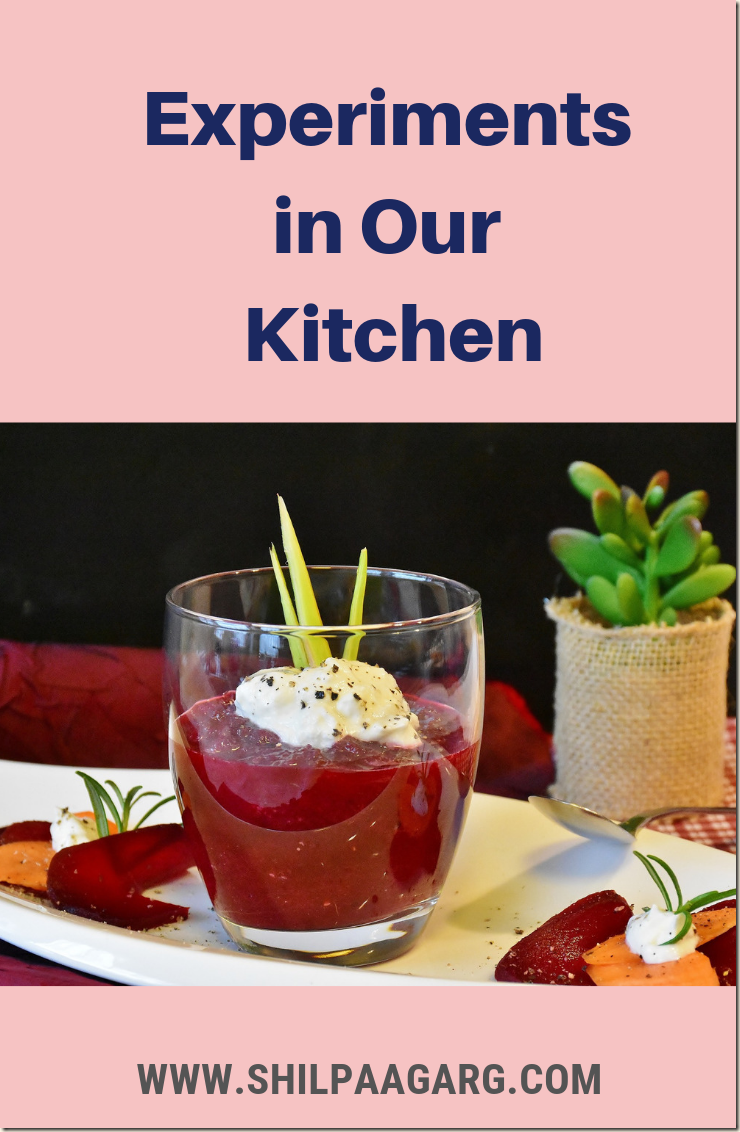 4. I was travelling for work and KG had to make a quick breakfast for himself. He boiled eggs for himself before going for his bath. By the time he got ready, the eggs had gone cold. He put them in the microwave to warm them for a minute or so. When he took them out and broke the shell of the first egg, it blasted like a bomb. I was cleaning the 'debris' of the blasted egg even after 3 days, as the white rubbery 'shrapnel' had fallen at all unimaginable places.
5. KG's one experiment truly takes the cake.
Aaryan and I were coming back home from Shimla. KG made an elaborate lunch to welcome us. My parents joined us for lunch too. KG had made kheer (rice pudding) for the dessert. We all gushed at the heavenly taste of this kheer. Warming up, he asked us to guess the secret ingredient in the kheer. My mom and I, rattled off all the plausible ingredients that one can add in an Indian dessert, but he vetoed all of them. We then 'begged' him to shed light on the mysterious ingredient.
Egg Yolk, he said with a proud and mischievous smile.
Mom who is a vegetarian and who relished the kheer so much, moments ago,  nearly puked.
I was truly flabbergasted by this experiment of his. I asked him what inspired him to add egg yolk. He coolly said that the rich and thickening properties of egg yolks are used in custards and puddings. So, the same can be replicated in this Indian dessert too. All I could do was roll my eyes, while licking the bowl of kheer clean.
For me cooking is just a responsibility but for KG it is fun and that's why he loves playing around with different ingredients and prepare dishes that are unique, interesting and delicious.
Do you experiment in your kitchen? Do you like to explore new flavours in your food?
My theme for this year's Blogging from A to Z April Challenge is Food Talks. Join me for some interesting, fun conversations about food experiences, experiments, basics, tips, ideas, hacks, trends and much more.