Food Culture of Rajasthan
You know, the food that we eat everyday tells us about where we come from. We grow up eating the food of the place where we live and that becomes a part of our identity. Different places have different foods and food traditions that define the food culture of the place.
Food culture refers to the practices, attitudes and beliefs of a place regarding food.
Rajasthan has its unique food culture which is defined by the centuries of invasions, wars, climate, religious beliefs and social customs.
Rajasthan, being a desert state, there's scarcity of vegetables and water. The vegetarian food does not have regular vegetables but dried ingredients cooked in oil and red chillies to preserve the food in high temperatures. Because of the scarcity of water, Rajasthani cuisine is often rich and dairy-based. The non-vegetarian food has hunted animals cooked in some unusual styles.
Let me share some interesting and unique dishes and cooking styles of Rajasthan that forms its food culture.
Papad ki Subzi
Papad in rest of the country is eaten as a snack or meal accompaniment. But in Rajasthan, due to scarcity of vegetables, papad is used as a main dish. Papad is added in a yogurt gravy made with gram flour, chilli powder, turmeric and chopped coriander leaves.
Gatte ki Subzi
This is another dish where you dont need fresh vegetables. Dumplings of gram flour (known as gatte) in a gravy of buttermilk, tomato and spices is an integral part of Rajasthani cuisine.
Ker Sangri
Ker is a wild tangy berry and sangri is long bean grown abundantly in the desert areas of Jaisalmer and Barmer. Legend has it that these were supposedly first used as a food source when famine-struck villagers of Rajasthan had nothing to eat. Today it is a traditional dish that is served in homes, restaurants and at weddings.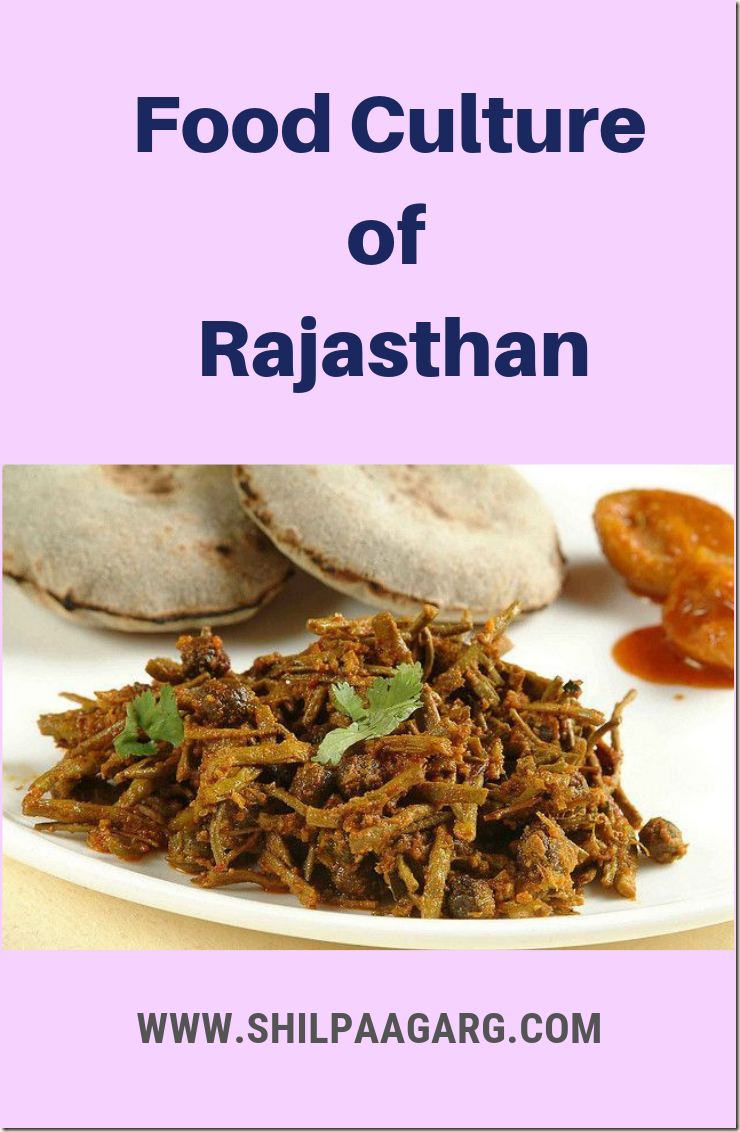 Lal Maas
Lal Maas literally means "red meat is a fiery mutton preparation. It is also made with game like rabbit, wild boar and deer. It is said that the king of Mewar wanted a dish that was hot and meaty enough to suit the palate of a warrior. The cooks made the dish but the odour of the hunted deer was still prevalent in the curry even though it had a lot of yogurt and garlic. They added red chillies that not just added to the flavour of the dish but also removed the odour and gave it a bright hue and therefore, the name Laal Maas.
Khad or Pit Cooking
This interesting technique of cooking meat originated in Rajasthan. Meat is prepared in pits, dug out in the sand. This slow-cooking technique was created to ensure that the fire could not be seen by enemy troops.
Dungar Cooking
Another novel cooking technique of Rajasthan is Dungar cooking. When a dish is nearly cooked, it is transferred to a dish with a tight-fitting lid. A live coal in a bowl is placed in the centre and ghee (clarified butter) is poured over it. The lid is tightly closed so that the smoke, trapped for 30 minutes, permeates into the food, giving it an intoxicating smoky flavour and aroma.
Dal baati churma, raab, bajre ki roti with lasun chutney, ghevar, junglee maas are some other dishes that form the rich food culture of Rajasthan.
Have you been to Rajasthan? Do you like Rajasthani cuisine?
My theme for this year's Blogging from A to Z April Challenge is Food Talks. Join me for some interesting, fun conversations about food experiences, experiments, basics, tips, ideas, hacks, trends and much more.
PC : Source