The Power of Aroma
[Aromas] have a power of persuasion stronger than that of words, appearances, emotions, or will. The persuasive power of an [aroma] cannot be fended off, it enters into us like breath into our lungs, it fills us up, imbues us totally. There is no remedy for it. – Patrick Süskind
As soon as you enter your home around dinner time, what is the first thing that strikes you? What makes you look forward to the dinner?
It's the aroma of food wafting through the air. Right?!
It's this aroma, that you get through your sense of smell that lets you explore food before you eat it. It is this aroma, that lets you know that the food is good, even before you see or taste it. This sense of smell actually acts as an appetizer, tempting you to taste and enjoy the food.
Food smells hold the key to some amazing old memories too. A food smell can help us relive a special time that, and make us do time travel to a place we could never go back to. A food aroma can make a magical moment live on, for just a little bit longer.
Researchers have found that just smelling food may satisfy hunger cravings. Few minutes of simply smelling an unhealthy meal—like deep-dish cheese pizza, for example—seems to signal satisfaction to the brain as much when you actually eat it.
So, taking in the aroma of food can trigger such strong emotions and memories.
I am sharing a list of foods that entice me with their aroma.
1. Coffee
Coffee justifies the existence of the word aroma. There's nothing better than waking up to the smell of fresh coffee. Its smell makes the soul and the body smile!
2. Roasted Garlic
Have you roasted garlic with a dash of oil, salt and pepper in an oven? I love adding roasted garlic to the sauces, dressings, salads and spreads! It not only gives that extra zing to the food but also smells divine.
3. Banana Bread
Banana Bread is the most baked tea-time cake in my kitchen. If heaven had a smell, I imagine it would be the smell of banana bread. Brown sugar with ripe bananas and butter is the best recipe for making the home smell terrific.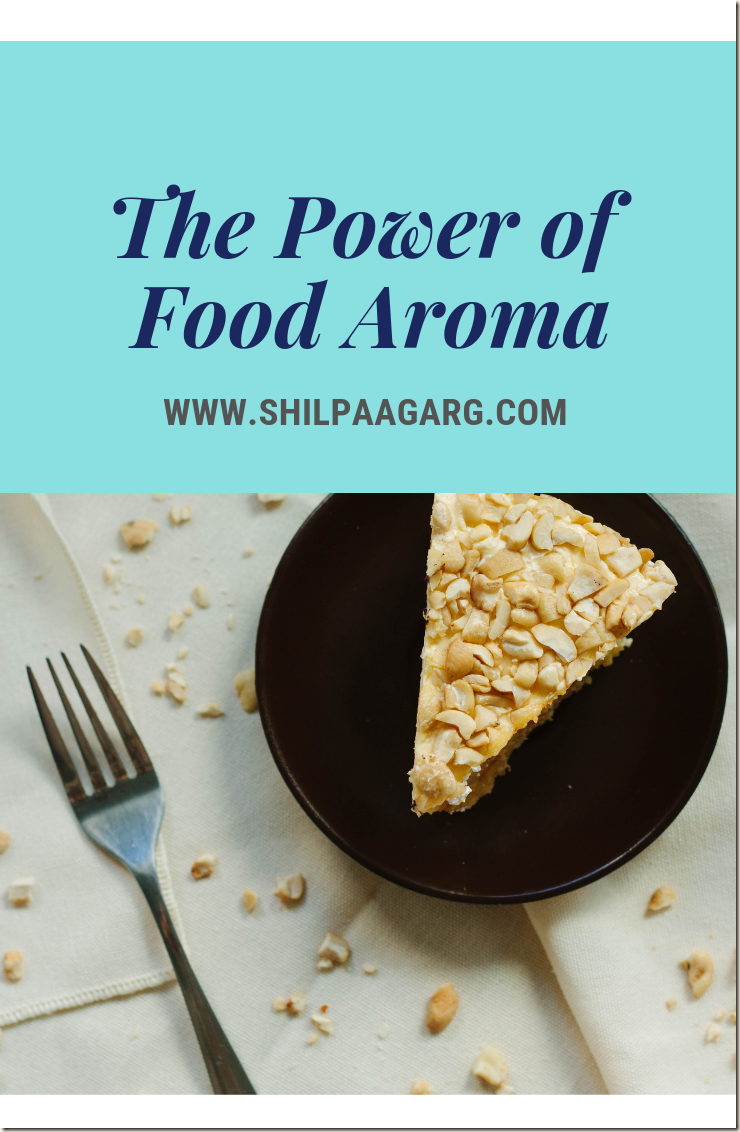 4. Bread
My neighbour in Mumbai used to make bread at home. The amazing aroma that came from her kitchen as the dough rose to yeasty goodness, is a sweet smell of nostalgia for me.
5. Bacon
The husband and son love bacon and when they sizzle and slow cook it for their breakfast, the aroma that wafts from the kitchen, tantalizes and tempts a non-bacon-eater me too.
6. Fresh Boiled Milk
No, not the carton milk or the soy milk. I am talking about the pure fresh unadulterated milk straight from the dairy farm. The sweet fruity smell of boiled milk is so comforting and always reminds me of my grandparents' home.
7. Tadka
The fragrant smell of a hot tempering for a dal with the crackle of cumin, mustard seeds and hing (asafoetida) and sometimes curry leaves is so satisfying to the soul.
While you could purchase a variety of air fresheners and sprays to make the house smell wonderful, nothing beats the aromas that waft from the kitchen
I wish that your home is full of good food aromas, good mood, and good memories!
Which food aromas trigger wonderful feelings for you?
My theme for this year's Blogging from A to Z April Challenge is Food Talks. Join me for some interesting, fun conversations about food experiences, experiments, basics, tips, ideas, hacks, trends and much more.