Zinging Food Using Leftovers
I cook too much food. I mean, I can't cook less.  I mean, there's enough for at least 1-2 persons after we have finished our meal. So that means that any point of time I have leftovers in my refrigerator. Since I have 2 foodies at home, serving the same dish again in the next meal is just out of question. And I just can't let the leftovers go to waste. So, zinging up the food using leftovers and presenting it in a new avatar is what I frequently do.
Until and unless you are an adept planner, leftovers are something that we all have to deal with. But leftovers don't get too much respect. The mere mention of leftovers brings frowns and scowls from the family. Can't blame them, because some reheated food taste like some sort of bland, soggy mush and it certainly doesn't look good. You can stop feeling guilty about leftovers and just get smarter and creative in using them.
Here's how…
Fritters or Tikki
Leftover rice or khichdi or noodles or dry vegetables can be turned into crispy n crunchy tea time snacks. Add besan or rice flour to the leftover rice or khichdi or noodles along with chopped onions, green chillies and spices. Divide the mixture into small balls and deep or shallow fry them in hot oil and serve hot with green chutney or tomato sauce.
Baked Dishes
Layer leftover rice or pasta with veggies followed by white or tomato sauce and some breadcrumbs and cheese. Bake to perfection for a whole new look to last night's meal.
Nachos or Tacos
Crisp up left over rotis on a pan and add beans or boiled corn, sour cream, salsa and cheese for an Indian twist to a Mexican favourite!
Poha
Cut leftover idlis or chapati into small chunks and toss them with fresh vegetables and spices for a quick and filling snack.
Pancakes
Leftover dal or rice? Add these to some healthy flours like rice , bajra, besan along with vegetables and spices and make a batter and spread it like a dosa on a girdle and cook it on both the sides. A healthy and tasty meal is ready in a jiffy!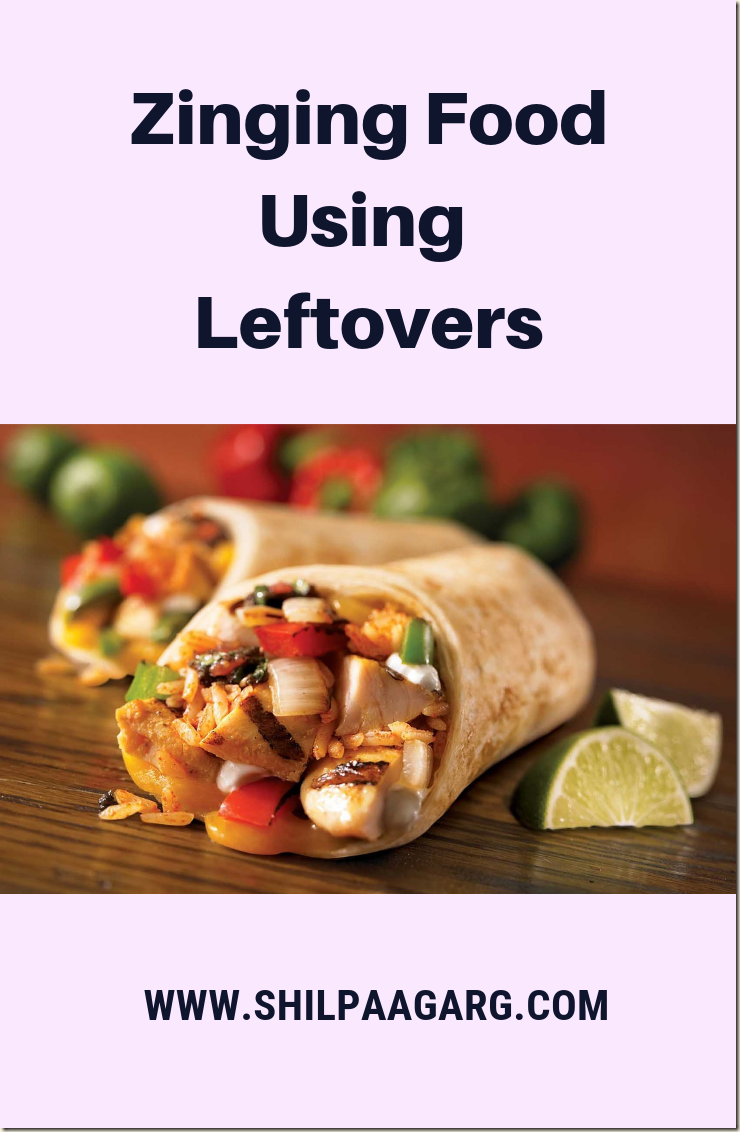 Rolls and Wraps or Sandwiches
One of the easiest way to use leftover dry vegetable is jazz it up in the form a roll or wrap or sandwich. Just wrap gobhi aloo, green beans, paneer, aloo matar or baingan bharta in a roti to make a fuss- free roll or sandwich.
Omelettes and Frittatas
A great way to use up leftover veggies and meats is to convert it into a frittata. Whisk them up with eggs and pour into a pan. Add your choice of herbs and spices and of course cheese!!
Paratha
Leftover vegetables or dal or rice can be kneaded into a dough along with spices to make parathas. Serve with pickle or curd. Filling and nourishing breakfast or lunch.
I believe that leftovers are good in many ways.
You can avoid wastage of food by making delicious recipes in less time.
With less planning and effort you can add variety on your dining table.
Just take care of these simple food safety guidelines…
Refrigerate food below 5 °C as soon as possible.
Reheat refrigerated food for at least 2 minutes to steaming hot (above 75 °C) before eating.
Do you zing up your leftover food? What are your favorite tricks / recipes for using up leftovers?