11 Food Shows on Television We Love to Watch
If you love food and if you love watching TV then you surely watch the cooking and food shows on TV. My boys are big foodies and they have a BIG appetite to watch TV. So, no marks for guessing that they love to binge watch the various food shows on the telly. Thanks to them, I am forced to watch a lot of food shows too. Ok, the last part is not true. I love watching these shows too.
Actually, it's fascinating to watch someone cook. It's amazing to see new, exciting and delicious culinary ideas. You get to know the styles and techniques of cooking, tips and advice from the professional chefs. And you get to explore cultures and cuisines from all over the world.
While I was drawing the skeleton of this post, I had a list of some 26 shows that I absolutely love watching. But today, I will be sharing only 11 of my favourite food and cooking shows on TV.
1. Kylie Kwong: My China
This was one of the first few food shows that we started watching on TV. In this show, Kylie Kwong travels all around China as she rediscovers her Chinese heritage, and explores the food and culture of this vast and enigmatic country.
2. My Sri Lanka with Peter Kuruvita
I like this show because I think KG cooks like Peter Kuruvita. In this show, Peter Kuruvita, a chef based in Sydney, travels to his ancestral country, Sri Lanka to explore the food culture and try delicious recipes in exotic locations… beaches, mountains, jungles.
3. Anthony Bourdain: No Reservations
Aah! I love this charismatic guy. He went away too soon. In this program, Anthony uncovers the best in culinary cuisine across the world. Along the way, he offers his perspective on both the food and the local customs he comes across in his travels.
4. Eat St
This program makes us hungry, very hungry!! In this show, the host tour North American street-side eateries and taste the scrumptious items on their menus while the owners narrate their inspirational stories.
5. Bizarre Foods with Andrew Zimmern
This is one show that I watch with fascination and disgust. Andrew Zimmern, in this show travels to different countries and tries unusual items from the local cuisine, which others might consider disgusting or bizarre. Just to give you an idea, he has eaten raw pig's testicles, frog's beating heart, lizard sake, giant snails, raw octopus sushi, chicken butts, rooster balls, blood stew, crickets of rice fields, ox heart grilled with bone marrow sauce to name a few!!
6. Ramsay's Kitchen Nightmares
Gordon Ramsay is my favorite chef. Have you read his autobiography Humble Pie. Read it and you will truly amazed by his life's story! In this show, Gordan visits restaurants that are on the verge of shutting down. He transforms the struggling restaurants with his own menu of extremely frank and forthright advice. I also like his Hell's Kitchen which is competition between 2 groups of aspiring chefs and they are given a host of cooking challenges to attempt and win the grand prize.
7. The Fearless Chef
He risks his life for food!! Kenyan chef and restaurateur Kiran Jethwa travels around the world to discover unique ingredients and the extreme methods used to harvest them. From deep sea diving for fish in Mozambique to hunting with eagles in Mongolia, Kiran meets with extraordinary people and turns their hard earned harvest into mouth-watering meals.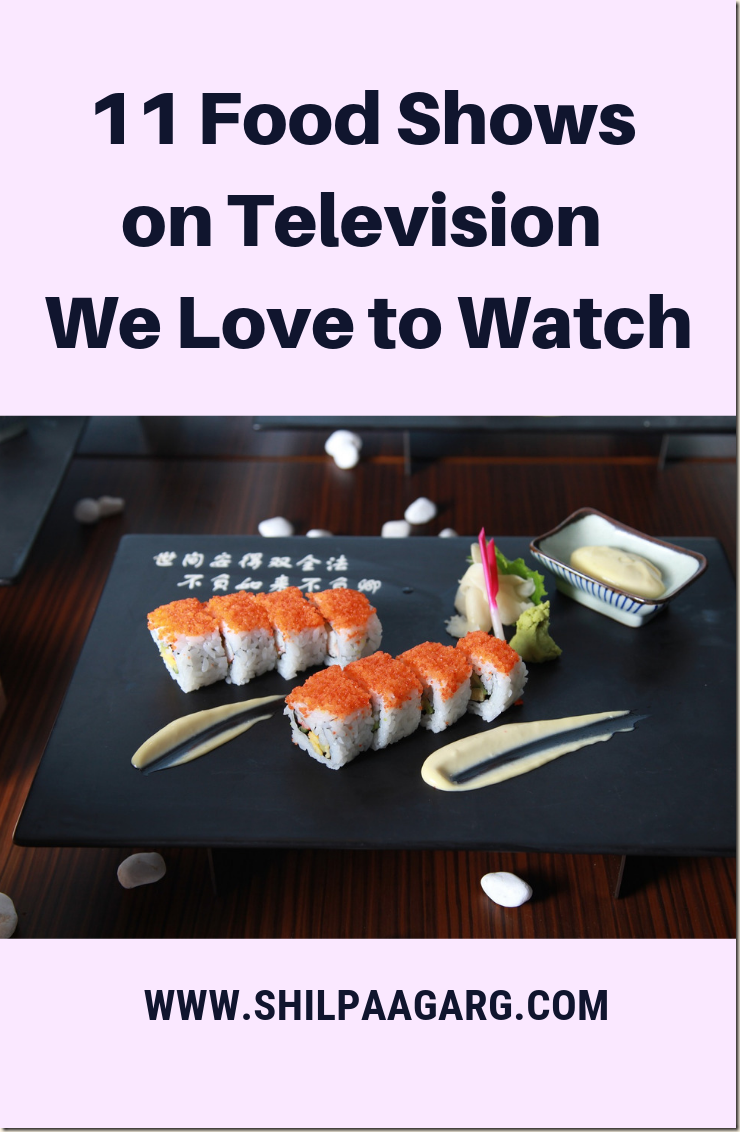 8. Food Safari
Food Safari is an Australian television food series presented by Maeve O'Meara. Here she explores the cuisines brought to Australia by its immigrants. What I like about this show, Maeve's appreciation for the food. You have to watch it to know it.
9. David Rocco's Dolce India
In this show, Italian celebrity chef David Rocco travels throughout India, sampling the local cuisine and collaborating with Indian chefs to create unique recipes. How coolly he takes to the local customs and traditions. Awe-inspiring.
10. Jamie's 30 Minute Meals
KG is highly influenced by this British Chef. While we have watched his many shows, this one is my fav. He whips up recipes that only take thirty minutes to prepare. Just the minutes that I want to spend in the kitchen!!
11. Nigella Bites
She is a food goddess! In this show, Nigella prepares food for holidays and family events. I like how she is clumsy in the kitchen and her bingeing in the light of her refrigerator in the middle of the night… she makes eating totally guilt-free.
There are so many more cooking and food shows that I love, but guess that will have to be for some other day.
Do you watch Cooking and Food Shows on television? Which is your favourite show?
My theme for this year's Blogging from A to Z April Challenge is Food Talks. Join me for some interesting, fun conversations about food experiences, experiments, basics, tips, ideas, hacks, trends and much more.