4 Reasons to Eat Salads | 4 Easy Salad Recipes

Though I am that woman who stands in front of a salad and asks it to be a cake.
But I know that eating salad every day is a healthy eating habit that we should adopt.
Whether we are looking to lose weight, improve nutrition or simply adopt a healthier lifestyle, salads should be our go-to friends.
Here are 4 reasons to grab that bowl of salad, every day!
1. Eat Salad for the Fiber
Dietary fiber is required for proper digestion of food. It reduces constipation, lowers lower cholesterol levels, as well as risk of diabetes and heart disease. Dietary fiber also helps with weight loss and maintenance. Carrots, beets, and broccoli, apples, bananas, oranges, strawberries and mango, potatoes, peas, soybeans, lentils, sunflower seeds, pumpkin seeds, pistachios, almonds have high fiber content.
2. Eat Salads for the Health Benefits of Fruits and Vegetables
Plant foods are nutrient-rich and contribute to overall health. Eating raw green salads like beans and peas, peppers, tomatoes, carrots, apples, peaches, plums, pears, and strawberries gives powerful antioxidants and these are particularly protective against cancers.
3. Eat Salads to Cut Calories and Increase Satisfaction
If losing weight is the goal, start your meals with a green salad. Studies have shown that eating a low-calorie first course, like a green salad of 150 calories or less, enhances satiety (feelings of fullness) and reduces the total number of calories eaten during the meal.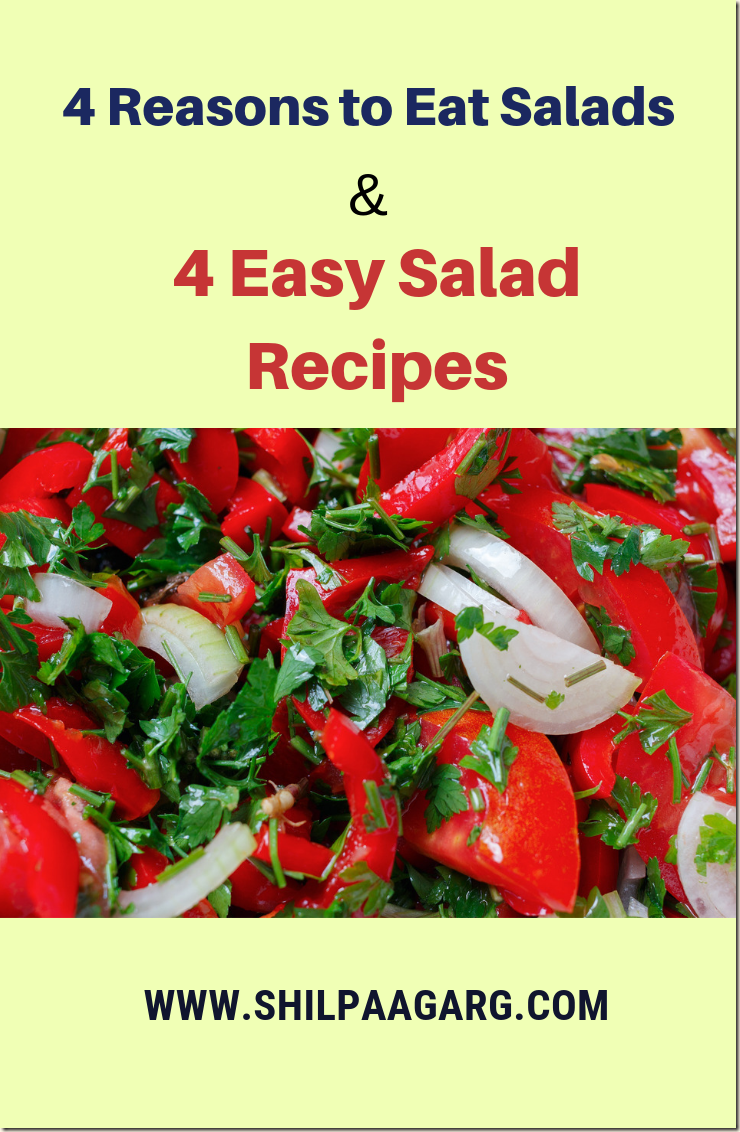 4. Eat Salads to Get Smart Fats
Eating a little good fat like the monounsaturated fat found in olive oil, avocado and nuts with vegetables appears to help the body absorb protective phytochemicals, like lycopene from tomatoes and lutein from dark green vegetables.
They say, salad a day, keeps disease and aging at bay! Here are salad recipes which are not just healthy but a burst of flavor.
4 Easy Salad Recipes
Ingredients For Salad
Mangoes – 2, green or just ripe, thinly sliced
Chopped cashews or peanuts – 1/3 cup
Sweet red pepper – 1, thinly sliced or julienned
Red chilli, seeds removed (to taste) – 1 small
Red onions – 1 cup, thinly sliced
Fresh chopped coriander – 1/3 cup
Chopped mint – 1/3 cup
Ingredients For Dressing
Lime juice – 2 tbsp
Granulated sugar – 4 tsp
Soy sauce – 4 tsp
Sesame or vegetable oil – 1 tbsp
In a bowl add all the salad ingredients and pour dressing and toss well to coat in the dressing.chopped mint and corriander leaves, chopped onions, roasted peanuts, red chilli powder, one teaspoon of sugar and soy sauce. Thai Mango Salad is ready.
Ingredients For Salad
Water melon – 250 gms, cut into chunks
Spring onions – 1 stalk, finely chopped
Olives – 6-7 chopped
Feta cheese – 50 gms, crumbled
Cherry tomatoes – 5-6, cut into half
Ingredients for Dressing
Olive oil – 2 tsp
Oregano leaves – 1/3 tsp
Lemon zest – A pinch
Lemon juice – 1 tsp
Sugar – 1 tsp
Whisk all the ingredients of the dressing. In a bowl add all the salad ingredients with the dressing. Sprinkle chat masala and black salt to taste.
Ingredients For Salad
Ingredients for Dressing
Lemon juice – 3 tbsp
Olive oil – 3 tbsp
Garlic cloves – 2 minced
Black pepper – 1/2 tsp
Salt – To taste
Boil the beetroot on medium heat for 45 mins or until it can be easily pierced through with a knife.
After removing the skin of the beetroots, chop the beetroot into cubes and do the same with the feta cheese. Roughly chop the parsley.
Combine beetroot, feta cheese, parsley with the lemon vinaigrette and serve.
Ingredients for Salad
Assorted beans – 200 gms , cooked until crisp-tender
Tomatoes – 2, chopped
Parsley – 1/4 cup, chopped
Ingredients for Dressing
Olive oil – 2 tbsp
Lemon juice (or vinegar) – 2 tbs
Garlic – 1 clove, crushed
Combine the beans, onion, tomatoes and parsley in a salad bowl. In a small bowl, mix the oil, lemon juice and garlic until combined. Pour the dressing over the bean mix and toss well to coat in the dressing.
Do you love salads? Which is your favourite salad?
My theme for this year's Blogging from A to Z April Challenge is Food Talks. Join me for some interesting, fun conversations about food experiences, experiments, basics, tips, ideas, hacks, trends and much more.