A Motley of Restaurant Experiences
A restaurant is not just a place where we eat a meal, but is place where we connect with family and friends, make memories, know the culture of the city and enjoy a timeout.
While, we would like to have a wholesome experience, unfortunately, not all our experiences in a restaurant are good. Some are bad and ugly as well.
Today, I have a few of my friends sharing their extraordinary restaurant experiences. Read on…
A few years ago my friends and I decided to try out a new fine dining restaurant along with the kids. We had fabulous South Indian meal of dishes we'd never heard of. When the cheque came it seemed unusually inflated. A quick look revealed between us we'd downed about 7-8 bottles of water and that came to about a thousand bucks. That was it – a lesson learnt – now when the server asks us 'Bottled water or RO?' we all chorus out 'RO!'.
I was out for lunch with a friend. On my recommendation we went to Burma Burma.
We ordered starters and chatted. Then ordered the main course and continued talking. Suddenly the power went out. To our absolute shock, we were told that main course would not be cooked. The manager apologized and told us that what we ate would be on the house. The gesture was kind and would bring me back to Burma Burma. Customer delight is a real thing.
Darshinis are my favourite go-to for fresh, hygienic South Indian food. Adiga's at Arekere is an iconic eatery that I've been visiting regularly for the past 15 years. Steaming hot sambar dip idlis, crispy vadas, masala dosa, rava dosa, bisi bele bath, thalis and much more. And filter kaapi too. Everything is super fresh and tasty. Easy on the pocket too. If you are in Bangalore, try eating here.
One of the first outlets in Kerala of the world's most famous fried chicken has consistently been in people's 'avoid' list for a few years and having given them a few chances, I agree with the crowd.
Undercooking a chicken for a universally fixed recipe is one thing but my final straw moment was when I went there for lunch and ended up leaving when 50 minutes after paying the bill, 2 out of 3 items I ordered had still not been prepared in this 'fastfood' center. The staff didn't even try to raise a fuss when I asked for my money back before leaving… they were so used to irate customers and poor feedback.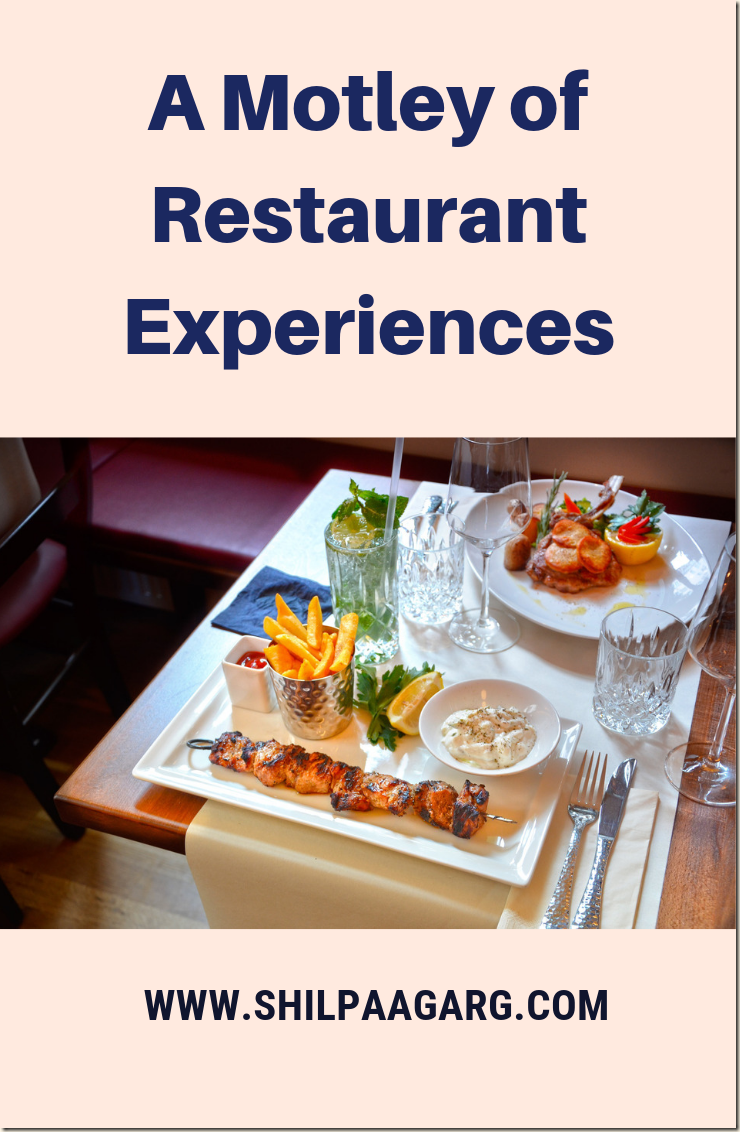 They say you can never do Hiroshima without trying the Okonomiyaki, or the Japanese pizza, that many consider as the 'soul food' of the city. This extremely popular savoury pancake is made with noodles and toppings of one's choice which includes eggs, chopped vegetables, meat and/or seafood.
Last week, we braved long queues to be at one of the best places to experience this —the Nagata-Ya, near the Peace Park in Hiroshima. Having heard some rave reviews of the eatery, we braved the serpentine queues (Nagata-Ya have a no-reservation policy) and what an experience it was! Orders were taken while we were still waiting, so once we were seated, food was served directly on the hot plates on our table to ensure it stayed warm throughout.
A standard Okonomiyaki here costs ¥900 (approx Rs 550). Optional extras include garlic chips, deep fried squid, grilled squid, shrimp or green onion. Since we opted for vegan meals, they cooked ours with vegetable oil instead of lard and even offered us an allergy-free sauce to go with it, which we loved.
While travelling, local cuisines are a must try. And if you're in for a great local experience, then Nagata-Ya offers excellent value for money, and their perfect ambience and excellent service ensure you leave the place with wonderful memories.
On my sixth birthday we went to Gazebo, a swank restaurant at Bandra's Linking Road. My eyes popped when I saw the dark interiors and a live band with couples dancing.
But I was even more surprised when the restaurant presented me with a cake and the whole restaurant clapped as the band sang happy birthday!
We discovered Lilliput, a restaurant which had opened a couple of months earlier and is run by Varghese Paul, a graduate from a catering college, assisted by his parents. We went there on the first evening of our stay and were so taken up with the food and the ambiance that for the rest of our stay in Cherai we ate at least one meal everyday in Lilliput.
Amethyst is synonymous with Chennai, and I would just be echoing a whole lot of locals when I say, 'I love Amethyst!'. This aesthetically pleasing and spacious restaurant is the place to head to if you are looking for a great ambience, flavourful food and an exclusive menu. Their desserts are sinful and I always pick mine as soon as I get there, and order my meal later. Housed in a sprawling bungalow with ample greenery in and around it. Amethyst also has stores on the premises, so you could shop away while you're here too. Whether you're looking for a place to have your meal with just a book for company, or a romantic dinner with your spouse, or even a boisterous day out with a gang of girls, head to Amethyst.
Enjoyed reading these experiences? Over to you now! Please share your good, bad, ugly or funny restaurant experience. We are all eyes and ears!
My theme for this year's Blogging from A to Z April Challenge is Food Talks. Join me for some interesting, fun conversations about food experiences, experiments, basics, tips, ideas, hacks, trends and much more.