He Grows Lush Forest Through Guerrilla Gardening #WATWB
Concerned about the shrinking green spaces in Kolkata, 43-year-old Mantu Hait took it on himself and developed one kilometre forest through Guerrilla gardening.
He wanted to plant trees on the roadsides in 2010. But, he did not have legal rights to do so, as the land belonged to Calcutta Port Trust. Mantu wrote a letter to them asking for their permission to plant trees and waited for their response. But, even after several weeks, he did not get any response.
Then, he came to know about the concept of Guerrilla Gardening. It involves the gardening on land where the gardeners do not have legal rights to cultivate, like abandoned sites or areas that are not being cared for.
Mantu purchased the seeds and started planting trees with the help of some environmental organizations like Nature Mate.
But, due to lack of proper care and water, his plants started dying within a few weeks of the plantation. He then researched for the best practices and chose trees that do not need maintenance. Also, he sowed seeds between April to June in 2011 and the rains that came in the following months proved beneficial for the seeds.
"The results were overwhelming," shared Mantu in a interview with Better India. "By August the plants were giving fruits and flowers. Looking at them grow every day was a meditative experience."  Neighbouring residents supported him by watering the plants near them.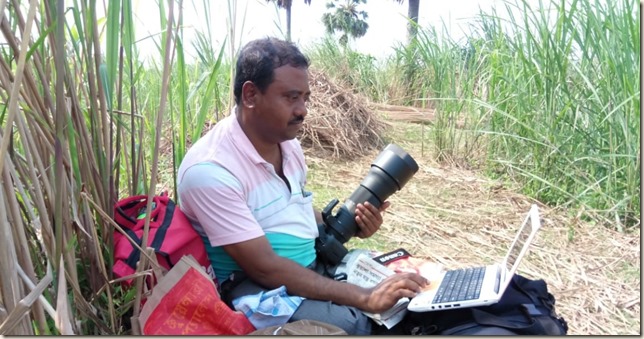 Mantu has planted approximately 25,000 trees in ten years and revived the area which was once a barren dump-yard.
Located between the Majerhat and New Alipore Railway Stations, a one-kilometre stretched forest has a variety of trees including mangoes, guava, walnuts, tamarind, dates, lemons etc.4
Another positive impact from the urban forest is the increasing presence of the birds and animals including mongoose and golden jackals.
"While the world uses air quality monitoring devices to measure the air pollution, for me the validation of clean air are the 50 types of birds that can be spotted chirping in the wee hours of the morning," he says.
Mantu has proved that one individual who is determined to make a difference in the world, can, with desire, drive, dedication, discipline, passion, and persistence.
This post is part of the We Are the World Blogfest, a monthly blogging event created by Damyanti Biswas and Belinda Witzenhausen to showcase stories of hope and light. This month is the 22nd #WATWB and  I'm helping out as a co-host, along with extraordinary bloggers : Lizbeth Hartz, Peter Nena, Eric Lahti and Inderpreet Kaur Uppal —please hop over to check out their WATWB posts as well as from other WATWB participants for a dose of feel-good to last you a whole month. You'll be happy you did!
Click HERE to check out the intention and rules of the blogfest and feel free to sign up at any time. You are always welcome!