Lunch Hour Stories
I believe in stopping work and eating lunch. – L'Wren Scott
Lunch hour is the best part of the day. For a child, school is a place where you go to eat your lunch. Thinking about lunch can make any mundane meeting at work endurable.
One thing, I like about the lunch hour is that it tends to bring friends and colleagues together, both physically and emotionally, thereby creating some amazing memories and stories.
My best friend used to get Gajar-Gobhi-Shalgam achaar (Carrot-Cauliflower-Turnip pickle). As soon as she would open her lunchbox, my eyes would sparkle with joy. As I write this, I am remembering this amazing taste of childhood. I have had many Gajar-Gobhi-Shalgam pickles, but none comes closest to the one made by my friend's mom.
It was a mandate that whenever mom would give aloo paranthas in my lunch box, she had to pack 2 more for my friends. And like wise, there were friends who would get extra poha, idlis, katori chaat, bread pakoras etc. Aah! The fun of sharing food and basking in the compliments for your mom.
Once a classmate opened her lunchbox and the entire group cried collectively 'ugh" and ran helter-skelter. Boiled egg was the culprit. She was called 'boiled egg' after that. Yeah, kids can be really mean. And I remember that she never got boiled eggs for lunch after that, ever!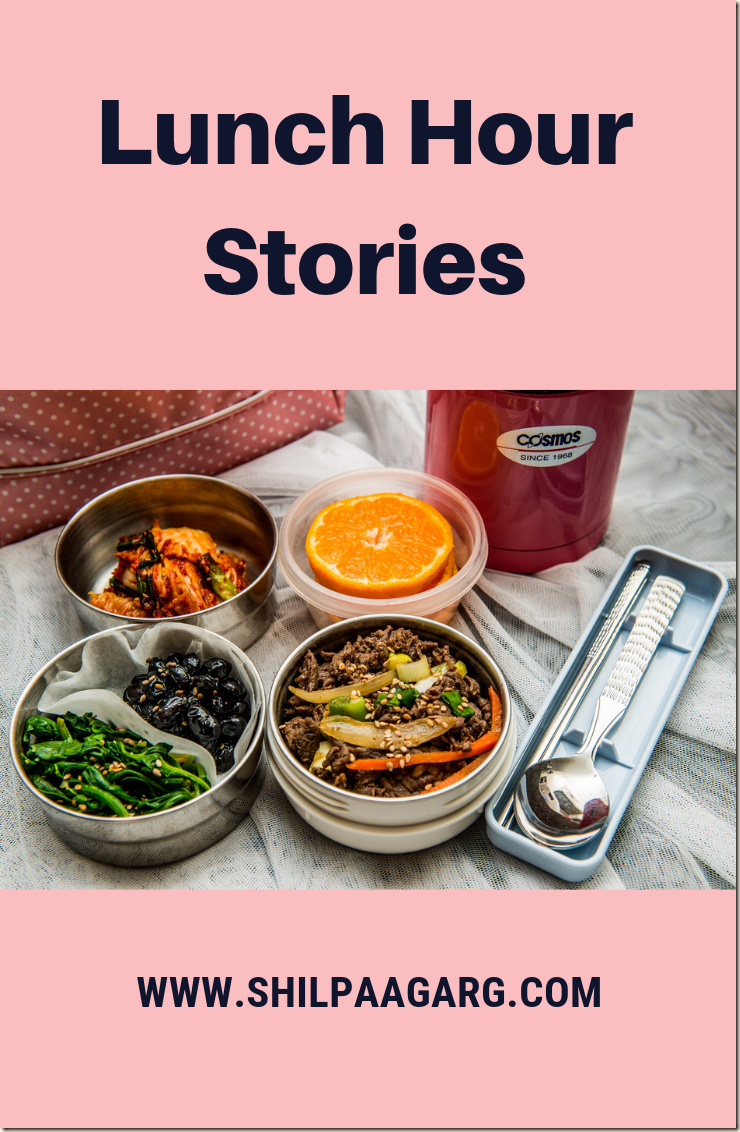 I have carried bhindi (lady's fingers) and parathas for lunch at work, every single day for 2 months. Yeah, I have a tendency to become fixated on certain foods. My co-workers were fed-up of seeing my tiffin and pleaded-cajoled-threatened me to get something different, my sisters rolled their eyes like slot machines, but my mom and I turned a deaf ear to everyone. Love my mom for her unconditional love!
Aaryan's school had a lunch policy. Kids were supposed to carry 2 lunch boxes, with a fruit in the first box and paratha/chapati with a dry vegetable in the second one. One day, I gave bread-jam to Aaryan as I got up late and didn't had the time to prepare his regular lunch. My 5 year old baby when he came back from school was really mad at me. He threw a big tantrum and kept asking why I didn't give him paratha-subzi that day. It seems that he was asked to sit separately for he had not complied with the lunch policy and that offended my child big-time.
Dry vegetable, dal, curd, salad, rice, chapati and a sweet dish. This would be the lunch of a colleague, every single day. No, it wasn't coming from a restaurant but was cooked by his wife. We envied him, truly.
I am a big Tupperware fan and very possessive about them. I would lovingly (read crazily) buy Tupperware lunch boxes for KG. And this man considered them mere plastic boxes and didnt care a hang. Such a blasphemy! No marks for guessing that he lost/forgot so many of my Tupperware lunch boxes that after a while better sense prevailed and I stopped giving him my prized possessions.
Sometimes it isn't easy to squeeze in a lunch break, so a working lunch it is, while you read that report or type the minutes of the meeting.
Is lunch your favourite part of the day? Do share your lunch hour stories and memories.
My theme for this year's Blogging from A to Z April Challenge is Food Talks. Join me for some interesting, fun conversations about food experiences, experiments, basics, tips, ideas, hacks, trends and much more.