He Goes Door-To-Door And Collects 10,000+ Books for Needy Students #WATWB
For nearly three years, Chandigarh-based Sandeep Kumar has maintained a routine of attending calls, listing down details, hopping on to his Activa, travelling to said locations and returning with heaps of old or used books and stationery.
The 28-year-old founder of an NGO, Open Eyes Foundation, has been running a unique initiative called 'Raddi se Shiksha' where he goes from door-to-door to collect the books and stationery, later distributing them to underprivileged students.
The initiative has helped empower hundreds of government school and college students with more than 10,000 books till date.
After his graduation, Sandeep took up the Junior Basic Training Course, which gave him the opportunity to teach students in government and private schools.
The exposure caused him to identify some jarring gaps in the 'free education' system. He found that the students were quick to understand the concepts taught in school but when asked to take notes, they stared back blankly.
Initially, he paid for the books and stationary for some deserving students. But as soon as word spread that a teacher was giving out free copies, many students started asking him for free books. This led him to probe the matter. He found that these students and their families lived in abject poverty. They did not have enough money to put a square meal on the table, so buying books was out of question for them.
Because of a lack of textbooks and other study material, the poor students felt isolated from the rest of their class. Sandeep found a way to help them.
He realized that once a student completes an academic year, his textbooks, guides, half-used books, and stationery were generally sold to a raddiwala (scrap collector). He took the first step of his journey from his own home and inspired other people to donate used books and stationary.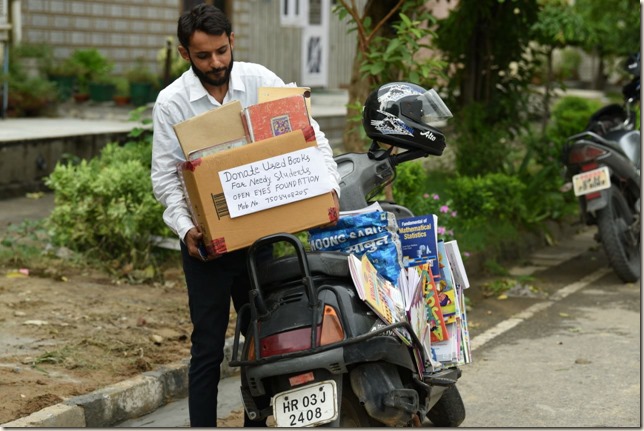 Sandeep formalised the initiative and founded his NGO, Open Eyes Foundation. A journey that he began alone has a network of 200 volunteers across Chandigarh.
'Raddi se Shiksha' works under a rotation system, where they reuse old books and make new notebooks using old copies, registers, and files. The initiative appeals to willing individuals, housing societies, educational institutions, and corporations.
Apart from Raddi se Shiksha, Open Eyes Foundation also conducts remedial classes or free tuition in slums, enrolling kids in government schools. They have distributed sanitary pads to more than 600 women for four months, and regularly organise awareness sessions on menstrual hygiene.
Where does the Foundation get the funds? Well, Sandeep owns a car service station in Bhiwani, proceeds of which sustain these initiatives. Donations from members, volunteers, and good samaritans also make things easier.
People like Sandeep are an inspiration, they not only go the extra mile but also bring about the much needed change. May his tribe increase.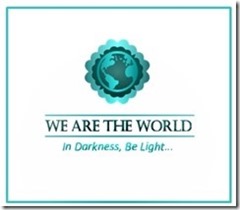 This post is part of the We Are the World Blogfest, a monthly blogging event created by Damyanti Biswas and Belinda Witzenhausen to showcase stories of hope and light. This month, I'm helping out as a co-host, along with extraordinary bloggers : Susan Scott, Peter Nena,Mary J. Giese and Damyanti Biswas. Please hop over to check out their WATWB posts as well as from other WATWB participants for a dose of feel-good to last you a whole month. You'll be happy you did!