Travel Misadventures : When I Was Dropped Off at a Toll Plaza at 4.30 am
"To move, to breathe, to fly, to float,
To gain all while you give,
To roam the roads of lands remote,
To travel is to live" ~Hans Christian Andersen
Travel is the greatest experiment. It satisfies your curiosity and lets you explore the world and its beauty, gives you some amazing adventures and memories, exposes you to the diverse cultures and cuisines of the world, helps you to form new friendships and experience a vast range of emotions and often leads to self-discovery too.
I have been traveling extensively for work since the last 25 years and have gathered a lot of memories and adventures over the years. While I plan for my trips meticulously, but the best laid plans of mice and men often go awry and I am no exception.
"I've done a fair share of stupid things in my life, a couple of which should have put me in the grave. But here I am, typing away as if I had a brain." ~ Craig Wilson
In this travel misadventure series, I plan to share some of my epic travel fails…
Let the (mis)adventure begin…
I was traveling from Jaipur to Chittorgarh on a cold December night. The bus was scheduled to reach my destination at 4.30 am. While the bus conductor was checking my ticket, he casually informed that the bus would not be going into the city but by-passing Chittorgarh via the highway and that I would be dropped at the toll plaza. I was flummoxed, bewildered, zapped, horrified… all at the same time. How could I not know about the drop location!!
When the panic subsided and the wheels of the brain machinery started moving, I found that the distance between the toll plaza and the city centre was some 11 kms and the only conveyance to reach the city were the passing by buses. I called KG and the local manager but that didn't help the matter. I spent the night restlessly, thinking too much about the ifs, buts, hows, whys….
When it was time to reach the toll plaza, the driver and conductor of the bus gave me pep talk and told me to not worry. I was rolling my eyes in my head. And just then a sleepy guy of 28-30 years joined us at the front end of the bus. It turned out that he was also getting down at the toll plaza and had to go to the city centre. Wow! Super WOW!! The driver and the conductor matched my euphoria level, at this development. I said a silent prayer of thanks while they started instructing the young chap to escort me safely to the city centre. I think it was the guy's turn to feel flummoxed, bewildered…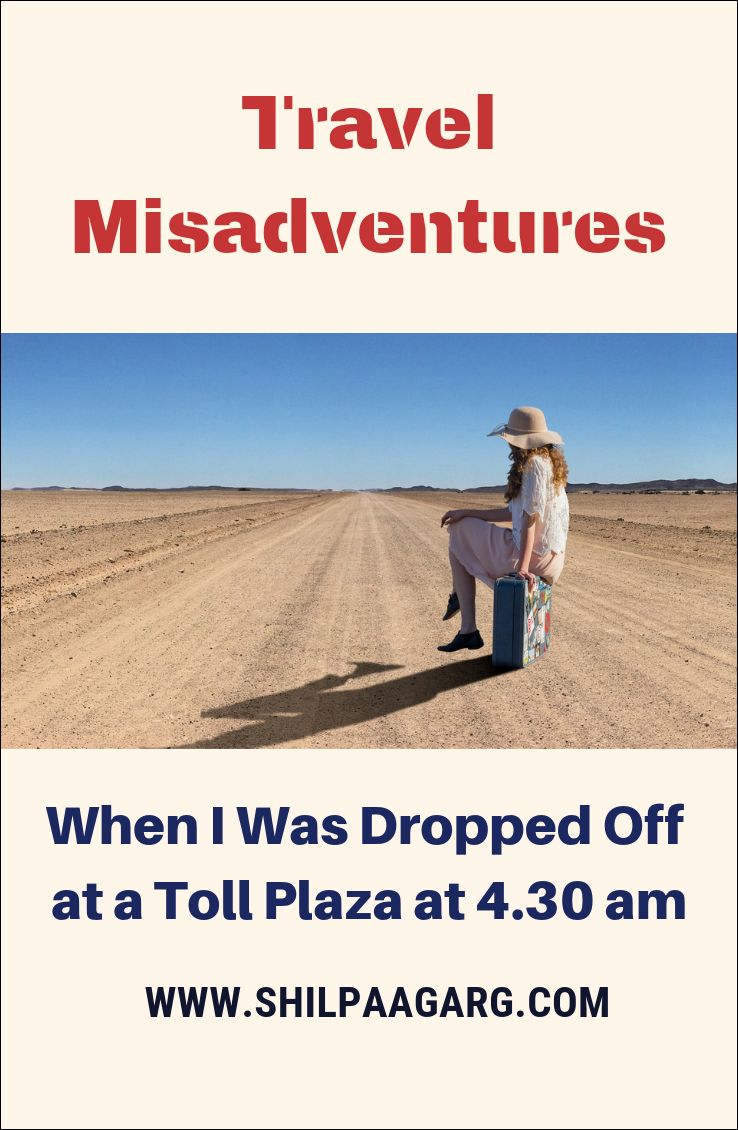 When we got down at the toll plaza, there was a guy in the toll booth and 4-5 people sitting around a small fire, by the road side. The environment and the time was not inspiring confidence in me and I was scared from inside. This guy seemed to be perceptive and he started talking about himself and his work at Tata Projects. After some 15 minutes of waiting at the toll plaza, a bus arrived and we hopped into it. I heaved a sigh of relief and thanked God for his blessings. As the bus dropped us at the city centre, I thanked this god-sent guy profusely and was about to rush to my hotel which was just across the street, he told me, "Ma'am, it's better to avoid travel at night!"
I rolled my eyes so hard, that my eye sockets hurt!
While this misadventure makes for a good story, and I can laugh about it today, but it was a super stressful experience.
I travel at all hours of the day and night. But the travel is always to or from an airport or a bus or a railway station which are ALWAYS buzzing with activity, with means of transport available at all hours. A lonely, secluded place like a toll plaza of a small city and that too at an ungodly hour is truly scary for a hardened traveller like me! This experience has heightened my appreciation of goodness in people, gratitude and of course paranoia to double triple check my travel bookings and timings.
"Travel isn't always pretty. It isn't always comfortable. Sometimes it hurts, it even breaks your heart. But that's okay. The journey changes you; it should change you. It leaves marks on your memory, on your consciousness, on your heart, and on your body. You take something with you. Hopefully, you leave something good behind." – Anthony Bourdain
Have you had travel misadventures and debacles? What's the craziest thing that's ever happened to you while travelling?