10 Reasons to Hate Rains #WordsMatter
I hear the drizzle of the rain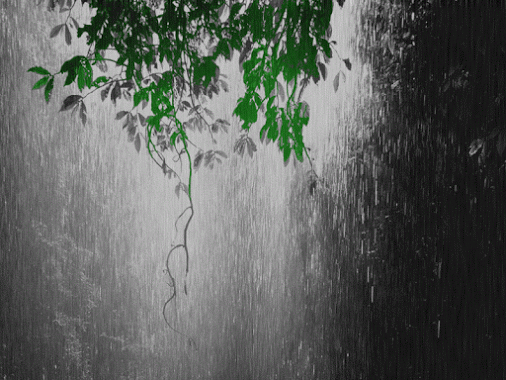 Like a memory it falls
Soft and warm continuing
Tapping on my roof and walls ~ Paul Simon
Rains! Aah! The Rains!!
There's something magical about the rains. Everyone loves this season. Some love its scent, some the freshness in the air, some its pitter patter, some love the pakodas and tea which are the mandatory accompaniments of rains, some love dancing in the rains…
I am seeing the rain falling in waves, splattering outside the window. I spin around, and turn my face to the dark sky. I step outside and let the downpour stream through my hair, down my face, soaking my clothes. The cold wind gives me goose bumps, but I dont care. I am delighted and excited…. but not for long. Because after a short while this euphoria about rains vanishes and turns into outrage and disgust.
Yes, when it rains, I don't like it. Well, that's putting it mildly, actually, I hate rains.
Hate rains?? Yeah, you heard it right and and I do have valid reasons to say a word as strong as 'hate' for rains.
Let me share my list of reasons to hate rains and I am hoping that it convinces you to hate it too!
1. No matter whether you carry an umbrella or a raincoat, you still get wet. Now, if you wanted to get wet, you'll not be using that umbrella or raincoat. Right?!
2. The lower part of your clothes ALWAYS gets wet and dirty. And it's so dirty, that the stains never vanish. Even 'Vanish' fails in its action! And that advertisement for 'Tide' is truly misleading!
3. The washed clothes never dry or feel fresh and are usually damp. Yes damp, even after spinning it dry in the machine. One portion of your house resembles a dhobhi ghaat with a clothes rack or clothesline running from one curtain rod to the other with a fan at full speed to dry up the clothes.
4. Your pet dog and cat stink. And imagine if they have ticks during this period!!
5. Your hair is all dull, lifeless and frizzy. And you know, what wonders this can do to your look!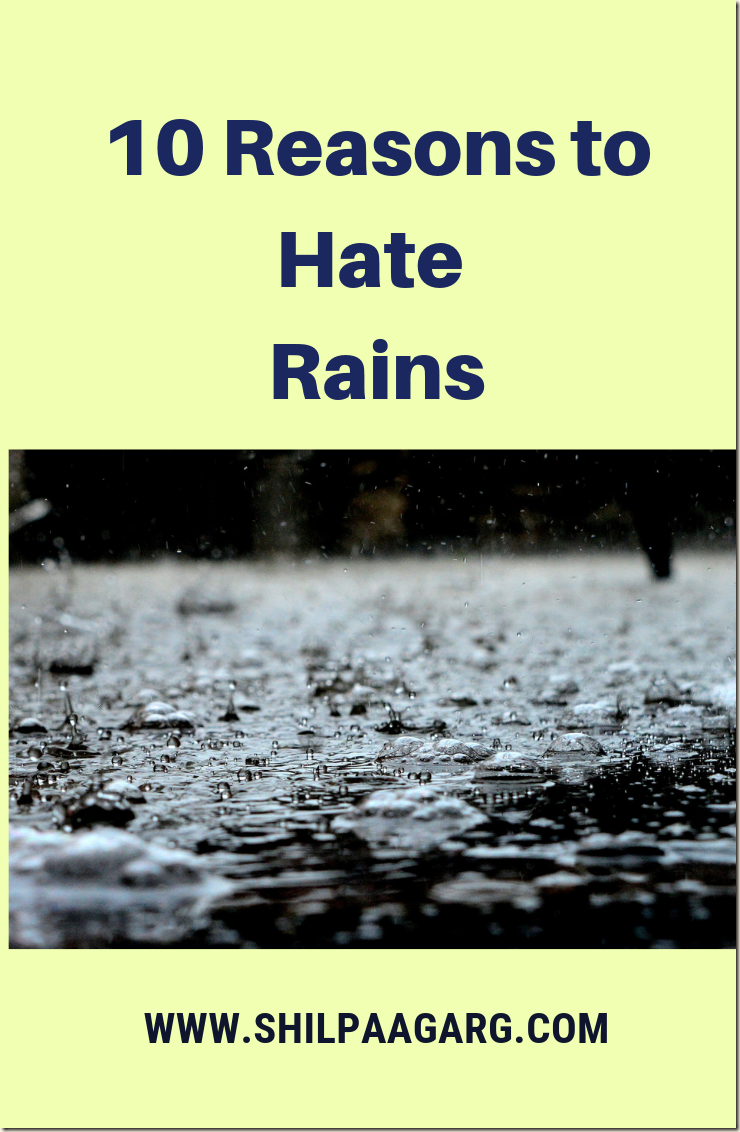 6. The smell of the wet clothes laced with humid sweat of co-passengers in a bus or a train converts it into a musty, stuffy fume box!
7. There are traffic jams or the traffic moves at a snail's pace. And if you have KG as a driver, you can have a non-stop commentary on the driving skills of all the drivers on the road.
8. If you cry in the rains, nobody can see it. And there are times, when you want somebody to see you crying!!
9. If you are stranded on the road, you jump or yell or use sign language like a maniac, but no bus, no taxi, no autorikshaw will ever go your way! And the Olas and Ubers would be scarce with sky high surge prices.
10. You face God's wrath in the form of lightning and thunder, from the heaven above and you also face the wrath of the Electricity Board in the form of power-cuts and no signals from Tata Sky on your TV.
So, as Geet in Jab We Met would have said, "Aap convince ho gaye, ya main aur boloon??" (Are you convinced or should I say more?)
Do you love rains or hate rains?
I received this tag from Esha M Dutta at MySoulTalks. It's my pleasure to pass on this tag to Shilpa Gupte at Fictionista. There are 42 of us on this Blog Hop and it will be spread over 3 days – 6, 7, 8 September. Do follow the #WordsMatter Blog Hop and prepare to be surprised!