Struggling After Husband's Death, Widow's Tea Stall Was Transformed by Art & Kindness! #WATWB
Art is not just intended to be appreciated for its beauty or emotional power. Art has the potential to transform lives too.
A native of Uttarakhand, Dipti Joshi lost her husband at a young age, which put the entire responsibility of supporting her family of three on her shoulders. She ran a small tea stall in the hills of Kumaon, Uttarakhand. which was mainly frequented by drivers and staff of a nearby resort.
A group of people from Kiran Nadar Museum of Art (KNMA), Delhi, were on a trip to the hills of Uttarakhand when they stopped at her little tea stall. When they heard her story, they decided that they had to help her.
With the help of local school students, the KNMA team painted the walls of Joshi Tea Stall. Keeping the spirit of the local culture and tradition of Kumaon hills, the 'painters' team decided to incorporate Aipan, the traditional painting style from Kumaon, on the walls of Joshi tea stall.
This slideshow requires JavaScript.
With a drastic change in its appearance and the shop's name being rechristened as 'Josh Café'. This intervention marked an overnight change in Dipti's life. She found more people slowly flocking to her stall along with a steady and better flow of income.
Amazing, isn't it!
An act of kindness transformed Dipti's life. Kindness is a simple concept, but it's impact is large in scope. We all have the ability to transform someone's life for the better, just by a simple act or word. Let's make our world a better place, one kind act at a time!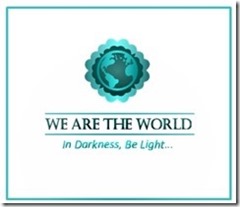 This post is part of the We Are the World Blogfest, a monthly blogging event created by Damyanti Biswas and Belinda Witzenhausen to showcase stories of hope and light. This month, I'm helping out as a co-host, along with extraordinary bloggers : Damyanti Biswas, Lizbeth Hartz, Peter Nena and Simon Falk Please hop over to check out their WATWB posts as well as from other WATWB participants for a dose of feel-good to last you a whole month. You'll be happy you did!