500 Women In Kerala Village Switch to Menstrual Cups For a Green Future #WATWB
In a region where some 25 per cent of menstruating women still use old clothes and periods are considered a taboo, close to 700 women in Muhamma, a village in Kerala's Alappuzha district, have publicly renounced the use of synthetic sanitary napkins during menstruation. What's more, 500 of them have switched to safer options like menstrual cups or cloth pads, while the rest are in the process of adopting it.
It took less than a year for the Muhamma Gram Panchayat to achieve this extraordinary feat under a menstrual hygiene project called 'Muhammodayam.'
The project was started in March last year by Ashoka Trust for Research in Ecology and Environment (ATREE), a non-profit organisation in collaboration with the gram panchayat. The final goal is to make Muhamma India's first synthetic sanitary pad-free gram panchayat in the next six months.
Bengaluru-based ATREE predominantly works towards restoring ecology in areas where water pollution is rampant.
As part of their work, they learnt about water clogging in Muhamma in March 2019 and reached the place to lend a helping hand.
The not-for-profit organisation assessed the deplorable plight of water bodies and kickstarted a canal rejuvenation project in Muhamma.
They found heaps of diapers and sanitary pads accumulated in the canal that is connected to Kerala's longest lake, Vembanad. As per their survey, approximately one lakh pads are generated every month. Instead of putting their focus on the systematic disposal of pads, They decided to get rid of them altogether.
Seeing all the sanitary pads in the canal during the cleaning process was a wake up call to the extent of damage that one sanitary pad is capable of. They are not only bad for the environment but also for animals who chew on them.
While the cloth pad packets are being given at Rs 80 instead of Rs 250, the menstrual cups come at 1/6th of the actual cost.
More than making eco-friendly menstrual hygiene options accessible at affordable prices, it was changing the behavioural pattern that was challenging.
Instead of giving the menstrual cups and cloth pads for free and expecting them to adapt, ATREE first organised an awareness workshop with 30 local ASHA workers and local women in March last year.
When women started using the menstrual cup, their experience was shared with others. Sharing her experience of using the cup, Binisha a local woman said, "I would develop skin rashes from using the regular pads. Finding a hygienic toilet to change pads every six hours was another headache. Besides being cost-effective and environment-friendly, the menstrual cup is very convenient and easy to use.
Like Binisha, close to 700 women stepped out of generation-old societal customs, filled up the form and ordered cloth pads or menstrual cups for a greener future.
Fantastic initiatives like these are an answer to the rising problem of environmental degradation and regions like Muhamma prove that efforts at the individual level can go a long way in bringing about a big difference.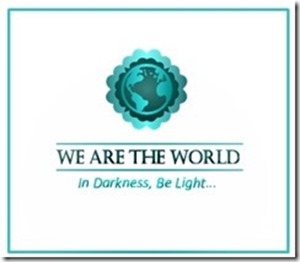 This post is part of the We Are the World Blogfest, a monthly blogging event created by Damyanti Biswas and Belinda Witzenhausen to showcase stories of hope and light. This month, I'm helping out as a co-host, along with extraordinary bloggers : Damyanti Biswas,
Lizbeth Hartz, Mary J. Giese and Sylvia Stein, Please hop over to check out their WATWB posts as well as from other WATWB participants for a dose of feel-good to last you a whole month. You'll be happy you did!