The Dreaded DNF – Did Not Finish
This must have happened to you. You pick up a book – maybe it comes with a high recommendation from a friend or people are shouting about it from rooftops or it's from your favorite author – and you dive right in expecting to like it, but … the book fails to hold your interest and the struggle to continue is real.
Do you finish a book you don't like? Or do you let go?
Is quitting a book difficult for you?
When do you decide to abandon reading it?
Do you pick it up again after some time?
When is it okay to throw in the towel and label the book as DNF?
Today, I have a few avid readers on my blog here who are sharing their reading dilemmas. Let's hear from them about this dreaded DNF.
I don't really force myself to finish a book unless I've promised to review it. Even then, if it's really bad, I'll let the author/publisher know that I can't go through it and let it go! Usually, I give a book about 3-4 chapters before I decide that I've had enough. Only when a book comes highly recommended, and my first impression doesn't match the reviews, do I attempt to read it again. This happened to me with The Catcher in The Rye by J D Salinger. A friend recommended it highly. It was a 'classic'. But after two attempts it remained unfinished. I've figured that we read for two reasons – (a) to learn (b) for pleasure. If a book doesn't provide me learning or pleasure, I'm happy to put it in my DNF pile!
If you're an avid reader and you're not able to finish a book, it's mainly because you are not enjoying the read. There's nothing called 'Reader's Block' or 'I don't have time'. I am an avid reader but I can't read every book. I am a very patient person but I'm very impatient when it comes to reading a book. I cannot continue reading a book if it doesn't interest me by 60-70 pages (unless it's a review copy). And, frankly, I don't feel bad about it. Reading should be a joyful experience and if you are not enjoying the read, there's no point reading it. Just move on to an interesting book. That's what I believe.
I have bought several unanimously loved, highly recommended books but they disappointed me and I just couldn't finish them. Wondering about those books? Here you go – A Man Called Ove, The Guernsey Literary and Potato Peel Pie Society (Honestly, I just Google searched 'potato peel society', found this book and copy-pasted the title. I mean what's the point if can't even remember and pronounce the title of a book?), To Kill A Mockingbird, The Rosie Project, The Nightingale…and many more. Rolling your eyes? No, trust me, I really wanted to read and like these books but reading them was not a joyful experience so I moved on and I'm not sorry.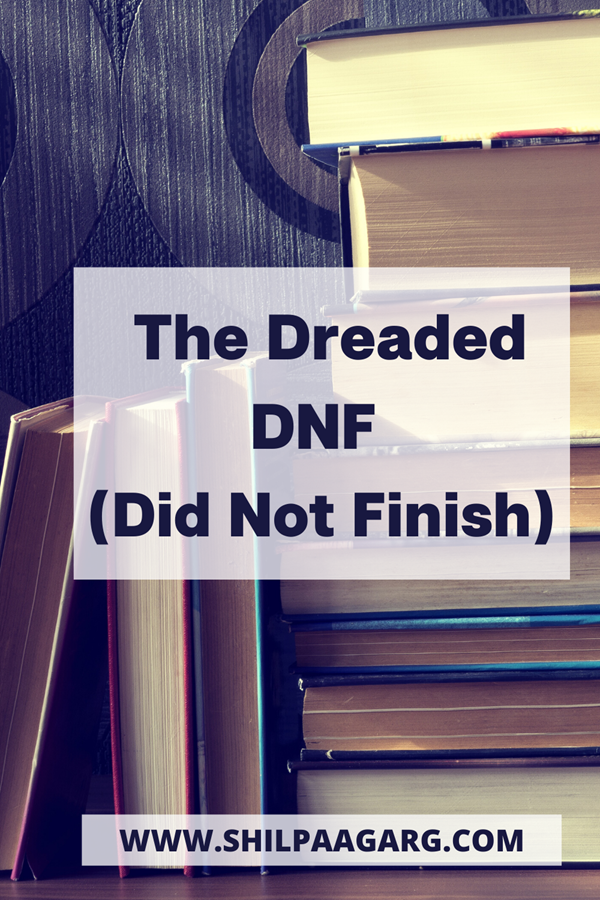 It has happened to me- the dreaded DNF synonym. It has happened to me when I least expected it to and I have always struggled to deal with it.
I distinctly remember the time when I sat reading To Kill a Mocking Bird by Harper Lee. They said it is a book that just shouldn't be missed. In fact it features in the list of greatest novels ever written. But I just couldn't get through it. The historical drama of the Great Depression just couldn't hold my attention. I seldom like letting go of books. But when I fail to appreciate the plot or to grab the essence of a book, that is when I need to take that call of abandoning it. Thus, To Kill a Mocking Bird, after two attempts was finally dumped.
Another instance when I struggled to abandon a book was when I was reading Gillian Flynn's Gone Girl. I would attribute this to primarily two reasons. The book no doubt was a bore. However, I struggled to put it down and pushed myself to go on. I had liked the movie and had watched it before reading the book. Also, the book was a gift from my husband and thus held a bit of sentiment to it. And there I went, struggling to read on. However after 50% of the book and a lot more exhausted, I let all my reasons be and abandoned the book.
Sigh! One of the most painful aspects in a book lover's life – The dreaded DNF.
What do you think? Which book(s) were DNF for you? Do you think it is a sin to put down a book before you're finished reading it? Share your thoughts in the comments below.