20 Bookish Confessions
I am a bookworm and proud of it. Today, I am talking about my 20 bookish confessions. So, read on and be shocked, aghast, stunned or may be amazed at my bookish confessions.
1. I was that girl who believed in the smell and feel of a new book, loved caressing the glossy cover with my fingers, and arranged and re-arranged the books by genre, size, colours… but all that has changed. I have become an ardent Kindle fan. Kindle has truly transformed my reading habit and has made me more addicted to the written word.
2. Books are number 1 on my list of things to give as gifts.
3. I've actually read the first four books in the Harry Potter series (in 2000) by calling Hermione's name wrong. I was calling her Her-Mee-Own in my head. Yes, you can laugh at that! When I saw the Harry Potter movies in 2006 and I heard that her name is actually pronounced as Her-My-Oh-Knee, I was blown away. Similarly, I have read so many Agatha Christie's book and have been calling Poirot as Poy-Rot. I came to know that his name is Pwa-Row only when I saw the Murder on the Orient Express movie recently.
4. I do not step out of my home without my Kindle. I read everywhere and anytime is a good time to read books.
5. I love collecting paperbacks but I prefer reading ebooks. I have 272 physical books (fiction and non-fiction) in my book cupboard and 710 books on my Kindle. These 272 books do not include our cook books, encyclopaedias and children's books. Last year, I donated some 150+ books, so these 272 books is my coveted and curated collection.  I cannot resist myself from buying books and browsing through Kindle books on Amazon is my favorite way to spend time. No marks for guessing that I am not spending all the time just looking at the books. 710 speaks for itself!
6. I am a librocubicularist. It means a person who reads in bed. The bed is absolutely my favorite place to read.
7. I do judge a book by its cover when browsing through in a bookstore. If it is not striking enough to draw my attention, it will be passed over for something more interesting on the other shelf.
8. While, I love book jackets on my hardcovers as they make the book look so pretty and dignified, I do remove them while reading so that they won't get damaged and stay as good as new always.
Pin for later…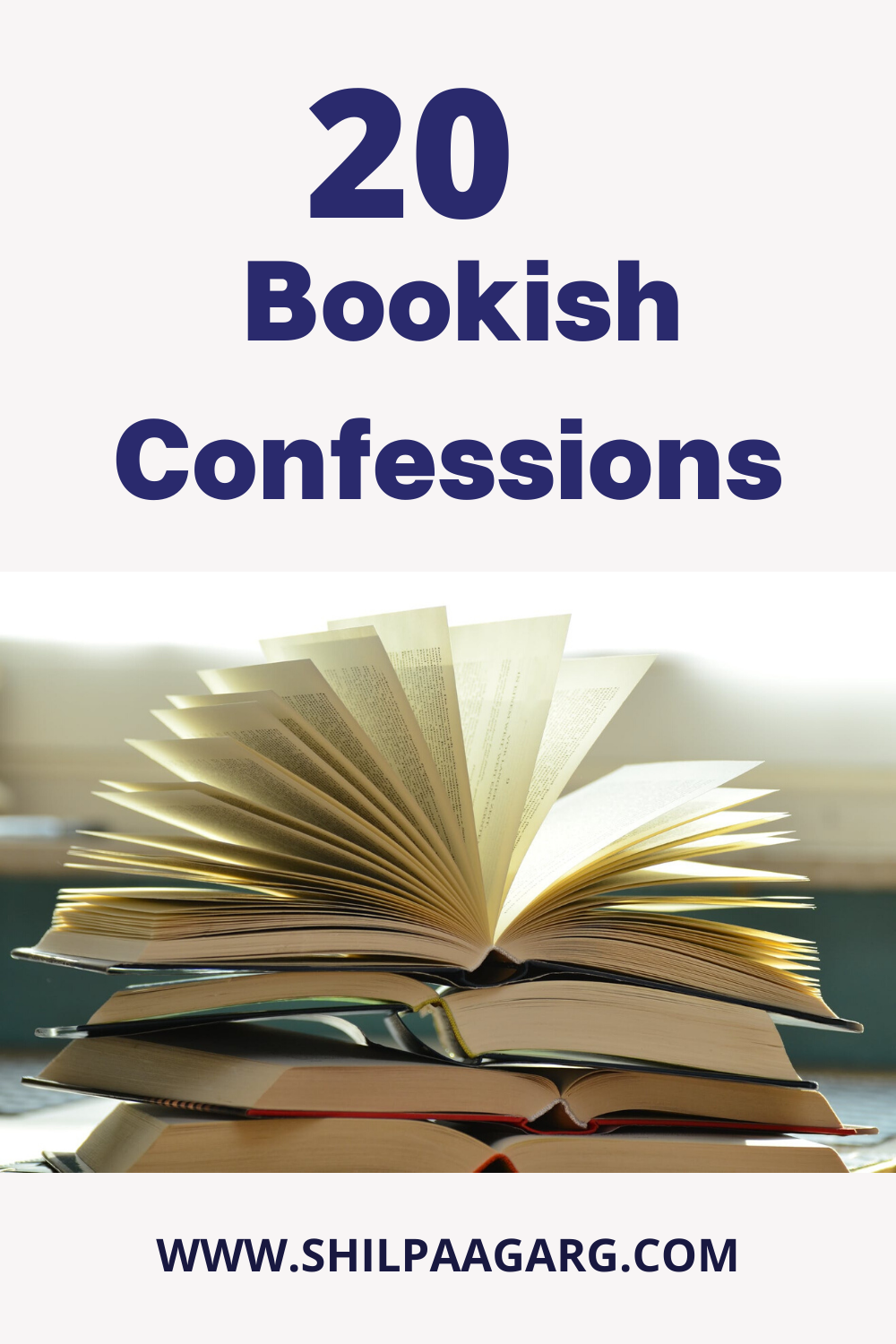 9. Once I finish reading a book, I have to pick the next book immediately.
10. Sometimes when I'm reading something really exciting and the urge to know what's going to happen just gets too much… I just read the last page. I HAVE to know that the main characters are ok in the story and I just can't help myself!
11. I hate to see labels/stickers on the front of my books, as they totally ruin the look of the book and removing them is a painful exercise.
12. I read book recommendations before picking a book, but I accept them with a grain of salt. While my friends and I may agree on some books but it is not necessary that I'll love/hate the same books as them.
13. Usually, I read page by page unless a part of the chapter really drags. In such a case, I skim through the pages that follow until the story picks up again.
14. I stop reading when the words stop registering for a not so great book. But with interesting books, I always stop reading when the chapter ends.
15. I prefer reading one book at a time.
16. There are days when I don't read a single word and there are days when I read from morn to night and do just the bare necessary work/chores.
17. The memory of the times that I have lent my books and never got them back or got them in a mess, will haunt me forever. So I have a hard time lending people books. As a policy, now I don't lend my books, and I don't borrow either.
18. I have a LOT of unread books in my book cupboard and Kindle.
19. I cry while reading especially when there are some sad things, or heartwarming moments or just emotionally resonant things. I cried buckets a few weeks ago at 2 in the morning while reading The Nightingale by Kristin Hannah.
20. When I reach a funny part in a book, I can't keep my laughter in. I have laughed out loud in public spaces while reading, only to get weird looks and rarely knowing smiles from people around me.
Do we share any of the same bookish confessions? What are some of your bookish confessions that you'd like to share?