What's On Your Bookshelf?
I just love books. And bookshelves. Whenever I am visiting family and friends, I am somehow drawn towards their bookshelves.
A bookshelf is as particular to its owner as are his or her clothes; a personality is stamped on a library just as a shoe is shaped by the foot. – Alan Bennett
Bookshelves tell stories of their own. They can be neat and organized or disheveled stacks of books. They can have books organized by genres or colors or with broken or unbroken spines.
Some people have their books displayed in the living room and some have books tucked everywhere – shelves, side tables, coffee tables and even on the floor.
You feel a profound connection with someone based on the books you see on their bookshelf. What I like the most from looking at the bookshelves of my friends is that it gives me so much new reading fodder.
Books are our pride and joy and we love showcasing them. Today, I have invited my bibliophile friends to give us a sneak peek into their bookshelves.
As someone who buys books regularly, arranging them neatly is of utmost importance to me. I clean my bookshelf on a regular basis and change the arrangements on it as per my current state of mind. I normally arrange them author-wise, so that I know where to look when I'm looking for a particular book. I also am a sucker for symmetry, so I arrange them as per their heights at times. As much as I'd love to arrange them according to color, the asymmetry of it might cause a sore to my eye. As of now, I have them arranged based on read and unread. The top-most shelves house my unread books, so that I can go to them easily before I buy a few more.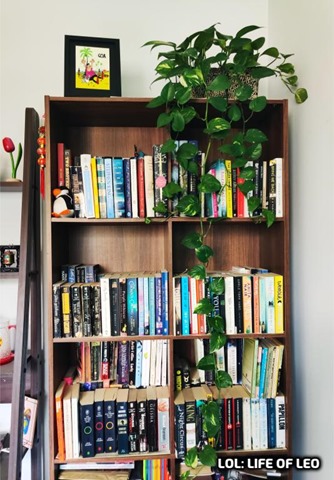 While most of my books are concentrated on the bookshelf, I love to showcase and display my collection of books by stacking them in other areas of the house in an interesting fashion. For example, my coffee table always houses a couple of books that I'm currently reading.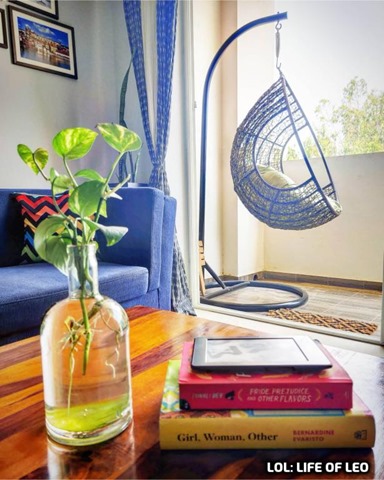 Since my bookshelf is placed in our study, not many people get to see it. So, when we are having people over, I display a small collection of them on the bar-cabinet. Mostly they are food magazines and recipe books, because food is a universal topic that most people will enjoy. If I know there will be kids around, I include my Asterix collection or my Harry Potter illustrated books.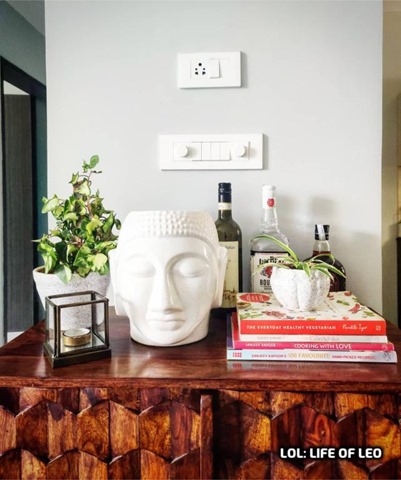 Like plants, books add a great vibe to a home. The choice of books speaks volumes about the person who owns it. Do not limit them to a shelf. Get them out, celebrate them.
Ever since I was a kid, I wanted to have my own little library. I started building my collection of books after I got a job. The collection slowly began to grow and I had no place to keep all of my books as I was living in a tiny room shared with another girl in a paying guest accommodation. I had a few books stored in cardboard boxes kept under my bed. And then there were books on my bed. Books everywhere! All I wanted then, was to have a lovely bookshelf of my own!
So when I was to finally move out of a PG because I was getting married, I told my then fiance, now husband to look for a house that would have enough space for all my books!
We moved into a house that had these shelves in the bedroom and I knew that this would be my bookshelf! I have arranged books according to colors because I wanted make the room look better! Two birds in a single shot!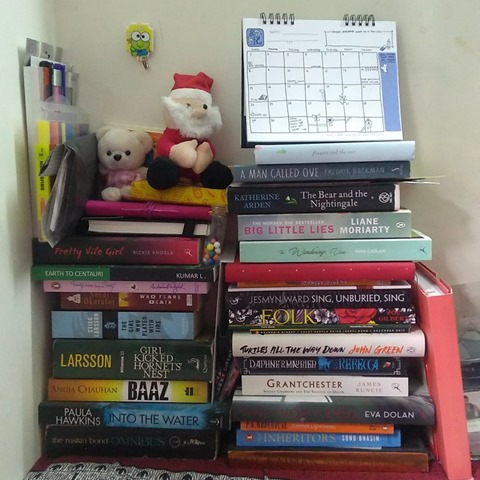 I still have books stacked up on tables. But this little shelf of mine should do, at least for now!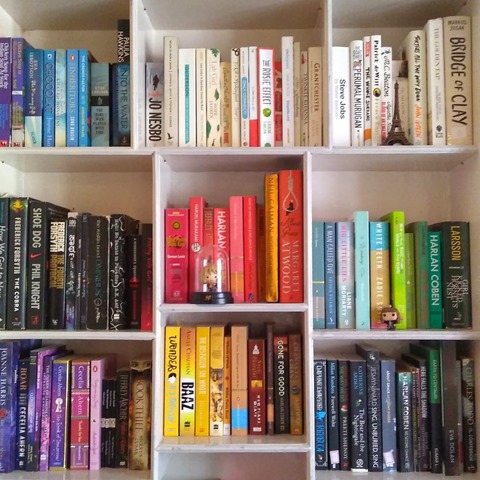 It may sound weird but although I always loved reading, for years I gave little thought to getting myself a bookshelf.
When the children came along the number of books we had, exploded. Finally one day, the Husband decided we needed a proper place to store them or else, he threatened, 'they'd be cartoned away'.
That galvanised me into action and that was how this bookshelf came into our lives. It has been with us for almost a decade now and I still love the way it is designed. I've got a thing for pinning things up and the soft board is perfect for that plus there's storage space behind and under the soft board for my craft supplies.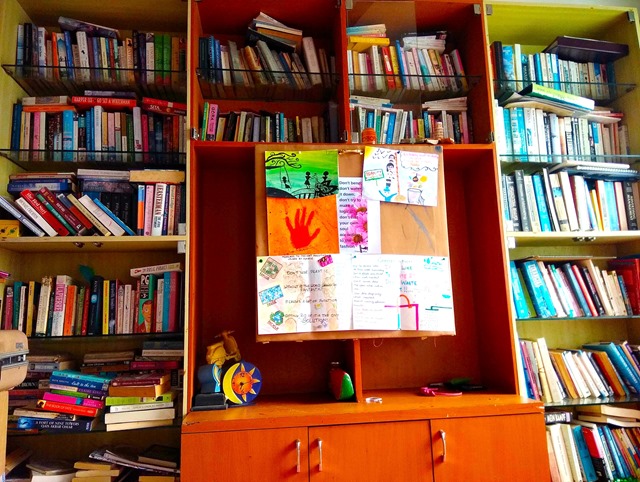 Also, the three vertical sections can be separated if one wants. I love that flexibility.
When we shifted last year I resolved to arrange my books in some kind of order just so it makes it easier to find them. With my terribly unreliable memory I keep forgetting which books are where and I have somedays spent hours looking for one that I know is 'in there somewhere'.
Unfortunately I have been only partly successful. I began arranging them according to genre and so I had sections for mythology, biography, thriller and romance etc. But then I wanted books by the same author to be together and people like Chitra Divakaruni complicated things because they wouldn't stick to a genre!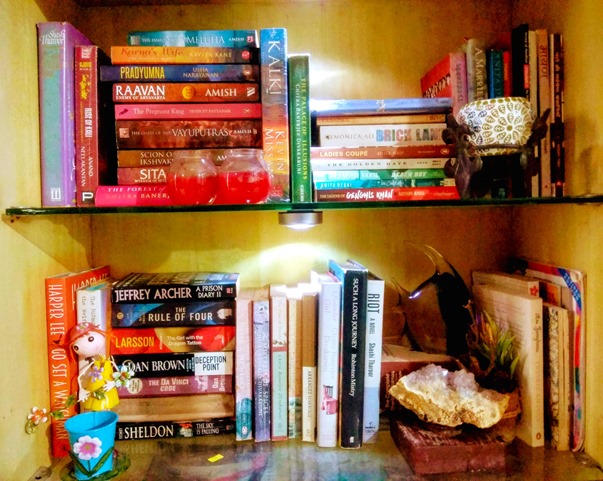 And so I continue to navigate through my happy chaos hoping that one day I will arrive at a perfect system.
Over to you now… Do you collect books? How do you organize your books? What's on your bookshelf? What's your preference – hard cover or paperback?