10 Reasons to Love Audiobooks
Audiobooks are in vogue these days, as people of all ages – right from children to adults are using them for pleasure and business. Four years ago, I picked up an Audiobook as part of a prompt for my Book Reading Challenge. I was reluctant initially but I quite liked the experience and there's no looking back since then.
Audiobook, as you know is a digitally recorded version of the printed paper book being read out aloud by a narrator.
If you are skeptical about listening to audiobooks, here are ten reasons to love audiobooks…
1. Listening while engaged in another activity
Audiobooks can be listened to while folding laundry, cleaning, cooking, gardening, traveling or just plain lounging… I am sure you can think of even more occasions and places when audiobooks can be enjoyed. Ok, it didn't work for me while eating, because I missed a few words amidst the crunch of the salad.
2. More time to 'read'
A crowded place may be a bit distractive to read a paper-book or eBook, but it is easier to listen to an audiobook even in a noisy place. Also you can listen to an audiobook when there's no light or lights out time. And you can listen to an audiobook when you don't want to strain your eyes. So, you have more time for 'reading books'.
3. Convenience
Audiobooks are really convenient. You can have them on your phone, iPod, computer/laptop or tablet and even Amazon Echo. Just like eBooks, the audio version is easy to sync on multiple devices.
4. Better listening skills
"I remind myself every morning : Nothing I say this day will teach me anything. So if I am going to learn, I must do it by listening. – Larry King" Audiobooks help in learning to listen and concentrate on verbal messages as you hear every little detail in audiobook. Listening to audiobooks makes you a better listener!
5. Accents  and pronunciation
Listening to audiobooks makes you familiar with accents and pronunciation of words. I like comparing the American way of saying words to that of the British. Offhand I remember pondering over these words… civilization, harassment, example, can't, mobile etc.
Pin for later…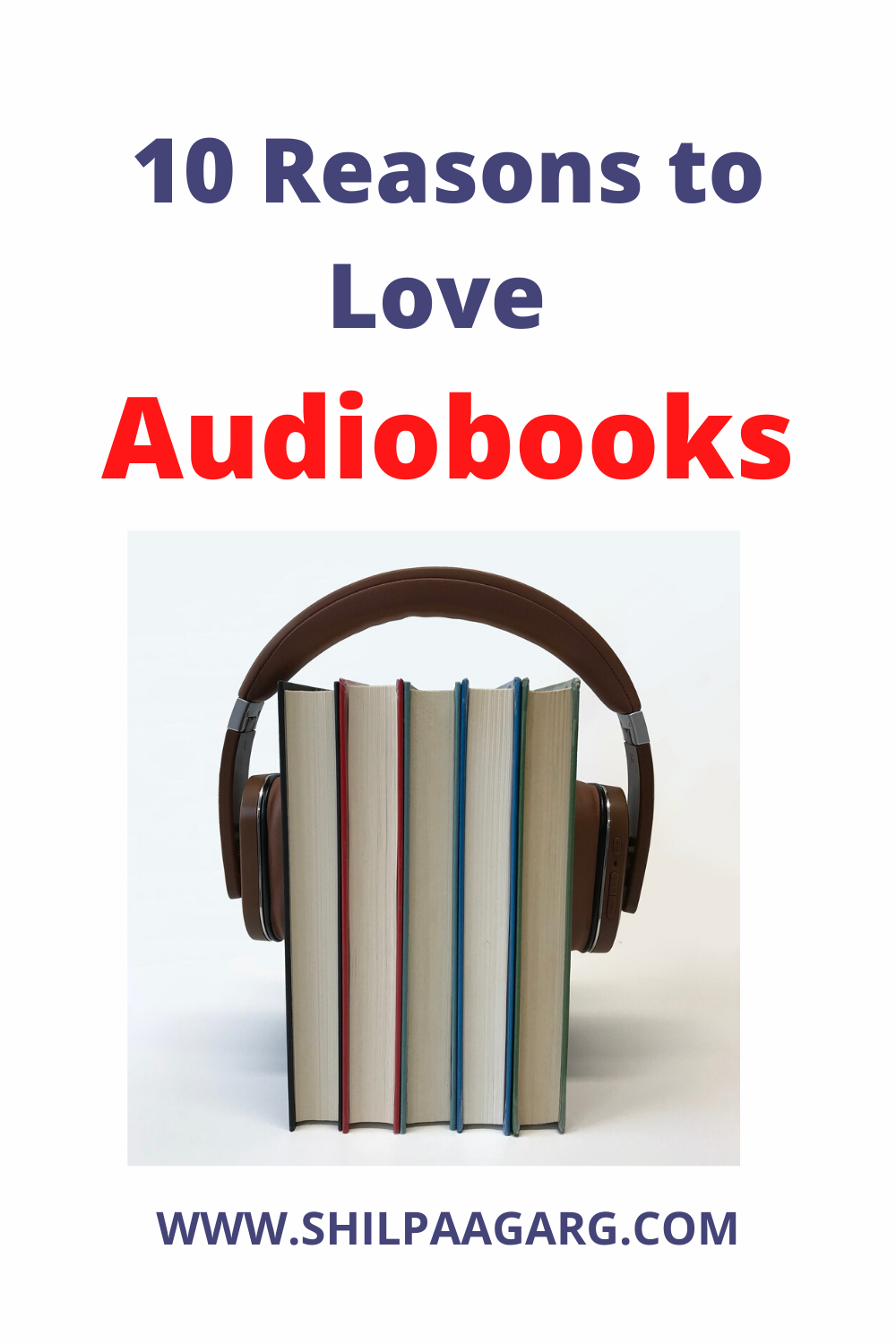 6. Storytelling
You can listen to sample of an audiobook before buying and that introduced me to the style of narrator. I realized that a narrator actually sets the tone of the book and makes the story come to life. This made me aware of the art of storytelling. As listeners, you hear the variations in the tone, different voices for different characters and actually think of the characters speaking to you. And all this makes the experience more vivid for the listener. Also, a voice communicates more than reading the words in the book and the best example of that is sarcasm and humor!
7. Great way to fall asleep
I listen to audiobooks before going to bed and it helps me fall asleep better. Yeah, no kidding!
8. Speed of 'Reading"
It doesn't take as long to listen to a book as it would to read it. Yes, you listen to a book much faster than reading one. Additionally the feature to increase the speed at which the narration is read, allows you to cut down the reading time of a 2 hour book to 1 hour!
9. Better medium to read certain genres/ books
Books with concepts or autobiographies or books which have great content but hard to read, make for good listening. I listened to Seriously… I'm Kidding by Ellen DeGeneres which has life lessons narrated by Ellen herself. I think, I found the book more interesting while listening to it because I am sure that some of the jokes shared in the book would not have translated well on paper.
10. Greener option
Audio books help you to go green. Yes, you save trees when you choose audiobooks.
I am still a fan of paper books though the scales are have tilted towards eBooks now, but I find that audiobooks are a great addition to my reading life!
Have you ever tried audiobooks? What's your take on this? Which audiobooks would you recommend?