Do You Read Outside Your Comfort Zone?
It turns out that we are hard-wired to seek out comfort. Within our comfort zones there's little stress. We do it with reading, too. We are gravitated towards certain genres, authors, subjects — that makes us feel safe, at ease, or do not add discomfort. There's nothing wrong in reading what we love or enjoy, after all most of us read for pleasure. They say that our comfort zone is the most dangerous place on earth. It prevents us from seeking new horizons or achieving newer heights or learning new things. It's the same with reading as well, it can add a bit of rut in your reading life.
For a long long time, I read only thrillers, mysteries and romance, till I started doing reading challenges. Reading challenges pushed me to discover and read diverse genres and books. Because of the prompts from the various reading challenges, I have stepped out of my comfort zone and read non-fiction and dystopian novels and explored some genres and authors which I was totally ignorant of. For example, I was unaware that there is a sub genre of Romance called Christian Romance in which both the hero and heroine are devout Christians and are typically focused on a chaste courtship. I started listening to audio books, read biographies and autobiographies, YA books and even graphic novels. Reading outside my comfort zone is interesting and refreshing. Some of my best reading experiences have been with books outside of my comfort zone. These days I'm not even sure what my reading 'comfort zone' is, as my list of preferred genres is pretty long.
I reached out to my bibliophile friends to share their thoughts about reading within or outside the comfort zones. Let's see what they have to say…
While I maintain leisure reading is for pleasure, it is important to step out of ones comfort zone occasionally. That's how one grows as a reader. I try to do that too. Had I not, I would probably have been stuck with romances – those were my first love during my growing up years. But I discovered I loved historical fiction and crime thrillers as also biographies and the occasional non-fiction.
My favourite books are usually long, deep and have a story that'll move you in someway. Give me a good historical fiction or even non-fiction and I'll be the happiest. I like Romance too as a genre but I don't like the formula romances. So, I tend to avoid those but sometimes I do err. For example, last year I read The Kiss Quotient by Helen Hoang and The Proposal by Jasmine Guillory which I knew from the start as being books that I'd not usually pick. And once I was done with them, I knew I was right. Those books did nothing for me. I finished them because I'm kind of obsessive about leaving books midway but I knew I would never pick them up again. So, yes, sometimes for one reason or another I pick up one dimensional books that I know I wouldn't like but I just follow them up with some wonderfully written books to get over the bad taste those books tend to leave.
I usually prefer to read in my comfort zone, which is crime fiction or fantasy. But since the last few months, I've actually moved out of that zone. I have read romance fiction and non fiction which I generally shy away from. Why have I gone out of the zone? Just, so many interesting books out of that zone and I felt it was needed to try and make an effort to read them, to see if I can, over time, somehow feel at home in  those genres.
Before 2013, I had read only course books or children's books for years. Then I rediscovered reading for pleasure. The older I get, the more I tended to read books featuring characters of a certain age. I thought reading YA would be not the best use of my reading time. I happily discovered I was wrong.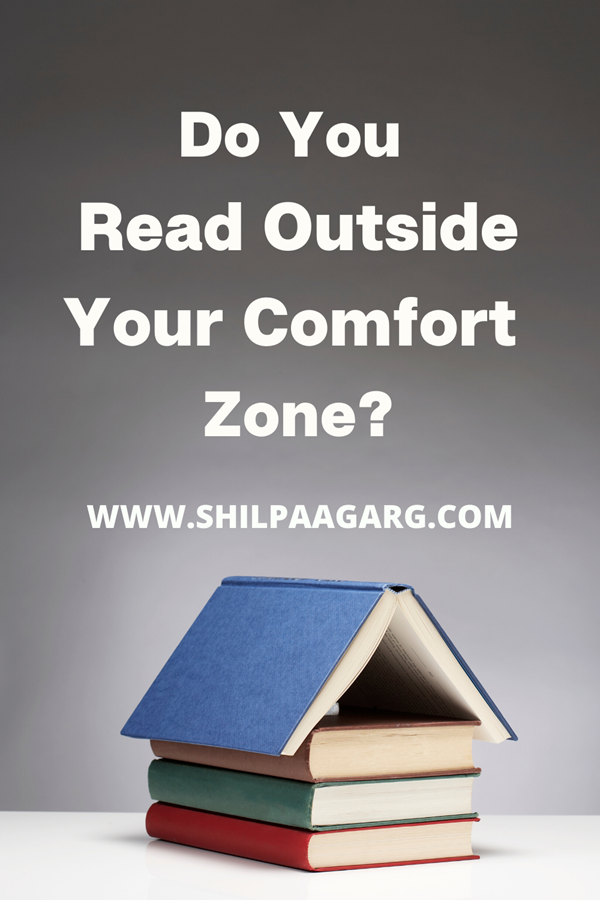 I sometimes read outside my comfort zone though there is not much that is outside my comfort zone since I just devour anything and everything. But horror is something I am not comfortable reading. I read it only if it is highly recommended or if I have interacted with the author before. I liked Kiran Manral's Face in the Window and Neil D'Silva's Pishacha.
Do I read outside my comfort zone? It makes me smile because the genre that was outside my genre is now my favourite genre – psychological thrillers/crime fiction! It started with The Girl on the Train, 4 years ago. It really made me curious. This year, I've read some really good crime novels. Strangers by CL Taylor and Missing, Presumed Dead by Kiran Manral are my favourites. Similarly, I was really skeptical about picking mythology but I'm glad I did because it lead me to The Palace of Illusions by Chitra Banerjee Divakaruni, an absolute favourite. And finally, historical fiction – it's something that is totally out of my genre. I have read two books in this genre. The Secret Diary of Kasturba by Neelima Dalmia Adhar and Empire by Devi Yesodharan. So well written and I liked them but I'm still not very sure when it comes to picking this genre. There are two things that grip my attention. Good storytelling and strong female central protagonists. And once I'm gripped, I've realized, any genre can interest me.
I have loved reading Classics and Historical Fiction and believed I could not enjoy a book outside my comfort zone. This was the reason why I read Orwell's 1984 quite late, I always felt dystopia was not for me. But then, once I did…I loved this genre. The last book in the genre that I read was The Handmaid's Tale by Margaret Atwood and I couldn't be happier. Another effort I took was to include Non-Fiction in my readings, including memoirs and travelogues to balance the inclination towards fiction. I began with In An Antique Land by Amitav Ghosh and since then have loved my little space of non-fiction here and there. You can always have a preferred genre but exploring new genres is a way to understand different writing styles and a new literary expanse.
I read to unwind but do pick up books outside my comfort zone occasionally. I don't enjoy reading books on politics. Particularly those that are stilted or one dimensional. I read these books to understand their validation. I don't recall any such book that I loved. But I recently read a graphic novel Banned Book Club by Kim Hyun Kim and Ryan Estrada and it is a must-read. A classic example of censorship, fascism, and rebellion of reading.
I am not a big fan of science fiction probably because I believe I am right-brained. I've picked up a few books outside my level of comfort out of plain curiosity but never managed to finish them. One among them recently was Hard-boiled Wonderland and the End of the World by Haruki Murakami. It's about a man who completes an assignment for a mysterious scientist, who is exploring sound removal and who eventually learns that he only has a day and a half before his consciousness leaves the world. It was too intense a subject for me to follow through the entire the book and I ended up not completing it.
However, I made an exception with this one book I read till the end because it also is a romance and a science fiction. Audrey Niffenegger's The Time Traveler's Wife is the story of a Clare an art student and Henry a librarian who have known each other since she was six and he was thirty-six, and were married when Clare was twenty-three and Henry thirty-one. Confusing right? That's exactly what made me pick up this book, to know how! Actually, Henry is diagnosed with a Chrono-Displacement Disorder which resets his genetic clock time and again. He keeps swinging between the past and future, with bitter-sweet and sometimes amusing experiences along the way. It made for a mind boggling read but nevertheless an interesting one.
So yes, I do pick up books outside my comfort zone but they need to talk to me in my mind language, strike a vibe with me to make me actually read them through.
There was a time when I was fascinated by the horror genre. I am talking about the time when I was about 19 or 20. At that point, I had read many short horror stories in Tamil magazines and used to bite my nails to the raw, continuing to read late into the night.
One would think that was perfectly comfortable for me, right?
Wrong!
Carrying forward this 'morbid' fascination, I read The Exorcist by Peter Blatty. It took me but three days to finish reading this 400-page novel. After this horrendous experience, I was maimed for life. No, I am not talking about the author's writing skills. The story was too damn fascinating that I had to finish reading it. But it broke me terribly from within. I suppose one can say that my life is divided into before and after reading The Exorcist.
I couldn't sleep properly for months together after this book. And for decades, I couldn't sleep alone. It is only recently, with lots of meditation, that I have come out of this fear.
This is the reason why I stay clear of the horror genre.
As a writer, I am enthralled by the paranormal and would definitely love to spin stories in this genre. But paranormal isn't entirely synonymous with horror. I am hoping that my paranormal stories will cheer readers unlike what reading horror did to me.
Over to you now.
Do you read outside your comfort zone?