He Works 3 Jobs, Donates Blood & Ferries Patients At Night in His Auto #WATWB
Belgaum's Manjunath has made a name for himself as being a nocturnal ambulance driver and has also found a place in the India Book of Records having saved more than 300 lives so far.
"My day begins at 6.00 am when I start ferrying passengers in my auto. I do that until 9.00 am and then head to the IL&FS office where I work as an office assistant until 6.30 pm. Post this I have also taken on a part-time role which keeps me occupied until about 9.00 pm. After that, my auto and I am available for any passenger who needs to be taken to the hospital any time at night," he shared with The Better India.
The money that Manjunath makes working at IL&FS, which is about Rs 18,000, goes towards maintaining his house and family of 4. The rest of the money he earns from driving the auto and doing the part-time job is spent on the upkeep of the auto, and a part of it is donated to an NGO called Ashraya Foundation.
From pregnant women to those who have suffered a heart attack, Manjunath has ferried all kinds of patients to the hospital in his auto ambulance. More recently, he has also been taking COVID-19 patients to the hospital.
Why An Auto Ambulance service?
Almost a decade ago, when Manjunath did not own a vehicle of his own, a pregnant woman came by asking to be taken to the hospital immediately. Recollecting that time, he says, "I had to ask my friends for their vehicle and by the time I could get around to arranging things two hours had gone by. Though I took that lady and got her admitted, I couldn't help wondering how much smoother things would have been for her if I had my own vehicle."
It was this incident that triggered the need to both invest in a vehicle of his own and start an auto ambulance service that people could rely on.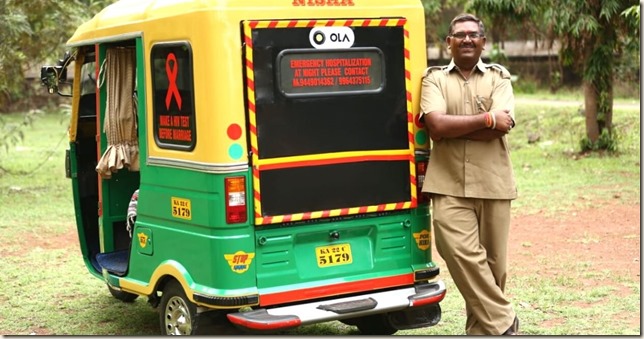 His contribution to society was appreciated so much by his colleagues and friends that they even nominated him for an 'India Book of Records' certificate. "I was very happy with the recognition and it only motivates me to do more," he says with a smile that reaches his eyes.
Manjunath  has a desire to help even after his death and for that he has pledged his body to medical research at the KLE hospital. He is also a regular blood donor and has donated blood more than 40 times so far.
He is also an active COVID-19 vaccine trial participant who gets a call every few days from the authorities to check on his vitals and if he is displaying any symptoms that they should be aware of.
Manjunath is a shining example of an ordinary man making a difference in the society with his selfless service, kindness and compassion.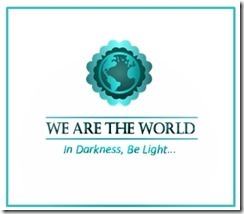 This post was the latest installment of the monthly We Are the World Blogfest: I'd like to invite you to join, if you haven't as yet, to post the last Friday of each month a snippet of positive news that shows our essential, beautiful humanity.
This month's co-hosts,  Eric Lahti, Peter Nena, Roshan Radhakrishnan, Sylvia Stein. and yours truly, welcome participants and encourage all to join in.

Here's a sampler of this blogfest.Click here to know more. Sign up here and add your bit of cheer to the world on the next installment.