He Reads 3 Newspapers Amid Coronavirus Outbreak to Spot and Help People in Need #WATWB
During these tough times when the world is battling against coronavirus pandemic,  a resident of Chennai R Ajith Kumar has turned out to be the saviour for the people of the city. The pandemic has brought everything to a standstill and has disrupted every sphere of life. However, among many helping hands, R Ajith Kumar makes sure he helps the people in need in the city.
He has been reading newspapers to spot the people in need. He has been following this process since the lockdown began and reads three newspapers- one English and two Tamil to reach out to the people in need in large numbers. He provides required essentials to the suffering people by contacting the reporters.
Ajith who is MD of Nsight and co-founder of Thuli Trust has extended his support to S Kanakraj, a differently-abled artist who was unable to feed himself and his 72-year-old father as his stage performances stopped due to the ongoing lockdown. Ajith came to his rescue and deposited money in the artists' account. The artist said that he will always be grateful to him as he was running out of money. He extended support to the family of a barber who committed suicide owing to poverty.
Ajith was deeply moved when he visited the camps for guest workers and houses of disabled people. According to TOI, he said "I walked into a tiny camp where guest workers lived, and found three men from Bihar who hadn't eaten for three days. They were left in the lurch by their contractor. When I handed over the packets of rice and dal, they fell on my feet."
Not only had he lent support to the needy but also funded the education for children whose parents lost their jobs due to the pandemic. He also offers counselling and support to the parents. With co-founders Shivaji Prabhakar and Jey Bala, he opened two stores of Thuli Trust in Chennai for the poor. The trust collects clothes from donors, washes them and places them in the store from where the needy can take them at will. He considers his acts as small efforts in bridging the gulf between the rich and the poor.
In these trying times, there are people like Ajith who are reaching out to the people with a helping hand. It is heart-warming to read about messages of hope and solidarity which are springing up in unusual places.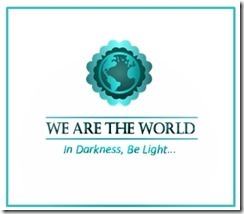 This post was the latest installment of the monthly We Are the World Blogfest: I'd like to invite you to join, if you haven't as yet, to post the last Friday of each month a snippet of positive news that shows our essential, beautiful humanity.
This month's co-hosts,  Lizbeth Hartz, Peter Nena, Roshan Radhakrishnan, Sylvia Stein and yours truly, welcome participants and encourage all to join in.

Here's a sampler of this blogfest.Click here to know more. Sign up here and add your bit of cheer to the world on the next installment.