10 Good Investment Options for Working Women
Investment is a necessity in every household. If you are a working woman, investing from a young age can help you find a regular and reliable income source as you grow old. But there can be a lot of confusion regarding how many eggs to put in which all baskets.
Investing in the right schemes can double your income, and at the same time, you should also be wary of the investment options that are subjected to market risk. If you would like to experiment around, here are 10 investment options available in India right now:
1. Public Provident Fund
One among the most popular investment schemes in India, PPF can be availed at post offices and banks. It is a 15-year tenure scheme with an annual interest rate of 8%.
You can deposit a minimum of Rs.500 or a maximum of Rs.1.5 lakh. You can even withdraw 50% after 5 years. This long term savings plan would be ideal for working women looking for a fail-safe investment option. It is also exempted from taxes.
2. National Pension Scheme
While the term pension can seem overwhelming, the National Pension Scheme is another government-backed, safe investment option wherein you can contribute in regular intervals to your pension account and reap the benefits of it after you have retired.
The minimum lock-in period is 10 years. It also has additional tax benefits. If you wish to withdraw your investment anytime, you can opt for the Tier II NPS scheme. However, Tier II does not have tax rebates.
Read more :Personal Financial Planning – 6 Steps to Re-Organize Your Finances
3. Health Insurance
A Maternity Health Insurance policy is another ideal investment option for working women. A health insurance policy will benefit you financially and physically.
In the event when you have to be hospitalised, the humongous hospital bills can leave in your shambles. Health insurance is a great way to mitigate this problem. Premium paid against health insurance is also exempted from taxes.
Read more: A Guide to Family Health Insurance Policies
4. Bank Fixed Deposits
You can opt for fixed deposits from both private and public banks. Fixed deposits are another popular and safe investment option available for women.
The rate of interest and the investment tenure would depend upon the bank.  You can withdraw the invested principal amount and the compounded interest on it after the maturity period.
Read more : Stay organised with My Money Book
5. National Savings Certificate
This fixed income scheme can be opened in any post-offices.  This low-risk secure investment scheme has a maturity period of 5 years.
The current interest rate is  6.8 % per annum. You can avail tax benefits for investments up to Rs.1.5 lakh. The minimum investment amount is only Rs.1000.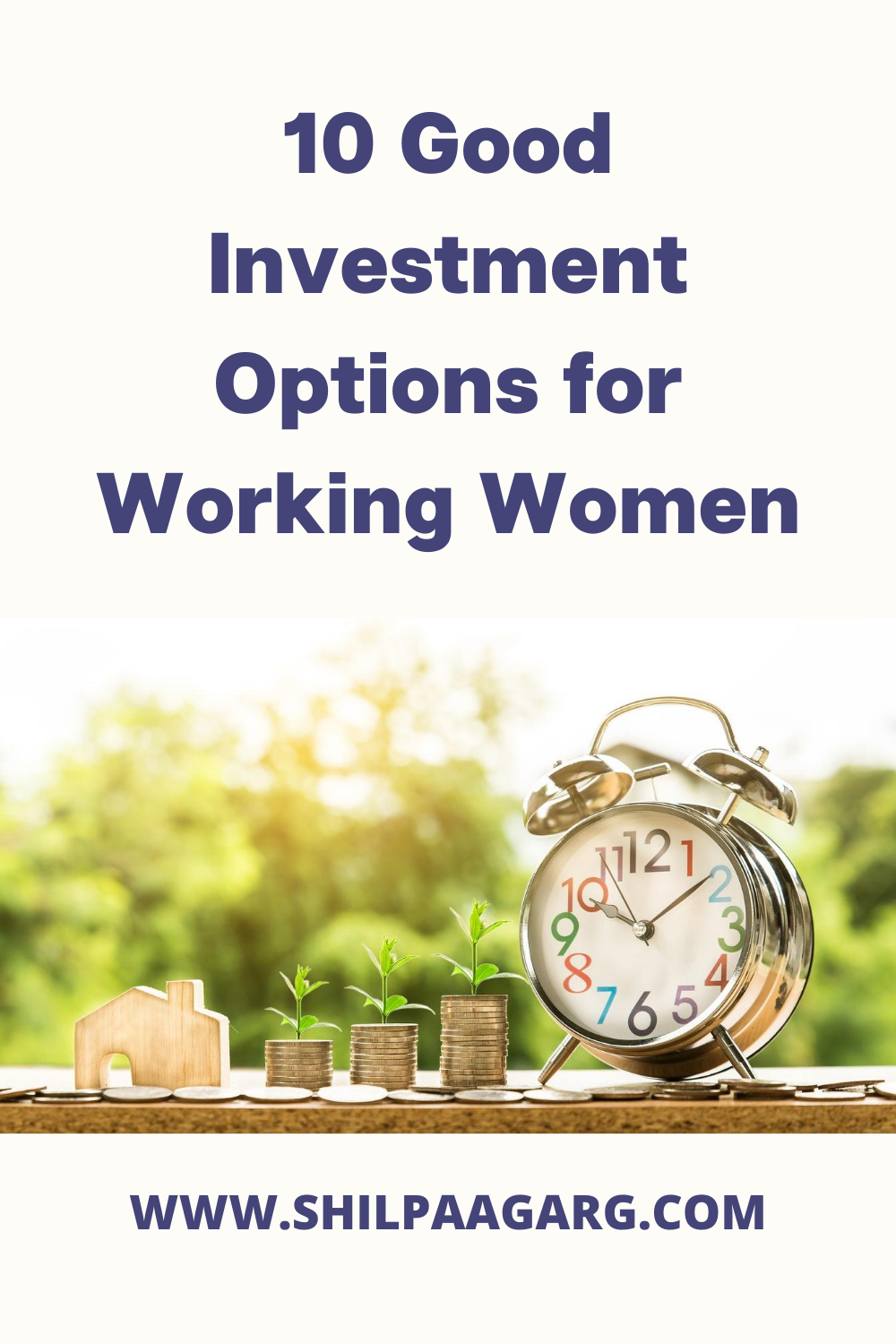 6. Post Office Time Deposit Scheme
Similar to a bank fixed deposit, post-offices also accept timely deposits. You can choose a maturity period of 1, 2,3 or 5 years.
This can also be extended by giving a request. The 5-year deposit schemes also have tax exemptions. The interest rates are 5.5%,  for the 1-3 year deposit and 6.7% for the 5-year deposit scheme. The minimum amount that you can deposit is Rs.1000.
Read more: Post Office Time Deposit
7. Home Insurance Policy
If there is a materialistic thing that you hold as close to your heart as your health, it must be your home. Building a home on your own is a considerable investment, and you are obligated to protect it at all costs.
A home insurance policy will protect you financially against losses due to earthquake, floods, burglary etc.
You can easily compare home insurance quotes online and choose the one that best suits your needs. Since you have invested so much on your home and the value inside it, it only makes sense to invest in a home insurance policy as well.
8. Mutual Funds
Mutual Funds are the most lucrative investment options available in the market. Although it comes with a certain set of market risks, it is also an equally rewarding investment option.
You can start with as small an amount as Rs.500. A mutual fund works when various investors and companies pool in their money for a common investment objective. This pooled money is handled by a fund manager who invests these amounts in capital assets so that you can reap the maximum benefits.
Read more: Get to know the top-performing funds.
9. Gold
Gold has been a favourite investment option among women since generations. Gold prices have been steadily increasing in the past few decades and hence investing even in small quantities of gold will be a good option.
You can get back triple times the amount you invested in the beginning at the rate at which the gold prices are increasing today. Apart from buying solid gold, you can also opt for coins, bars, gold exchange-traded funds, Gold funds, sovereign gold bond schemes etc.
10. Kisan Vikas Patra
This is another certificate scheme offered by the Indian Post Office. The lock-in period is 10 years and 4 months, where the minimum investment amount is Rs.1000, and there is no upper limit.
At the end of the maturity period, you will receive double the amount you have invested. Although aimed mostly towards farming communities, this is a safe investment option that is not subjected to market fluctuations.
Choosing the right investment options at the right time will help keep you and your family financially secure.
Happy investing!