This Diwali, Celebrate With Seed Crackers & Seed Sweets That Help Environment #WATWB
Soon Diwali celebrations will be full swing. Bursting firecrackers and eating sweets is the norm. But, we rarely think about the exploitation of the environment and marginalized communities that cater to these industries.
The Gramart Project has launched a new initiative –BeejParva which is all about 'seed crackers' and 'seed sweets'. It is an eco-friendly, exploitation-free and meaningful alternative to the current methods of celebrations.
Seed Crackers
To keep alive the nostalgia of bursting crackers, but avoiding the noise, smoke, and bright lights that affect birds and animals, resident artisans of Gramart project have conceptualised seed crackers.
The artisans spent a few weeks teaching rural women across Paradsinga village, situated in Sausar Tehsil of Chhindwara district, Madhya Pradesh, on how to make cracker look-alike from waste paper with seeds embedded in them.
The aim behind these crackers is to encourage people to spend Diwali in an eco-friendly way and choose something constructive for the generations to come.
"40-50 families have taken up the work and have made ladis laced with microgreens, chakkars with onion seeds, bombs with roselle seeds and more," says Tanmay.
One cannot light these crackers, but would have to sow them in the soil, water it, and watch it grow into a plant.
If you want to buy a set of seed crackers, 21fools, an e-commerce platform that sells seed-based products, is offering packages along with coir pots and coco peat disc to plant them in.
You can place an order here.
This slideshow requires JavaScript.
Seed Sweets
To start conversations about the realities of the food we eat during Diwali, farmers and rural artisans are making sweet look-alikes from waste paper mache.
They are made to look like laddus, cham-chams, barfis, and cookies, but have live seeds harvested by the farmers within them. It can be sown in soil or coco peat and within a few months it will grow into a plant.
The seed-laddu, when planted, will grow into tomato or radish plants.
These wheatless cookies, when planted, will grow into brinjal or purslane.
Once planted, these sugar-free barfi  barfis will grow into Okra or amaranthus.
Planting a sovereign cham-cham will grow into chillies and carrots.
You can read more about the seed sweets and the stories behind them here.
How Are They Made
The look-alikes are handmade using water paper collected from paper mills and printing presses.
Once the resident-artisans worked out a process to design and make the crackers and sweets, small workshops were organised for interested women. They were taught the process, and once the women were confident, given the necessary raw materials. They either gather in common places to work together or take the raw materials back to their homes.
The finished products are directly shipped to customers or sent to collaborators who distribute the products through their e-commerce platforms.
If you wish to spend this Diwali in an eco-conscious manner, you can order the sweets here.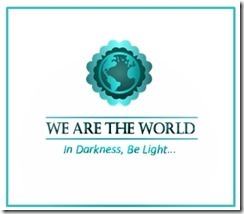 This post was the latest installment of the monthly We Are the World Blogfest: I'd like to invite you to join, if you haven't as yet, to post the last Friday of each month a snippet of positive news that shows our essential, beautiful humanity.
This month's co-hosts,  Sylvia McGrath, Mary Giese , Sylvia Stein, Belinda Witzenhausen and yours truly, welcome participants and encourage all to join in.

Here's a sampler of this blogfest.Click here to know more. Sign up here and add your bit of cheer to the world on the next installment.