Photographer spreads joy with photos of rescue puppies licking peanut butter #WATWB
Cleveland photographer Greg Murray created a book, Peanut Butter Puppies, to spread joy and highlight rescue puppies. The book features silly and heartwarming photos of rescue puppies licking peanut butter.
It is a sequel to Murray's 2017 book, Peanut Butter Dogs. Around 30 Northeast Ohio animal shelters and rescue centers brought puppies to Murray's photography studio. The puppies ranged from eight weeks to 12 months old, and all since have found permanent homes.
Murray, 39, is a strong proponent of animal rescue. He has two rescue dogs, Leo and Kensie.
The coronavirus pandemic changed life for everyone. Murray realized he had a way to spread cheer in these challenging times. "People need to laugh and smile," he said in an interview. "I feel so lucky to be able to do that."
Gibbs Smith, the book's publisher, plans to give back by donating $1 from every pre-sale of the book before March 16, with a value up to $3,000. The money will be split equally between three chosen at random rescue organizations that featured puppies in the book.
In Peanut Butter Puppies, there is an entire page educating on how to safely feed dogs peanut butter. Murray suggests all-natural peanut butter is the safest option. A common sugar substitute in peanut butter, xylitol, is toxic to dogs. Murray found a creative and fun way to spread joy and raise awareness on the importance of adopting your next furry friend.
This slideshow requires JavaScript.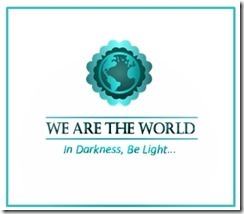 This post was the latest instalment of the monthly We Are the World Blogfest: I'd like to invite you to join, if you haven't as yet, to post the last Friday of each month a snippet of positive news that shows our essential, beautiful humanity.
This month's co-hosts,  Eric Lahti, Roshan Radhakrishnan, Susan Scott, Sylvia McGrath, and yours truly, welcome participants and encourage all to join in.