How to Take Care of Chiffon Sarees!
Sarees are evergreen and look elegant when worn, irrespective of the occasion. From silks to cotton to chanderi to organza, there are sarees for every ocassion. But chiffon sarees have been the rage since time immemorial.  Chiffon sarees are lightweight, comfortable, and easy to carry, which makes them the first choice among Bollywood actreses too. 
Do you love sarees but only choose to wear them for certain occasions and festivities? If yes, then most of the time your sarees are locked in your wardrobe and only see the light of day during special occasions. If that's the case, you need to maintain your chiffon sarees in such a way that they don't get spoiled over time. 
Follow these tips which will help you store your chiffon sarees carefully so they remain as good as new even when you wear them after years.
Hand Washing Tips
If you want to wash your chiffon saree by hand, you can start by filling a tub with lukewarm water and adding liquid detergent to it. Soak the saree and gently wash it before leaving it inside for 30 minutes. You can fold the saree to wash it easily. Once done, rinse it thoroughly in clean water. Do not twist the saree to remove the excess water. Take a towel and put the saree on it so that the excess water gets soaked. 
Machine Wash Tips
If you want to machine wash your chiffon saree, it is wise to turn your saree and blouse inside out and put them in a mesh laundry bag to prevent them from getting wrapped with other clothes. You can use mild detergent and set it to a 'delicate' cycle with the shortest spin time. To rinse the saree, you can put it on a dry towel and dab it gently to remove the excess water. 
Drying Tips
Avoid drying the saree in direct sunlight because the colour will fade. Also, hang it on a padded hanger to prevent any creases.
Ironing Tips
Dry ironing is suitable for a chiffon saree. If your saree has wrinkles, avoid steam ironing because it can develop stains easily. Set a delicate mode on the iron and gently de-wrinkle the saree with your hands first. Avoid pressing the iron too hard on the saree and move the machine gently and easily over the fabric. Also, don't hold the iron in the same spot for a long time to avoid burns.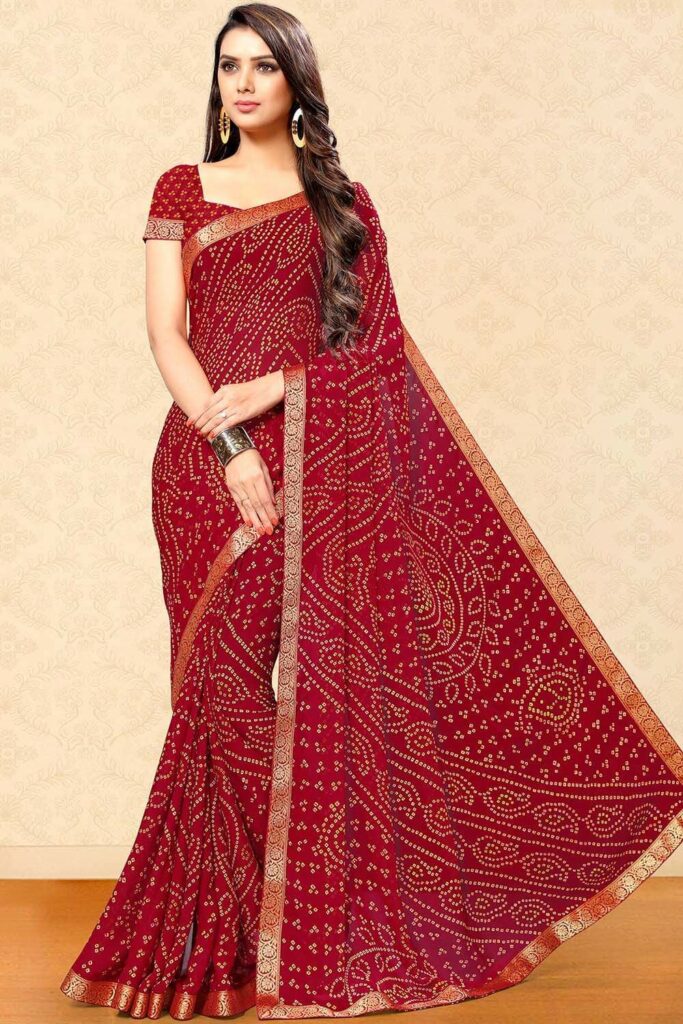 Storing Tips
If you're hanging your sarees on the hanger, you must have seen creases and tears developing over a period of time. To avoid this, don't let the saree hang for too long and if you do, use padded hangers. Change the folds of the saree frequently to avoid any tears from the crease. You can also place the chiffon saree in a muslin cloth or a cotton bag before putting it back in your wardrobe.
With these helpful tips, you can maintain your chiffon sarees or any other sarees for the longest time.