UBC Day 11 : A Post from Bhopal
I reached Bhopal early morning today. Am here for work and will be here until Friday evening.
Traveled in a train which originates from Jaipur and goes upto Coimbatore. The distance between Jaipur and Coimbatore is 2682 kms and the train takes some 48 hours to complete this route, one way. Traveling for so many hours, I mean days to reach a destination is simply commendable but for me it would be pure torture. I enjoy train journeys but this fanaticism for cleanliness does not gel well with long train travel. I prefer overnight journeys. I know,  I am a bit fussy about certain things.
My co-passengers were a South Indian couple (let's call them C1) and another young couple (C2 for our reference) with a small kid.
C1 had a bag full of food all stored in large containers. They had melamine plates and bowls along with 3 to 4 serving spoons (but no spoons) too. And I liked the fact that they had a complete meal consisting of a vegetable, 2 types of rice, chutney, dal and chapati too. The guy washed his hands in the plate after the meal, and this made me feel like kicking myself for observing even that. Truly a yuckky feeling. Then he precariously carried the water filled plate to the basin at the end of the coach.
The C2 had a very bubbly and restless 3-year old. She brought smiles all around with her sweet and cute talks. But her mother was not amused. She must have said, 'I will slap you' a hundred times in the 3 hours that we were awake and she started it all over again in the morning. I know, kids have this flair of getting on your nerves, but there is a way of handling them.
I am staying at the campus of the L&D Centre of a company which also has a school for kids. So, we are having our meals with the kids. It is so much fun observing these little ones enjoying school with friends. Seeing them reminded me of Aaryan and his friends and the wonderful time they are having at their boarding school. The dining area is so huge and everyday meals are cooked for over 2500 kids and employees. The place is so neat and clean and the food is simple, homely and delicious.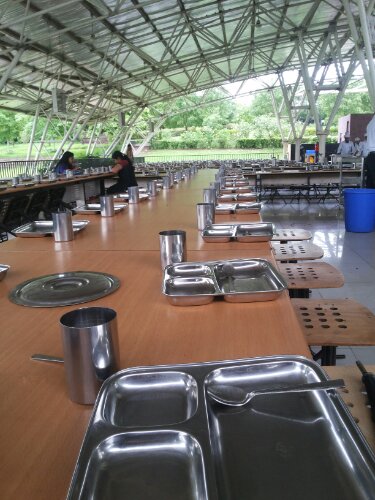 Like it?