UBC Day 12 : Friday Fill-in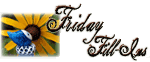 Today, I am doing a 'Friday Fill-in'. (Every Friday, a set of sentences are posted on this site and those who participate have to complete the same on their respective blogs).
And…here we go!
1. Right now I'm at Bhopal for a workshop.
2. Washing hands and almost everything at home is my well known quirk.
3. Are you liking my varied posts on this blog?
4. I read the excerpts of the book on the cover  first, then start reading it!
5. That's why I love him.
6. The Big Bang Theory is one of my favorite TV shows ever!
7. And as for the weekend, tonight I'm looking forward to reach home fast, tomorrow my plans include cleaning home and catch up on blogs and Sunday, I want to chill with family and friends!