UBC Day 16 : The Last Telegram
We saw the end of an era. Our 163 year old telegram service was shut down on 14th July 2013.
I remember, as a kid, going to the post office in our colony and sending telegrams to relatives on behalf of parents.  Those days we used telegrams mostly for sending greetings for Diwali and New Year and also about informing about 'Reached safely' or 'Girls have passed their exams' or 'Reaching on 16th' etc.
I am regretting not sending the last telegram to Aaryan, as a kind of souvenir. I am sure he has never ever seen a telegram. While, I was mulling over this loss of a memorable opportunity, I remembered something…
Like a woman on a mission, perched on a high stool, I searched for a bag full of memories, which lay on the upper shelf of a cupboard.
Soon enough, I found my object of desire…  seeing it brought back so many memories…
It was 1995, KG and I were dating and had decided to spend our lives together. KG was posted in Indore then and I was in Jaipur. Letters and cards were the main means of communication between us, though sometimes we spoke over the phone too. I remember the STD rates were so high then and mobiles were still unknown to us.
One evening in February 1995, when I returned back from work, my mother gave me a piece of paper with a smile. I was curious and amazed at the same time. It was a telegram! Without much ado when I read the message in the telegram, it not only brought some smiles but some happy tears too.
It was a telegram from KG. While the mother and sisters could understand the message, they couldn't decipher (O-Y-S).  Of course, KG must have filled the form as OY's and the person in the post office typed it as O-Y-S. (It should be OYs though, I guess).
Seeing it today, again, brought some more happy smiles…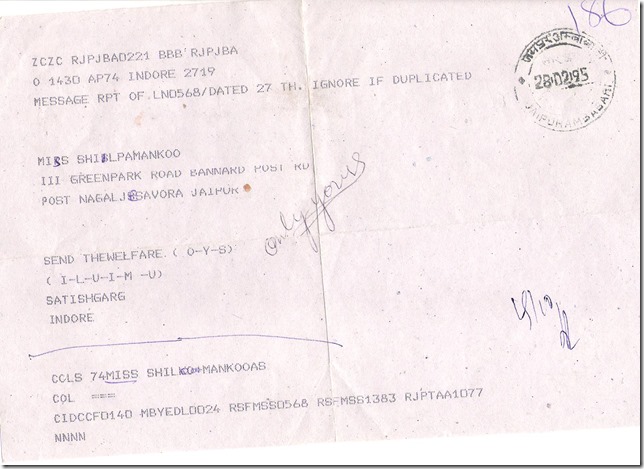 Can you see, the way his name is spelt here. He has such a nice and a unique name (ok, not so unique now-a-days) and how it has been mutilated to Satish!!
I asked KG, if he remembered sending a telegram to me. His answer as expected, was a "No". And when I showed it to him, he said, "Did I send this?" and in the next breath, he added, "You are not blogging about this, are you?". I smiled and got busy in keeping this prized possession in my bag, but not before seeing him roll his eyes!