UBC Day 18 : Pulled in Multiple Directions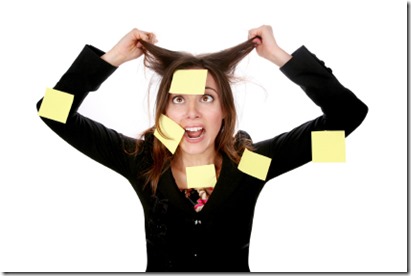 This picture truly represents my state…
I am pulled in so many directions, and the result is that I am so addlepated  that otherwise an organised me is having trouble focusing!
My earlier plan of scheduling daily posts at 12.01 am is just not happening. I like to write in peace and with a dozen things staring at me in the face, it is tough to concentrate and write a coherent post.
I used to pride myself on responding to all the comments on my blog and today there are 10 posts which have no interaction from my end with the readers. And this is irking me to no end.
I have so many blogs to catch up on. I have this strange fixation of not reading and commenting on just the last post but on almost all the missed posts of every blogger whose blogs I frequent. And that needs a lot of time. Of course, I miss the poetry posts. 😉 So, this is weighing heavy on my mind too.
Our social life has suddenly sky-rocketed. While it is awesome meeting friends and having a good time with them, I am missing the peace and quiet 'Me' time, a lot.
Of course, the work at office is piling up too. Oh, I can't crib about that. I am glad that it is keeping us busy.
The cook is giving me a lot of heartburns. She came today after 7 days! Yes 7 days!! Usually, the cooks don't take leaves. But my maid specializes in taking leaves. She doesn't believe in being absent for a day here and there but loves to abscond for days together. I tried finding a new maid these past few days, but no one was willing to work. Reason : The maids have work ethics, they don't take up somebody else's work. KG suggested that  I should terminate her services and hire a new one. But the foolish me has given her 12 days of this month to mend her ways or else I'd be glad to say 'Tata-Bye-Bye' to her from 1st August. Hope she sticks to her commitment.
My reading has become negligible since the last fortnight. A book is following me everywhere, it is in my bag at work and during travel, it is on my bedside as soon as I reach home, but picking it up to enjoy it is grossly missing. My library is overflowing with books to be read and as if that was not enough and I ordered for 5 more books yesterday. I need to seriously catch up on my reading.
With all these distractions, I am not even getting time to practice Reiki. It is on top of my mind, but am just not able to focus on it. And this is when I want Reiki to become a way of life for me!
I guess, I need to take a deep breath in and breathe out slowly and… focus on one thing at a time… but when will I do that? Or how will that happen?…. Gosh…. the vicious cycle has started all over again….
Image Courtesy : Google Images