UBC Day 29 : A Book in Every Child's Hand
I love reading books. One of the reasons why I love reading books is because I started early, and the credit goes to my mother for initiating this habit. I think, the reason we all love reading is because reading a book is a magical experience. The books have the amazing ability to transport us in a different land, time, culture, evoking different feelings of sadness, joy, anger, anticipation – it just all depends on what we are reading. To me, reading books is truly a rewarding and a unique experience. And that is why, my favourite gift for any child is always a book.
While we and our kids enjoy the fascinating world of books and learn a lot from it, but what about the millions of other kids?? Research reveals that 1 in 3 school-going children cannot read fluently. Children who are unable to read are unable to learn, as they can't understand what is being taught to them. And that contributes to the high dropout rates in schools.
The statistics I read are startling.  In UK, every child has access to more than 6 books.
While in India, there are more than 300 million children in India. Every year, roughly 25,000 books are made available for children. The books are published majorly in the English and Hindi languages, so that means there is about 1 book for 20 children.                                                                                   UK                                     India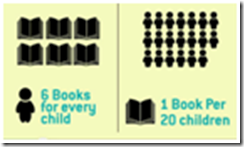 When I heard Rohini Nilekani, Founder Chairperson of Pratham Books, the first thought that struck me, 'Aha! I can be a part of this movement.'
Pratham Books strives to give the children of our country a chance to explore the world of story books.
While children are being taught the basic skill of reading. They have very little to practice what was taught to them. Pratham Books believe that every child has the right to enjoy good books.
And they also believe that the children should have stories set in surroundings familiar to them and in a language close to their culture.
Making books accessible to every child at a very low price is the vision of this not-for-profit publisher.
The dedicated team at Pratham Books have partnered and collaborated with innovative measures to make the books available to children in rural areas. They have explored the options of selling books through the Unilever sales team, the solar lanterns sales guys, railways stations and post offices. The Govt of Bihar helped made these books available in some 72000 schools.
Till date, Pratham Books has published over 215 titles in English and 10 other Indian languages. That's over 1500 books, most of which are priced below Rs 25. We have printed over 8.5 million books, over 10 million story cards and have a readership of nearly 25 million.
Their vision is to reach 200 million children in India, and a hope to someday put 'a book in every child's hand'.
Pratham Books licenses its content under Creative Commons licenses. These are licenses that allow you and everyone else to use their content under the terms of each respective license. This license lets you distribute, remix, tweak, and build upon their work, even commercially, as long as you credit Pratham Books, the donor/funder of the book, and the original author, illustrator and translator, where applicable, for the original creation.
Somerset Maugham said that "to acquire the habit of reading is to construct for yourself a refuge from almost all the miseries of life". Such can be the gift of reading and it simply starts with a book in every child's hand.
Franklin Templeton Investments partnered the TEDxGateway Mumbai in December 2012.