Bankerupt
Title: Bankerupt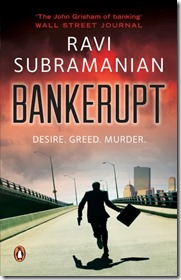 Author: Ravi Subramanian
Publisher: Penguins Books
ISBN: 978-0-143-42138-2
Number of Pages: 319
Price [INR] : 299
Genre: Fiction
A university is an institution for higher education and research. It can also be a place where academic brilliance leads to overinflated egos, bitter politics and finally, murder. Cirisha Narayanan, a professor who has risen meteorically stumbles upon a cryptic message. Aditya Raisinghania, her banker husband, sets up a highly innovative financial hoax. Her profiteering father harvests Australia's largest bird—the emu—in India. The US elections are on and the debate on gun control has reached a fever pitch.
Set in Mumbai, Coimbatore and Boston, Ravi Subramanian creates an impeccably researched world where everyone has a motive to kill. Nothing is as it seems in this cunningly vicious thriller where the plot turns on a dime.
I have read Ravi's earlier book, Bankster and I simply loved it. So with great expectations, I started reading Bankerupt and let me tell you that I had trouble putting it down. Towards the end, as I moved from one page to the other, I had this 'fear in my heart and excitement in the head', as the storyline had more twists and turns than a corkscrew!
The author succeeded in keeping me on my tenterhooks with a succinct narration that has achieved a beautiful blend despite 5 different narratives in the story. The information on the banking systems and how books are cooked in organizations; the rise and fall of emu farming in India; politics in a premier educational institution, the power struggle and the funding and grants for research; the gun culture and the strong arms lobby in America is pretty interesting.
All these varied plots converge in the end so beautifully to culminate into something that is totally unexpected and simply thrilling!
I was expecting Cirisha's showdown with her father, but that never happened in the book. Knowing about Aditya's involvement in the scam had devastated her, wonder what would be her reaction on knowing about her father's business processes. Also some of the characters and their stories could have been developed more. I believe, Richard's story could have been promising and also the relationship between Cirisha and Aditya could have been explored a bit more.
Bankerupt would be a fabulous watch on the big screen too, as it has all the ingredients of a Bollywood crime thriller– murders, lies, deceit and treachery.
Bankerupt is highly recommended if you are looking for a racy pacy thriller.
Rating : 4.5/5