Sponsored Video: Domestos-UNICEF Partnership for Improved Sanitation
Last week, I had an opportunity to visit a village near Dudu, Rajasthan. I spent nearly 4 hours with the villagers, gathering information for a project and generally chit chatting too. Once the work was done, the women folk with whom I was interacting, invited me to their homes. They had nice and and neatly kept mud houses. We had lunch together and then one women asked me, if I wanted to visit the loo. Very thoughtful of her! Though I replied in a negative, she informed me that we would have to go in the open fields for that!
I was surprised. Here is a village, where almost all households have television, motorbikes and mobiles, their houses are spic and span and they don't have toilets in their homes!
The situation of the people in this village is no different from billions of people worldwide.
About 2.5 billion people do not have access to improved sanitation. Of these, almost half have no sanitation facilities at all and practice open defecation. Access to improved sanitation has been deemed a basic human right by the United Nations. Without it, people are at risk of sanitation borne diseases, like diarrhoea, which kills around 2,000 children under five every day.
Please take a moment to watch this video. Thank you.

Domestos and the Unilever Foundation joined forces with UNICEF to help improve access to basic sanitation for hundreds of thousands of people by supporting UNICEF's Community Approaches to Total Sanitation (CATS) program.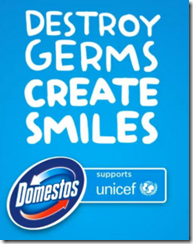 CATS is a behavior change program which promotes good hygiene practices, helps create demand for access to toilets and raises awareness of the sanitation crisis. Through the use of simple and effective demonstrations which explain the link between open defecation and disease, families make the decision to change their sanitation practices.
As part of this partnership, Domestos is contributing 5% of its average proceeds received from the sale of specially marked bottles of Domestos in select countries to support UNICEF's CATS programmes in the Philippines, South Sudan, and Vietnam and will also go towards providing resources to advance efforts to improve sanitation in India, Indonesia and Brazil.
Your can be a part of this initiative too. You can help by:
Buying specially marked bottles of Domestos (Domex)
Sharing the partnership "Tell a friend" video
Using the campaign hashtag (#mumsfortoilets) when you tweet about the campaign
Show your support by adding a Twibbon to your Facebook profile picture
Visit Domestos for UNICEF to learn more about their partnership and know about the benefits it can bring to families around the world
Donate to UNICEF's world sanitation programme.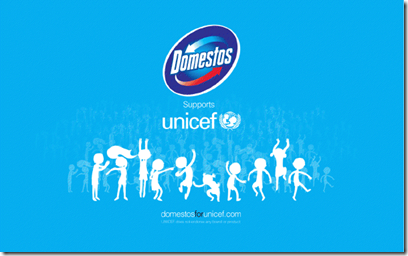 This post has been sponsored by Domestos, but all thoughts are my own.