20.12.2013
It's my birthday today. I turn another year older and another year wiser. Older? Wiser? I thought of replacing older with younger, but guess that's too clichéd. For the wiser part, well I'd like to entertain myself today with this thought, after all, it is my special day!
I am not at all fussy about the way my birthday should be celebrated, but I do like to receive wishes from my family and friends. And, since last year, I am looking forward to wishes from Google, the God too!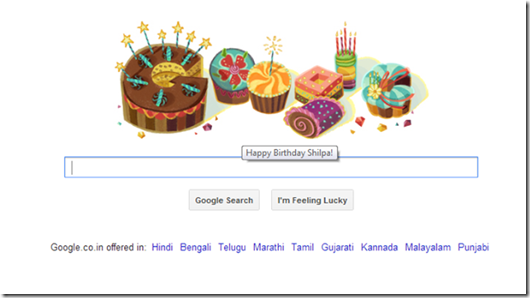 Needless to say that I really look forward to wishes from my boys! You may wonder, what is there to pine for birthday wishes from the husband and the child.
Well, the thing is that they both are blessed with memory (for birthdays) like a sieve. Unlike me who has a memory like an elephant especially for important days and dates, these two guys can't remember the one birthday that they should not be forgetting at any cost! And, here they are, they simply miss wishing me! Ok, I was exaggerating a bit, I actually mean that they do wish, but after they have had sufficient subtle and many in-your-face hints! I mean, they are not like me who would plan for birthdays, days in advance and plan for nice surprises. Thankfully KG, when asked, knows my birthday of course he wouldn't remember to wish me on the D-day!
I remember a few years ago, on my birthday, like every other day, KG and I were having our morning tea with newspapers around us. The man, as usual, didn't remember that it's his wife's birthday! He realized it was my birthday when he heard me saying 'Thank yous' on two consecutive calls!
The other year it was the pings on my blackberry that woke him up from his slumber.
Last year, it was Facebook which reminded him when he was in the loo!!
And this year, he remembered it but after a while. It was certainly not his first thought after waking up, but after a few stretches and yawns, the realization dawned on him. Thank God for small blessings!
And the child!! Well, KG had to remind him to wish me!! Sigh!!
When I met Aaryan last month to bring him back home for vacation, the first thing he asked me after the pleasantries was about my birth date. I dodged that question. He then told me that he has bought a gift for me! How innocent kids can be!! They certainly can't keep secrets! I asked him about it and this time he dodged the question. I left it at that and this morning he presented me a book. And I am touched and amused at the same time.
Aaryan knows about my love for books so he thought of buying a book for me during the then scheduled town visit on 14th November. Somehow the town visit got cancelled. But the school band was rewarded with a town visit for their efforts during all the school functions. Aaryan requested his class mate, Krishh who is a part of the school band to buy a book. Aaryan, of course knows only about Geronimo Stilton, Diary of a Wimpy Kid series, A to Z Mysteries Series etc and has no clue about Mommy's reading tastes. Of course, as expected Krishh was equally clueless. Given his knowledge, age, comprehension, he bought this book for me.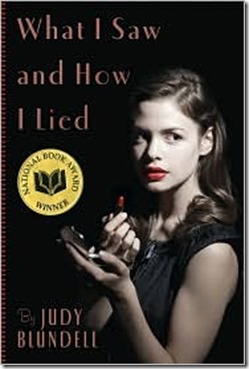 I would love to know what thoughts Krishh had while buying this book. This book is meant for teenagers, but I am looking forward to reading it soon!
Last year, my birthday had a special date of 20.12.2012 and it is special this year too… 20.12.2013!