My Life, My Story
I am the heart and soul of my home. In fact, my home survives and functions and looks like a home only because of me. Under my able 'leadership', everybody goes about doing their tasks smoothly. Without me, they are nothing and will perish in no time. You see, I am the one who keeps my brood strong and happy.
And in turn my family takes great care of me. My needs are met without me saying a single word. My health, my grooming and the cleanliness of my abode is topmost priority for my family. Hell, they take great pains to serve me the best and special food too. Yes, that's the respect and love, I command in my home.
I am the apple of eye of everybody in my family. But all their love and care and adulation does not go to my head or does not make me act like a spoilt brat! I love and value all that they do for me. I go about doing my work and they theirs and we live together in perfect harmony like a big happy loving family.
It is true that I live a life like no other in my home! And I love it, truly!
Ah! The perks of being a queen bee!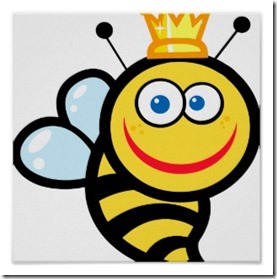 This post is a part of Write Over the Weekend, an initiative for Indian Bloggers by BlogAdda. Write a short story/incident (200-300 words) from an animal's perspective.
Linking it to January 2014 Ultimate Blog Challenge and NaBloPoMo
To read posts by fellow friends and UBC and NaBloPoMo participants, click hereJairam,Kajal, Kathy, Michelle, Nabanita, Richa, Suzy Que, Sheethal. Yes, we can do we with some more cheering and support.

Image Courtesy : Google Images