Sirens Spell Danger
Title: Sirens Spell Danger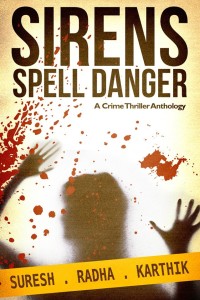 Authors: C. Suresh, Radha S and Karthik L
Number of Pages: 211 (Estimated)
Price [INR] : 99 (Kindle Edition)
Genre: Thriller
This is the first ebook that I am reviewing and it is the second book that I have read on my Kindle app. While my first experience of reading an ebook was not all that great, as I longed to feel the touch of the book et al but reading Sirens Spell Danger has kindled my love for Kindle books.
Sirens Spell Danger is a collection of three novellas written by  three bloggers, C. Suresh, Radha Sawana and Karthik L.
The first story "Femme Fatale" is written by C Suresh. It is about Vikram, an aspiring police recruit whose ogling and drooling at a girl in a pub lands him in some nightmarish incidents involving murders and amidst plans of a terror attacks in the city. Though the plot is racy, has loads of action and subtle humour but somehow it reads like a mediocre action movie. The action is presented quickly and the handling of the plot is rather lame and limp.
The second one "Bella Donna" written by Radha is my favourite of all the 3 stories in Sirens Spell Danger. A serial killer is loose in the city who leaves mysterious messages around the bodies of the victims. Are the messages a challenge to the police or a siren call to lure another victim? This story is a medical thriller and is well researched and well presented. The plot is engaging, fast paced and laden with twists throughout the story. It manages to keep the reader in suspense from the word go, as the motives of the characters are kept under wraps till the end. It is difficult to determine how the mystery would be unravelled and when it does, it leaves you impressed and thrilled.
The third story is "Bellary" written by Karthik L. Jay, from the Intelligence Bureau  is sent to Bellary to investigate a possible ISI plot. Before he reaches Bellary attempts are made on his life and he finds himself in murky politics, mythical stories and a paranormal plot.  Too much of details makes the pace a bit slow and lowers the thrill factor. The story though is promising but could have been executed better.
Overall, Sirens Spell Danger is a nice one time read.
Rating : 3/5
Linking it to Write Tribe's Books for Review : Siren Spells Danger
Linking it to January 2014 Ultimate Blog Challenge and NaBloPoMo
To read posts by fellow friends and UBC and NaBloPoMo participants, click here Jairam,Kajal, Kathy, Michelle, Nabanita, Richa, Suzy Que, Sheethal. Yes, we can do we with some more cheering and support.