The Almond Tree
Title: The Almond Tree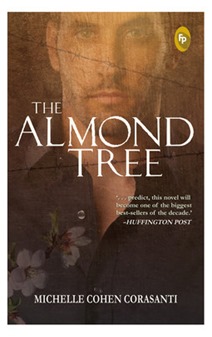 Author: Michelle Cohen Corasanti
Publisher: Prakash Books
ISBN: 978-81-7234-487-0
Number of Pages: 352
Price [INR] : 295
Genre: Fiction
Against a background torn from the pages of today's headlines, The Almond Tree, by Michelle Cohen Corasanti, recasts the Palestinians in Israel and Gaza, a people frequently in the news, but often misrepresented and deeply misunderstood.

This stunning debut conveys a universal story of human courage and perseverance. Comparable to Khaled Hosseini's The Kite Runner, this novel delivers an inspirational story of unfathomable pain and an incredible perseverance.

Gifted with a mind that continues to impress the elders in his village, Ahmed Hamid struggles with knowing that he can do nothing to save his friends and family. Living on occupied land, his entire village operates in fear of losing their homes, jobs, and belongings. But more importantly, they fear losing each other.

On Ahmed's twelfth birthday, that fear becomes reality. With his father imprisoned, his family's home and possessions confiscated, and his siblings quickly succumbing to hatred in the face of conflict, Ahmed begins an inspiring journey using his intellect to save his poor and dying family. In doing so he reclaims a love for others that was lost through a childhood rife with violence and loss, and discovers a new hope for the future.

The Almond Tree humanizes a culture and brings characters from a distant land to life.
The Almond Tree is not a story about the conflict between Palestine and Israel. It is a story of an extraordinary family which became a victim of politics and atrocities of a war. It is a story of a family that just wants to stay together as a unit without the sufferings, death and injustice. It is a story of Ahmed's family against the historical background of Israeli oppression and Palestinian resistance.
The story shows the sufferings, the struggles, the losses that Ahmed and his family faced over the years but what shines bright is that they found their way out of the depths too. There is hope and there is faith that exists despite so much that has been lost.
The characterization is brilliant and the narration is impressive. It makes you think and feel and empathize too.
The sudden transformation of Ahmed's Professor Menachem Sharon who is anti-Arab and racist and who gave a tough time to Ahmed at the Grad School, into a mentor and a friend seems a bit forced and unrealistic. May be that's because the author wanted to showcase heroes from both the sides of the Israeli-Palestinian conflict.
The Almond Tree is a fascinating, powerful and an engaging story which is hard to put down right from the page one. What I liked about it is the lesson that despite all odds, despite all sufferings, hope and faith can make miracles happen. Also it is an eye-opening glimpse of the life of people in the occupied Palestinian territories and Gaza.
It is a highly recommended read.
Rating : 4.5/5
This book review is a part of The Readers Cosmos Book Review Program. To get free books log on to thereaderscosmos.blogspot.com
Linking it to January 2014 Ultimate Blog Challenge and NaBloPoMo
To read posts by fellow friends and UBC and NaBloPoMo participants, click here Jairam, Kajal, Kathy, Michelle, Nabanita, Richa, Suzy Que, Sheethal. Yes, we can do we with some more cheering and support.