Love @ Air Force
Title: Love @ Air Force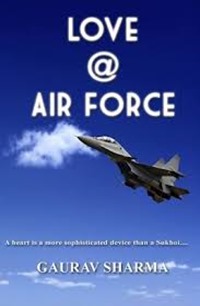 Author: Gaurav Sharma
Publisher: Blackbuck Publication
ISBN: 978-163041628-7
Number of Pages: 287
Price [INR] : 150
Genre: Fiction
An unhappy Sergeant-Sushil Awasthi feels that his circumstances dumped him into doing drudgery in the Air Force and he deserved better out of life. Grumbling often, he accuses his wife, his parents and even Air Force for his agonies. When he finds that, the newly arrived medical officer, Wing Commander Shabd Mishra is his best friend of school days, his inferiority complex plunges further down.

The Wing Commander is still hankering after his school day's crush Soumya despite knowing of her being married to another Air Force Officer, who too, gets posting at the same station.

How to things shape up when three classmates get together?

What fate does the love story of the lovelorn Wing Commander meet?

How do others around, the officers and the non officers, react to the friendship between a Sergeant and a Wing Commander?"
I enjoy reading novels/stories which are set in some industrial or commercial setting, because such stories give so many insights about a particular industry or profession, the way it functions, the challenges and of course the inside story. I was keen to read Love @ Air Force for this very reason. And the book didn't disappoint me as the story showcases the life of the personnel and their families at the Air Force. The story also highlights the obsession for the ranks and the discrimination in the Air Force, the power struggle, the trials and tribulations in the lives of non-commissioned officers.
This is another book that I finished reading in a few hours. Love @ Air Force is a well researched, no-nonsense and a very realistic story. A sense of honesty and sincerity shines through the words. The narration is crisp and it is in a conversational style. The characters are everyday people with whom one can relate to. The humour, wit, sarcasm and some profound one-liners in the story keeps you glued to the book.
It is always better to have a life partner who loves you rather than the one whom you love.

Love is a pursuit of the heart and not of the brain. The heart is a sage who seeks pleasure in salvation while the brain is a trader who seeks prosperity.
The poem in the book is simply beautiful and the letter touches a chord.
There are a few errors and some grammar rules have been fractured in the book which I ignored only because Love @ Air Force was such a compelling read!
Love @ Air Force commemorates friendship more than the love. It is a book that is ideal for a short journey or a lazy afternoon. It will certainly leave you smiling and refreshed.
Definitely an enjoyable read.
Rating : 3.5/5