Double Jeopardy
Title: Double Jeopardy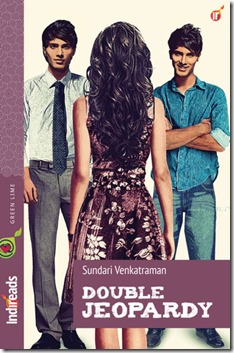 Author: Sundari Venkatraman
Publisher: Indireads Inc.
ISBN: 978-1-927826-13-3
Number of Pages: 55
Price [INR] : 119
Genre: Fiction
Type : eBook
Sanya doesn't just have trouble, she has double trouble. Twins Arth and Ansh Sharma, are rich, sexy and sinfully handsome – what's a girl to do?

Sanya last saw the twins when she was ten years old. Now, all grown up, she has come looking for gentle Arth, the twin she has loved ever since she can remember. But instead, she is confronted with fiery Ansh, who is hell-bent on seducing her. And what's worse, she can't seem to stop herself from responding to him.
As she chases Arth and is chased by Ansh, Sanya finds herself on a crazy roller coaster ride with no way of getting off. How will she deal with these two very different men in her life? Will she be able to convince one twin that she loves the other?
Double Jeopardy is a 55 page eBook which I finished reading in an hour! It is hot and spicy, is coming of age story of a young girl, Sanya!  The book is about Sanya's journey to woo her childhood love along with finding her true calling and listening to her heart despite the disapproval from the head. It is a story packed with love, romance and passion.
The author has a nice style to her writing. She is able to grab onto the emotion, focus her story on the characters while also keeping the reader's attention, and telling a great story. I liked the pace with which the story unfolds.
Double Jeopardy is a very short story, which I enjoyed reading. But a small thought is niggling me. I am wondering, what if the length of the story was a bit longer? I believe, the depth of the characters would have emerged better and a leisurely pace of the story, especially towards the end would have balanced the fervor with moments of deliberate quiet!
An exciting, light, quick breezy read. Double Jeopardy is highly recommended.