A to Z Challenge Theme Reveal
Last year, when I had participated in the April A to Z Challenge, I wrote about random subjects from A to Z. I wrote about my addiction, emotions, memories, love, Twitter, I posed a question and a riddle, wrote a spine poetry, did a picture post… in all I wrote about 26 random topics. Pretty challenging to think about new topics everyday or pretty simple to write on anything that takes your fancy?
This year, we signed up for the A to Z challenge in January and there has been a lot of buzz about to theme or not to theme? Well, last year, I didn't had a theme, this year, it makes sense to try something different and new and I decided to go for a theme.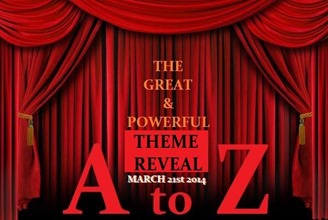 Drum Roll Please….
My Theme for the A to Z Challenge 2014 is : Marriage from A to Z
No, these are not some pearls of wisdom on marriage and there wont be any advice on relationship problems either.
These are some of the ingredients that make or break a married relationship. These are some of the good, bad or ugly facets that we see in a relationship.
Another Drum Roll Please…
And all these different aspects of a married relationship will be shared in the form of stories which will be in exactly 55 Words.

Yes, I'll be writing 55 Fiction Stories on Marriage from A to Z, this April.
Now, doesn't that look like a plan!!
Easy on you as a reader, as 55 words are just short enough to grab your attention and time and long enough to cover the subject. Of course, it is going to be challenging for me, but then I believe, the greater the obstacle, the more glory in overcoming it.
So, be there with me this April, as I explore the various aspects of a Marriage from A to Z in just 55 words.
See you around! 🙂