Sorting Out Sid
Title: Sorting Out Sid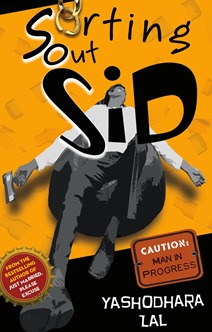 Author: Yashodhara Lal
Publisher: Harper Collins
ISBN: 978-93-5029-691-2
Number of Pages: 332
Price [INR] : 250
Genre: Fiction
Siddharth Agarwal a.k.a. Sid has it all a fifteen-year-long marriage, a bunch of devoted friends, and the chance to be the company's youngest-ever VP, all at the age of thirty-six.

But, behind the scenes, his life is slowly falling apart, what with his marriage on the rocks, parents who treat him like a delinquent child, and overly-interfering, backstabbing friends. And that's not even counting the manipulative HR vixen and the obnoxious boss he must tackle in office.

So, when lovely, spunky single mom Neha materializes in his life, she brings into it a ray of hope. But will she cause the brewing storm to finally erupt?

Who said it would be easy sorting out Sid?
I have read Yashodhara's debut novel, Just Married, Please Excuse which is a hilarious account of life in the first few years of marriage. When I read about the launch of her second book, Sorting Out Sid, I was keen to read it too. I knew that it would be a delightful read.
Sorting Out Sid is  all about Sid and the people who have a role in his life… his wife, friends, boss, colleagues, parents. These are the people who force Sid to don various masks in his life –Sid@ Work, Party Sid, Sid Uncle- and behind all these masks, the real Sid is hidden and struggles to come out. Sid's story is lifelike and realistic. We get to see the slice of everyday life in Sorting Out Sid… broken relationships, people stuck in career rut, friendships and misunderstandings, son-parent relationships, mother-daughter relationship. These are the people all around us who have their failings and imperfections. All these are packaged with the right emotions, sparks and undercurrents.
So does the depiction of different every day situations and next-door characters, read like a sad and a dull story? Far from it! Sorting Out Sid has large dollops of wit and humor along with satire that gives you a lot of laugh out loud moments, many smiles and quite a few chuckles. Weaving a story which addresses the serious issues of life but are masked behind the smiles and laughter, speaks a lot about Yashodhara's skill as a writer.
In the storyline, there are a few loose-ends and a few twists seemed very rushed. While, all that is ok, what I really wished was to read more about Mandira. I wish her character was explored a bit more. One never gets to know things from her perspective. All one gets to see is the cold treatment or derisive remarks she makes at Sid. The story is all about their relationship which has gone sour, so much so that Sid thinks of 'replacing her Colgate Toothpaste tube with a tube of Odomos'. But how did that happen? What made their marriage of 15 years (it was mentioned 10 years at another place) fall apart? And what efforts the husband-wife put in to make it work, is simply missing from the story.
Having said that, there isn't a dull moment while reading Sorting Out Sid. A simple plot which keeps you smiling and laughing till the very end.
Sorting Out Sid is a light, funny, breezy read. A perfect read during a travel or a lazy weekend! Go for it!
Rating : 4/5
The review is part of IndiBlogger / HarperCollins Book Review initiative.