The Reluctant Messiah
Title: The Reluctant Messiah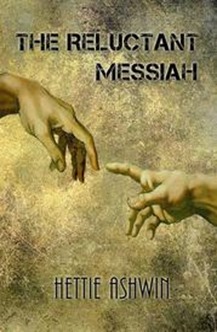 Author: Hettie Ashwin
Publisher: Blackbuck Publication
ISBN: 978-163041708-6
Number of Pages: 280
Price [INR] : 140
Genre: Fiction
What can one man do in the face of mounting evidence?

James Caldecott is just an ordinary man who has an extraordinary set of circumstances. Born to Joseph and Mary, he lives an unblemished life. Is it such a coincidence he lives on Jerusalem Drive?

With the media hungry for what'd hot and what's not James is catapulted into the spotlight as the Reluctant Messiah. It will take more than someone do deny him three times for James to get his life back.

It will take a miracle.
I am on a book reading spree and suddenly my personal blog looks like that it is a blog for book reviews only! There's a reason for that which is worthy of a separate post! Coming back to the book, The Reluctant Messiah, that I finished reading a few minutes ago, I am so glad that I picked it up.
This is one book which fits the bill of Maggi Tomato Ketchup advertisement, "It's different!". The Reluctant Messiah is neither a racy thriller, nor has any link to a crime or a lurking ghost, and guess what there isn't even a lovelorn or love-struck couple in the story! It is a simple story which has been narrated, well, simply well!
The Reluctant Messiah is a story of a simple man, James Caldecott who brings back to life a 'presumed' dead cat, after giving it some first aid. The news travels far and wide of his miracle. One thing leads to another and soon James becomes a sensation, as his young followers are tech savvy and spread the word through Facebook and Twitter. His simple words and a simple message like, 'Be Nice' has a profound effect on everybody around him. In fact, even the mean and the wily people seemed to have a change of heart after being with him. Thereby the belief that he is 'the ear of God', gets strengthened. While James never gets to explain his position and the misinterpretation of the incidents just gets complex and compounded. What happens to James and the immense belief of the people around him in his miracles, well you will have to read the book to know about it!
I liked the small nuggets of wisdom Roger shared with Ruth, which he had learnt from his Dad.
It doesn't matter how slowly you go, so long as you don't stop.

Cigarettes are a selfish way to die, 'cause everyone suffers.

If we all take time to do one thing for someone else it's a start.
The language is simple and easy to read and the story keeps up a good pace. Though I found the part where the officials from Vatican visit, a bit drab.
A confession here… I didn't think I was going to like this book, yes, I judged the book by its cover… but I enjoyed reading The Reluctant Messiah. Interesting, thoughtful and engaging.
Rating : 3.75/5